The Reinhart Blog
Your Ultimate Guide to Milan, Michigan
A growing city of just over 5,000, Milan, Michigan straddles the Washtenaw and Monroe County line, providing its residents with quick access to Ann Arbor, Ypsilanti, Monroe, Detroit and Toledo, Ohio. While the town was founded in 1831 as an agricultural community, it has grown into a community of small business owners and professionals. And with nearly 200 acres of parkland in the city, recreational opportunities abound!
Whether you're new to Milan or you're just visiting for the day, keep reading to learn more about some of the best local restaurants, the most fun activities, the coolest places to go and the biggest annual events.
Jump ahead:
The Essential Eateries | Things to Do | Outdoor Recreation | Annual Events
White space 
White space
The Essential Eateries
JR's Hometown Grill and Pub originally opened in 2009 in Adrian and has since grown to include five hometown restaurants. At the Milan location, you can get the same amazing menu, including the team's famous steaks, ribs and delicious burgers. Also at the Milan location, you can eat breakfast seven days a week!
Run by locals Tom and Vicki right here in Milan, Zilke Farm Kitchen branched out from Zilke Vegetable Farm and the team's summer farmstand. Though this is not a sit-down restaurant, they sell a great selection of healthy, local, tasty ingredients as well as take-home freshly prepared meal kits, ready-to-heat single serving meals, salads and more. And it's all available in a comfortable store that's designed to feel like a home kitchen and pantry.
Open seasonally, Milan Dairy Barn has been a tradition for generations of Milan families. Though they're famous for soft serve and hard serve ice cream treats like sundaes, shakes, flurries and banana splits, they also offer a huge menu of hot dogs, hamburgers and cheeseburgers, chili cheese fries and more.
A staple in the Milan food scene, Milan Coney Island has been owned and operated by the same family since 1999. The welcoming, family atmosphere comes free with their huge breakfast, lunch and dinner menus of American classics, including steaks, corned beef sandwiches, burgers and more.
A beloved local business, the most frequent review you'll hear about Roy's is that they have the best burgers in Michigan. In an all-American diner setting, they also serve up BBQ sandwiches, cheese steak hoagies, baby back ribs, hot dogs and the Bubba Burger, which is two half-pound patties stacked on three pieces of Texas toast.
Open seasonally at DR Trailer, Papa G's serves some of the best BBQ in the area. Their menu can include things like homemade brisket chili, smoked sausage, ribs and more. To stay up-to-date on their operating hours and menu, follow the team on Facebook here.
Things to Do
Photo courtesy of Original Gravity Brewing Company
Original Gravity is Milan's original brewery. Though Brad Sancho just opened this microbrewery in 2008, it's still the town's only craft brewery and serves as the local destination for beer, community and fun. Focused on creating an outstanding taproom experience, their space has old-school arcade games, board games, televisions and delicious deli sandwiches.
Featured in The Best Coffee Roasters Around Ann Arbor, Milan Coffee Works has been an area favorite for years. At their headquarters—a charming, bright and welcoming coffee shop in the heart of Milan—they roast coffees in small batches. While you're hanging out in the cozy, neighborhood cafe, we also recommend tasting the homemade chai! For information on events and pop-ups, follow the team on Facebook here.
Photo courtesy of Milan Dragway
Milan Dragway is a quarter-mile, NHRA-sanctioned drag strip that hosts events throughout the spring, summer and fall. Their race schedule includes Test & Tune events where you can test your car, plus spectator events like Bike Night, Aeroquip Heads Up and Kickin' It Old School. And kids 12-years-old and younger are always admitted for free! To see the race schedule, click here.
The Owl is an all-day hangout that offers exclusively organic, shade grown, carbon-free and fair trade coffee. By night, they also offer Michigan's finest craft beers and ciders for an atmosphere that anyone can enjoy. As a community hangout, The Owl offers weekly events, like beer yoga, trivia night, live music and more. To stay up-to-date on events, follow the team on Facebook here.
Photo courtesy of Adventure, Ink
This small, locally owned comic, book and gaming store is the headquarters of fun and gaming in Milan. As a neighborhood shop, they've built a community where everyone is welcome to play, teach and learn about role-playing games, board games, card games and more. To stay up-to-date on fun events and workshops, follow the team on Facebook here.
Downtown Milan is one of the best places to shop local in town, and Northern Chicks is a beloved shop located at the heart of Main Street. Their cozy, down-home boutique offers a curated collection of vintage home decor, including old and new, as well as Michigan-made artisan gifts and boutique clothing.
During the fall season, Wasem Fruit Farm offers more than a dozen varieties of apples you can pick yourself, you-pick raspberries available in September and early October, you-pick pumpkins in October, and pears! And during a fall visit, guests get the chance to taste plain, apple, blueberry and pumpkin donuts paired with some of the best, fresh cider in the region.
Just next door, you can also venture to Talladay Farms for a trip through one of the Midwest's largest corn mazes. It covers 27 acres!
Outdoor Recreation
Wilson Park
The headquarters of outdoor recreation, community events and family-friendly fun in Milan, Wilson Park cover 35 acres in Downtown Milan. Here, you'll find charcoal grills, playground equipment, basketball courts, a sand volleyball court, walking and biking paths, as well as softball and baseball fields.
Gump Lake Park
This 9-acre park is home to an adult softball league as well as a variety of local youth baseball teams. Located just south of Main Street, the park features two baseball/softball diamonds and is connected to Wilson Park by a paved multi-use path that runs along the scenic Saline River.
Located just west of Milan, this preserve protects 113 acres and more than one-half mile of Saline River shoreline. Explorers can enjoy 2.25 miles of trail and high-quality floodplain forest habitat with oak, walnut, butternut, and sycamore trees.
Annual Events
May
Photo courtesy of Mary Kerkes Photography via Milan Main Street
Organized by Milan Main Street, Bloom is an annual celebration of spring complete with free activities for the entire family, like field day games, scavenger hunts, a flower mart, an artisan market, a bike parade, live music and more.
May  
The annual Milan Fair is a favorite regional event for good reason! Each year, highlights include a carnival, a parade, an artisan market, fireworks, kids' activities, and an entertainment tent with things like karaoke and live music. For information on this year's event, click here.
June – October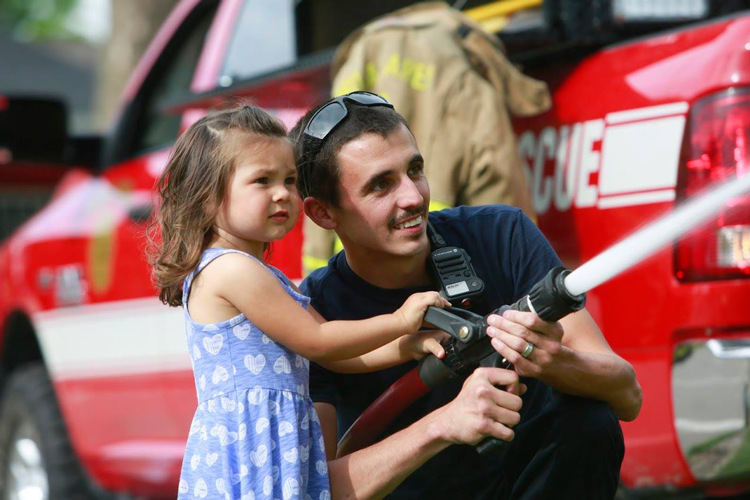 Photo courtesy of Lori Nemeth Photography via Milan Main Street
On the third Thursday of each month from June through October in downtown Milan, 3rd Thursdays turns the neighborhood into a free, family-friendly festival. Attractions include local food and beer, live music, activities for both kids and adults, and shopping with vendors offering handmade, handcrafted and homegrown goods.
August
An annual event hosted by Milan Main Street, Route 23 Arts & Music Festival is a three-day celebration complete with live music, street performers, plays, a street art fair, food trucks, a craft beer festival and a beer garden. For information on this year's event, click here.
November
In celebration of Small Business Saturday, Pop On Main Street brings together the Milan small business community for a full day of special deals and promotions, pop-up markets, food trucks, artisans and vendors. For information on this year's event, click here.
February
Centered around Milan's downtown shopping area, Wilson Park and Edgetown, this annual event is one of our favorite winter happenings in Southeast Michigan. Activities include a chili cook-off, the Let's Chill Winter Fest Wine Walk, indoor and outdoor winter games, ice carving, an artisan tent, local food, The Big Freeze and more. For full details on the next event, check out the website here.
What do you love about Milan?
If we missed your favorite local business, attraction or event, tell us about it in the comments below!
---
---
---
---
---
---
---
---
---