The Reinhart Blog
The Ultimate Guide to Annual Events in Ann Arbor
Whether we're in the freezing temperatures of winter or under the beautiful summer sun, Ann Arbor certainly knows how to celebrate. Our beloved hometown hosts some of Michigan's biggest and best annual events—from nationally acclaimed music and film festivals to Main Street fairs and everything in between.
To make sure you don't miss a thing, we rounded up Ann Arbor's major events happening every single year—and some have been going strong for more than half a century!
January
Ann Arbor Folk Festival, a fundraiser for The Ark, began in 1977 and is now one of Ann Arbor's most anticipated annual events. Over the course of two days, Hill Auditorium hosts the likes of Gregory Alan Isakov, Rufus Wainwright, Haley Heynderickx, Brandi Carlile and more. Tickets sell out every year, so follow The Ark on Facebook to get updates.
January and June
Ann Arbor Restaurant Week is a twice-yearly event hosted by the Main Street Area Association. The event brings together upwards of 50 restaurants all over town, which offer special lunch and/or dinner menus for a fixed price. It's a great opportunity to introduce yourself to some of our town's best local eats!
March
Photo courtesy of Ann Arbor Film Festival
One of Ann Arbor's most important annual events, the Ann Arbor Film Festival presents 40 programs with more than 180 films from over 20 countries highlighting all lengths and genres, including experimental, animation, documentary, fiction and performance-based works. Founded by George Manupelli in 1963, the festival is the oldest avant-garde and experimental film festival in North America. Follow the team on Facebook for updates on tickets and special events.
March
Whether you're walking your first 5K or running your tenth marathon, this Epic Races event offers something for everyone. Beginning just outside of The Big House, each course winds through downtown Ann Arbor and through the University of Michigan campus. The longer races also traverse stretches of the Huron River, Gallup Park and Nichols Arboretum before returning to downtown. To learn more about the marathon and see all of the events hosted by Epic Races throughout the year, click here.
April
Considered one of the community's favorite annual events, FoolMoon is the nighttime kick-off event to a very foolish weekend hosted by Wonderfool Productions. The celebration takes place in downtown Ann Arbor with tons of dancing, laughing and handmade luminaries. Other attractions include interactive installations, laser shows, live performances, DJs and a beer tent. You can even make your own luminary at several workshops in advance! For details, follow the Wonderfool Productions team on Facebook here.
April
Photo courtesy of Myra Klarman Photography via Wonderfool Productions
FestiFools is Wonderfool Productions' daytime event of foolishness and art. The enormous public art spectacular showcases creations made by members of the community and U-M students. You can make your own puppet or come down to Main Street to watch the procession of colorful, bizarre, human-powered paper-mâché creations for an entire hour of fun!
April
The Ann Arbor Earth Day Festival is an annual celebration hosted by the Ann Arbor Earth Day Festival Planning Committee, a coalition of local environmental nonprofits and agencies, and the Leslie Science & Nature Center. At this free, family-friendly event, guests can enjoy displays from 40 local organizations, live animal demonstrations, hands-on activities, live entertainment and much more.
May
Specially curated for the community of Southeast Michigan, Cinetopia features the best feature-length dramas, comedies and documentaries shown at the world's best film festivals, including SXSW, Sundance and more. Outside of screenings, special pre- and post-film events include presentations, discussion panels, and Q&A sessions with directors, writers and stars. The Ann Arbor venues are typically the Michigan Theater, State Theater and The U-M Hatcher Library with various other events happening in Detroit and the surrounding area. You can find all the ticket and pass info here.
Ann Arbor Bloom Fest
May
Hosted by the Main Street Area Association in downtown Ann Arbor, Bloom Fest is a celebration of spring with our local businesses. Nearly all day on a beautiful spring day in May, you can enjoy special sales, events, deals, treats and more. To see all the offerings, click here.
May
In celebration of our beautiful river, Huron River Day is an afternoon full of free, family-friendly river activities at Gallup Park. Attractions in the past have included live music, a butterfly house from the Michigan Native Butterfly Farm, an antique and classic boat show, water activities with the University of Michigan Natural History Museum, live animals from the Leslie Science & Nature Center, and so much more!
June and January
Ann Arbor Restaurant Week is a twice-yearly event hosted by the Main Street Area Association. The event brings together upwards of 50 restaurants all over town, which offer special lunch and/or dinner menus for a fixed price. It's a great opportunity to introduce yourself to some of our town's best local eats!
June – August
Since 2008, Sonic Lunch has been bringing free, outdoor concerts to the streets of downtown Ann Arbor every summer. Suitable for all ages, the concert series kicks off in early June and continues through August for a total of about 11 shows. All of these shows begin at 11:30 a.m. and you can see the full lineup for this year here.
June
As the newest event on this guide, Treeverb held its inaugural music festival on June 1, 2019. Free and open to the public, the festival brings both national and local artists to the stage in downtown Ann Arbor for a full day of live music entertainment. Other attractions include food trucks, a beer tent and, of course, all the attractions of downtown Ann Arbor! For event updates, follow the team on Facebook here.
June
This festival has been a tradition in downtown Ann Arbor for more than two decades and today offers even more fun and entertainment. That lineup includes street and stage performances, dancing, local vendors and information booths, kid-friendly fun and more. For updates, check out the website here.
June
Hosted by St. Nicholas Greek Orthodox Church, this annual event has become a local favorite thanks to the authentic Greek food, live entertainment, Greek dance performances and more. Admission ranges from free during the day up to $3 for evening admission, but children 12 years and younger are always admitted for free!
June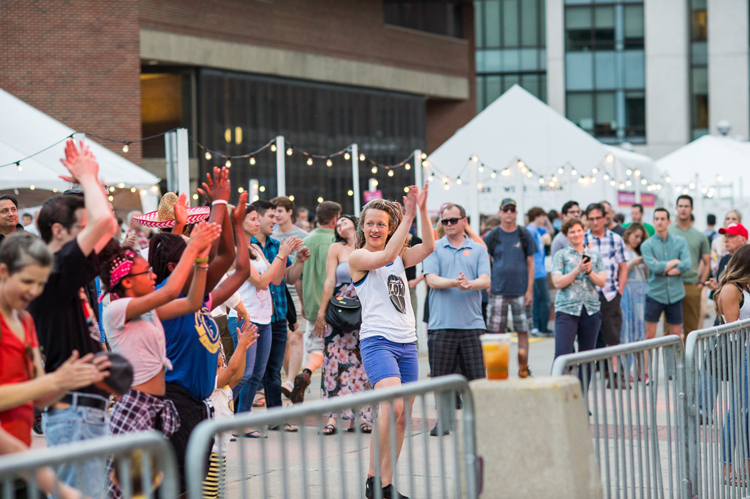 Photo courtesy of Myra Klarman Photography via Ann Arbor Summer Festival
As the can't-miss, arts-centered event of the summer, the Ann Arbor Summer Festival offers world-class entertainment in comedy, cinema, food, jazz, pop and rock, acoustic, spoken word and public radio every year. Though some events are ticketed, the great majority of festival happenings are admission-free concerts, workshops and classes! You can see those listed on the website here.
June
A tradition for nearly two decades, the Mayor's Green Fair comes to Main Street every June. In celebration of our community's environmental leadership, the event closes down the street so pedestrians can enjoy environmental displays and green products, live music and fun in one of the town's liveliest neighborhoods.
June
Juneteenth is an annual holiday that commemorates the announcement of the abolition of slavery on June 19, 1865 in several American states. In Ann Arbor, the celebration is hosted by The Ann Arbor Branch of the NAACP and includes public readings, performances of traditional songs, historical re-enactments, cake walks, food, vendors and more.
Taste of Ann Arbor
June
This beloved annual event hosted by Main Street Area Association brings together dozens of local restaurants and vendors to show off their goods and their talents on the two blocks of Main Street between William and Washington. Each vendor offers bite-sized foods to showcase what they do best and to ensure you can taste more than one! Tickets for food can be purchased at the event for $1 each and no item is priced over $4 or four tickets.
Rolling Sculpture Car Show
July
Hosted by Main Street Area Association, the annual Rolling Sculpture Car Show returns to Main, Liberty and Washington Streets in the heart of downtown Ann Arbor every July. The event itself is free and open to the public and all cars are welcome to exhibit for a pre-registration fee of $20. On the day of the show, guests can enjoy 300 exotic, antique, classic and one-of-a-kind cars, live music from local artists, and family activities provided by The Ann Arbor District Library.
July
Photo courtesy of Ann Arbor Art Fair
Kicked off by the Townie Street Party and hosted in conjunction with the State Street Art Fair, Ann Arbor Summer Art Fair and Ann Arbor's South University Art Fair, the Ann Arbor Street Art Fair has grown into one of our hometown's largest and most beloved annual events. All around town, you'll find stage performances, street performers and street painting, an art activity zone, a youth art fair, and even more.
August
In August 1969, several thousand blues lovers gathered in a small field in Ann Arbor for the first ever Ann Arbor Blues Festival where they sang and danced along with blues legends that included B.B. King. Every August, it all comes back to the Washtenaw Farm Council Fairgrounds for an all-ages music event you don't want to miss. For information and tickets to this year's event, click here.
August
Originally called OUTFest, Ann Arbor Pride has been showcasing equality and LGBTQ support for decades. Throughout the Kerrytown District, guests can enjoy a parade, face painting, family-friendly activities, presentations, a silent auction and more. And proceeds from the event benefit the local organization Jim Toy Community Center!
October
Established in 1968, this historic antique market has been fueling our love of home decor and vintage finds for more than 50 years. Admission is below $10 with free parking and kids are admitted for free! Come by every October to peruse antiques, jewelry, paintings, mid-century and industrial design, folk art, repurposed furniture and more. It's the perfect place to get some holiday shopping done!
October
This huge, multi-week festival celebrates culture and arts of all kinds but is heavily anchored by authors as it has been for the past three decades. Most of the events are free to attend and the authors, performers, artists, topics and projects are Jewish or have significant Jewish connections. Check out the schedule for this year's event here.
Midnight Madness
November
Just in time for the holiday shopping season, downtown Ann Arbor businesses stay open late for one of our community's favorite shopping events. Main Street Area Association's Midnight Madness includes holiday specials inside shops and restaurants, as well as visits by Santa Claus and Miss Washtenaw County and performances by various outdoor entertainers.
November
Coinciding with Midnight Madness on Main Street, Kerrytown KindleFest is Ann Arbor's version of the German tradition Christkindlmarkt. In the same location as the Ann Arbor Farmers' Market, you'll find artisans, farmers and retailers selling their holiday wares, plus traditional food like pretzels, bratwursts, roasted nuts, Glühwein (a mulled wine) and beer. Then, you can shop Kerrytown retail businesses that will be open late and grab a spot around a fire pit for warmth and s'mores!
Is your favorite event missing?
Please tell us about it in the comments below!
---
---
---
---
---
---
---
---
---