The Reinhart Blog
Where to Get the Best Hard Cider in Michigan
Though you can always enjoy a crisp, hard cider around here, Michigan's apple season is August through October, which makes fall the ideal season for it. After all, it is a lovely combination of our passion for craft beer and our favorite autumn crop.
In this guide, we rounded up some of the state's best hard cider makers, located near our home in Ann Arbor and farther out. Where available, we added links so you can find these beverages on tap, bottled or canned closer to home, wherever that may be. Happy sipping!
Based in Ferndale
Founded by a fun-loving team in 2006, B. Nektar brings a modern, sub-pop culture-inspired twist to everything they create, from the mead that has made them famous to every cider and craft beer on their tap list. And we're proud to say this little Michigan operation was the first meadery named to the top 100 best breweries in the world by Ratebeer.com! To find out where you can get bottles closer to home, click here.
Based in Armada
The team behind Blake's Hard Cider has been growing apple trees for more than 70 years. Today, they have 45,600 apple trees on their property in 42 different varieties and they use those backyard harvests to create more than 60 varieties of hard cider. Their tasting room has been named one of the best bars in America, but if you can't make it to Armada, click here to locate Blake's sold near you.
Based in Ann Arbor
Photo courtesy of Bløm Meadworks
Bløm (pronounced bloom) is a hyper-local meadery located in the heart of Ann Arbor. Unlike many other meaderies and cideries, every ingredient is sourced from Michigan and their mead is fermented like a dry craft cider so it's not as thick or as sweet as other meads you may have tried. On the tap list, you'll also find straight-up ciders, all carefully crafted with subtle, delicious tasting notes. To shop cans online, click here.
Based in Brooklyn
Nestled in the Irish Hills, this family-owned winery honors over 100 years of winemaking knowledge passed down through four generations. Inside their historic 1870 schoolhouse tasting room and seasonal café, you can sip award-winning grape wines, fruit wines and ciders, sample freshly made butter fudge, taste their Michigan Cherry Preserves, and more! To see their wine and cider list, which has included things like Cinnamon Ginger Cider and Root Beer Cider, click here.
Based in Hudsonville
Photo courtesy of Farmhaus Cider Co.
In 1866, Claus Behrens, an immigrant from Germany, purchased 200 acres in Hudsonville, built a farmhouse and planted an apple orchard. Decades later, two generations of the Behrens family, with the business owners' family and friends, worked nights and weekends to restore the property and, in March 2015, Farmhaus Cider Co. celebrated their first canning run. Today, they operate the Farmhaus Cidergarten on site at the 150-year-old family farm and distribute throughout the state. Click here to find out where you can get it.
Based in Northville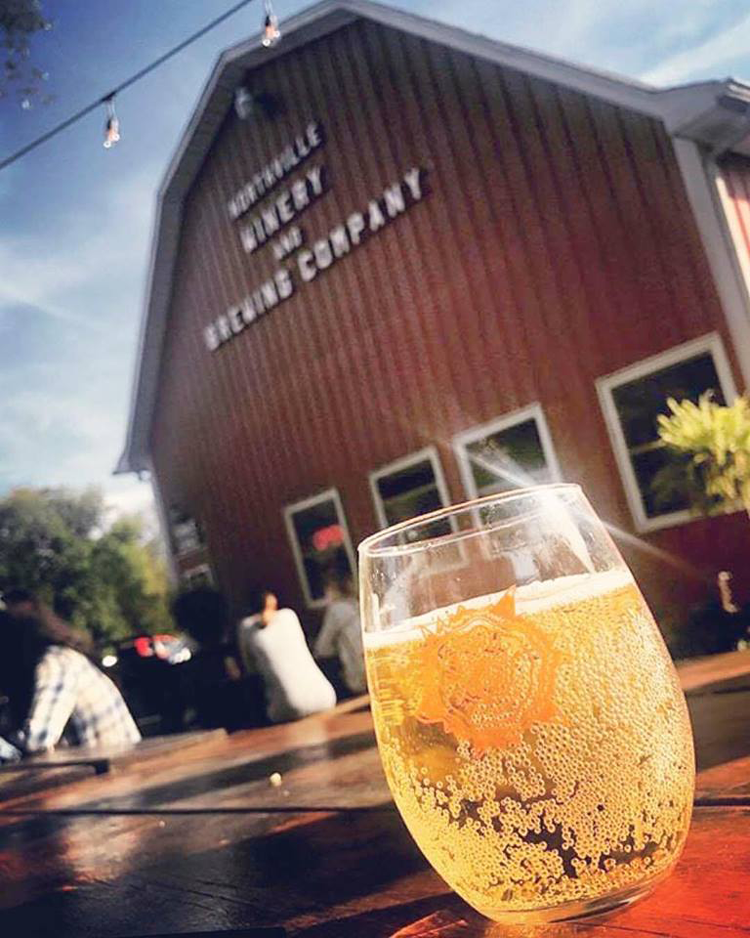 Photo courtesy of Northville Winery & Brewing Co.
This hometown spot makes all their wine, hard cider and beer on-site and is open year-round with frequent live music events and a delectable calendar of local food trucks stopping by. To see what's on tap and what events are coming up, check out the website here, and be sure to make a visit during the fall so you can visit Parmenter's Northville Cider Mill, too!
Based in Grand Rapids
Sierra Rose is a program of Grand Rapids' Cascade Winery. Making everything in small batches, they start with 100% apples and ferment the cider at cold temperatures to maintain distinct, crisp flavors. Then, they use their history of innovation, skill and creativity to create flavors like Peach, Strawberry and Blueberry Hard Ciders.
Based in Beulah
The St. Ambrose story starts with 40 years of beekeeping and a passion for mead. Later, they dabbled in cider, then added beer and pizza, and now they're one of the best craft beverage makers in the state. On-site, you'll find a nine-hole disc golf course, a bocce ball court, yard games and a bee garden, but you can also find their beverages in stores across the country and shop their online store here. To track down St. Ambrose near you, click here.
Based in Paw Paw
St. Julian has been owned and operated by the same family for four generations, and through those generations, they've become Michigan's most awarded and longest-running winery. They also use only Michigan fruit to create each distilled spirit, cider and wine in their lineup. To locate these award-winning products, click here.
Based in Bellaire
Starcut Ciders comes from the famous, award-winning team behind Short's Brewing Company. Founded in 2014, this project was born out of a desire to make unique ciders using Michigan's abundant apple harvests, including apples from local farmers whose orchards are close to their home in Antrim county. To purchase nearby, click here.
Based in St. Johns
Photo courtesy of Uncle John's Cider Mill
Historically, Uncle John's was a wholesale fruit and vegetable farm but has been transformed since the 1970s into a destination for family fun—especially during the fall when the cider mill is running and fresh donuts are being made! From May through December, you can also stop in the Uncle John's Fruit House Cidery and Winery Tasting Room to taste wines, spirits, premium ciders, and hard cider in cans and on draft. Throughout the year, you can also shop cans in stores throughout the Great Lakes region.
Based in Ypsilanti
Dedicated to health, unity and community, this Ypsi favorite serves up kombucha tea, kombucha beer and a few kombucha cider hybrids. Similar to a Lambic fermented in oak-barrels with hops and whole fruits, Unity kombucha beers are gluten-free, vegan, organic, bottle conditioned and raw. So whether you're craving a belly-friendly tea or a unique craft beer, visit the taproom to try a small-batch and handmade beverage. To find their creations near you, click here.
Based in Grand Rapids
A founding member of the Michigan Cider Association, Vander Mill started from humble beginnings in 2006 inside a small, 5,000-square-foot building. Today, they've grown to distribute their hard cider varieties throughout the Great Lakes region, but they still press only Michigan apples and even work with the Dietrich family apple farm located nearby in West Michigan. To locate their hard ciders closer to your home, click here.
Based in Fennville
Practicing traditional craftsmanship and sustainable methods, using the finest apples grown in orchards with just the right climate, and handpicking their apples and their barrels, the team behind Virtue Cider crafts proper farmhouse cider. Like the art of winemaking, they press local fruit, ferment the juice on site, age it in barrels, and continually taste to develop the perfect blends. You can get more information on finding their beverages locally here.
Do you have a favorite?
Whether it's on our list or not, tell us about your favorite Michigan hard cider in the comments below!
---
The Best Dog Parks Near Ann Arbor, Mapped
Washtenaw County and Southeast Michigan offer some of the best and largest parks in the state as well as lakes, river access, hiking trails, biking opportunities and more. But when you're looking for off-leash opportunities for your dog, it can be tough to navigate the rules, permit requirements and available areas.
To help, we rounded up the Ann Arbor area's best dog parks available to both residents and non-residents. We also included links to important rules and permit information where necessary.
Keep reading to find your dog's new favorite play area and be sure to mark your calendar for the annual Doggy Dip at Rolling Hills Water Park! It happens every year around Labor Day and you can get more information here.
Get directions | On-leash
Though not an off-leash area, Brighton Recreation Area offers one of the state's only dog-friendly beaches. Available on a section of shoreline at Chilson Pond, dogs are welcome to play in the water but must be on leash and under control at all times. For more information on the Michigan Department of Natural Resources pet policy, click here.
Get directions | Off-leash
Located in one of Ann Arbor's best community parks, the off-leash dog play area at Broadway Park is nestled along the Huron River with a designed area for small and large dogs. For more information on the park, required permits, leash laws and other dog policies, click here.
Get directions | Off-leash
The Northville park system currently includes two dog parks. The Cady Street Dog Park offers 0.7 acre of fenced-in play area behind the Northville Art House and has open hours every day of the week. A dog park membership, fee and mandatory education session are required before you and your dog can be admitted. That means the environment is kept safe for all dogs and owners! For more information, click here.
Get directions | Off-leash
Available year-round to dog park members, Canton Dog Park offers six acres of fenced-in, outdoor space for dogs to run and play off-leash. The park's separated sections are reserved for dogs under 20 pounds and dogs over 20 pounds so large and small pups can play safely, and owners are asked to keep watch over their dogs at all times. For membership information, click here.
Get directions | Off-leash
Available year-round from sunrise to sunset, the Lyon Oaks Dog Park offers 13 acres of fenced play area, a separated small dog area, benches, shelter and picnic tables. All licensed dogs are welcome, and owners are asked to keep watch over their dogs at all times. To learn more about all the dog parks managed by Oakland County, click here.
Get directions | Off-leash
The second of Northville's dog parks, the off-leash play area at Marv Gans Community Park offers four acres of room to roam. The park also has its own parking lot for easy access. Before you and your dog can be admitted, a dog park membership, fee and mandatory education session are required. That means the environment is kept safe for all dogs and owners! For more information, click here.
Get directions | Off-leash
Boasting a whopping 54 acres total, Mill Pond Park is the largest community park in Saline. In addition to boat launches, sports fields and walking trails, visitors are welcome to enjoy the Mill Pond Dog Park. Covering one acre, it's the only local park that offers off-leash water access, so water-loving dogs will definitely have fun!
Get directions | Off-leash
Located behind the Novi Ice Arena, Novi Dog Park offers three acres of off-leash fun with a separate area for small and timid dogs which covers 3/4 of an acre. The remaining one and a half acres are available to all other dogs. To enter the park, you'll need to take the dog park quiz and be approved for a membership; for more information, click here.
Get directions | Off-leash
One of three dog parks managed by the City of Ann Arbor, the dog run at Olson Park is conveniently located next to the parking lot. The fenced area is just one of the attractions in the 54-acre park. For more information on the park, required permits, leash laws and other dog policies, click here.
Get directions | Off-leash
Paw Run Recreation Area is a private, 18-acre dog park in Dexter. Located on quiet, private property, the park boasts nearly one mile of mowed trails, a play area with a pond, an agility yard, a secure double-gated entry system, seating for humans and water for both humans and dogs. For information on the required temperament test and the various types of memberships and passes available, click here.
Get directions | Off-leash
Swift Run Dog Park is jointly managed by The City of Ann Arbor and Washtenaw County. Located at the northeast corner of the Swift Run landfill, the off-leash area covers ten acres making it the largest in the city. For more information on the park, required permits, leash laws and other dog policies, click here.
Where do you take your dog?
If you have a favorite place to take your dog in the Ann Arbor area, tell us about it in the comments below!
---
Where to See Santa in the Ann Arbor Area this Holiday Season
From Ann Arbor to Dexter and all the way to Northville—Southeast Michigan knows how to welcome Santa Claus! With events and workshops popping up right after Thanksgiving and through Christmas Eve, you and your family will have plenty of opportunities to share your wish lists in person this holiday season.  
We rounded up the events, the brunches and the malls that will be hosting Father Christmas himself. Mark your calendars, check for registration or ticket requirements, and get those wish lists and festive sweaters ready!
100 Briarwood Cir | November 16 – December 24 | Event info
From mid-November through Christmas Eve, Santa and his shop will be set up in Briarwood Mall every single day. Hours vary each day and there are FastPass options to skip the line. For more information, click here.
7897 Six Mile Rd | November 23 – December 16 | Event info
The farm fun at Three Cedars doesn't stop after Halloween. Country Christmas turns the farm into a winter wonderland complete with Christmas trees, wreaths, hot cocoa, roping and photos with Mr. and Mrs. Claus. The farm will be open Fridays, Saturdays and Sundays. Click here for hours.
301 W Bartlett St | December 3 – 4 | Event info
Southern Michigan Railroad keeps this event small and inexpensive so the community's kids can have a spectacular holiday experience. This December, hop on the train and enjoy a ride to meet Santa himself. From there, the train will take you back to your car for a 30 minute round trip. Book online today before tickets sell out and be sure to bring a toy for Toys for Tots!
1866 Woodland Dr E | December 6 | Event info
The City of Saline is hosting three PJ's & Stories with Santa events on December 6th. For just $8, kids in their coziest pajamas can enjoy sing-a-longs, crafts, photo opportunities, stories, and treats like milk, cookies and hot chocolate. Pre-register online here.
50165 Eight Mile Rd | December 8 – 9 and 15 – 16 | Event info
Situated on 85 acres, this Northville farm has been a landmark in the community for more than 100 years. Here, children and families can experience the joy of animals, agriculture, farmland and forests year-round. Each December, the farm celebrates the season with Santa Visits. Available two weekends in December, families can come to the Holiday Open House to enjoy delicious treats like hot cocoa and cider, shop in the General Store, see the farm in the snow and meet Santa. There is no admission charge for this event but donations are appreciated.
8801 N Territorial Rd | December 9 | Event info
The two Santa Central events at Hudson Mills Metropark on December 9th allow you and your family to meet Santa and take photos with your own camera. Then, you can all enjoy a hayride and make seasonal crafts to take home. For pre-registration information, click here.
1800 N Dixboro Rd | December 15 | Event info
Each year, Father Christmas himself comes to Matthaei Botanical Gardens for one day. A Visit with Father Christmas allows parents, kids, individuals and families to come to the gardens for free and get a great, festive photo with Santa.
3500 S State St | December 15 | Event info
This year, Brunch with Santa is happening at Kensington Hotel on December 15th from 9 a.m. to 2 p.m. Past events have included omelet stations, vegetarian options like the Michigan Apple Cherry Salad, potatoes, a dessert bar, and the always popular waffle and pancake topping bar.
5200 Polo Fields Dr | December 16 | Event info
From 10 a.m. to 1 p.m. on December 16th, guests to Polo Fields Country Club can eat, drink, visit and take photos with Santa! Prices are $36 for adults, $16 for children between 3 and 12, and free for children two years and younger. To see the menu, click here, and call (734) 998-1555 to make reservations.
407 N 5th Ave | December 22 | Event info
In Kerrytown, you can visit Santa for free from 10 a.m. to 2 p.m. on December 22nd! They're also hosting a Food Gatherers Can Drive so bring a can of food to donate, too.
Happy holidays!
If you know of a place in the Ann Arbor area where we can see Santa, let us know in the comments below.
---
Immaculate Move-in Ready Home in Salem Township
This week we are featuring Tracey Roy's listing – 8379 Beacon Lane, Northville, MI 48168
Q. Can you describe the architectural style of the home?
2 Story Contemporary
Q. What distinctive features set this home apart?
This home is beautifully updated with a gourmet kitchen, vaulted ceilings with a stone fireplace wall, and sits on 2 acres of mature wooded land with gorgeous landscaping and gardens.
Q. What are the advantages of the location & neighborhood?
Conveniently located between Ann Arbor, Plymouth, Northville and South Lyon with Salem Township taxes.
Q. Have there been any recent renovations or upgrades?
Updated kitchen with quartz countertops, Bosch stainless steel appliances, tile backsplash, large island and built-ins. Powder room and 1st-floor master bath have been completely remodeled. New Jeld Wen front door, Kinetico water softener, and electronic air cleaner.
Q. Does the community have any amenities we should know about?
The houses are built on at least an acre if not more and the neighborhood is filled with mature trees and nature.
Q. What amazing views will the new homeowner be able to enjoy?
Two acres of lush landscaping with beautiful flowers, woods and all that nature has to offer.
Q. Can you tell us a fun fact about the home?
It is a great home to entertain with a 3 season porch. The walkout lower level opens to a large deck with built in benches and a big yard to play in. In addition, there is a cute potting shed.
Q. Is there anything else you'd like to tell us about the home?
It has a little bit of country but a great location to schools, shopping, and access to expressways.
For more information about 8379 Beacon Lane, Northville, MI or if you are interested in scheduling a showing, please contact Tracey Roy at  734-417-5827.
---
House Hunting: 4 Ann Arbor area Homes for Sale with a Swimming Pool
Are you currently searching for a new home? Cooling off from this exceptionally warm summer would be refreshing in your own pool.  Here are 4 Ann Arbor area homes for sale that have a swimming pool.
3939 Holden Drive in Ann Arbor

8062 Beacon Lane in Northville
7927 Alta Vista Drive in Pinckney
Did you know that you can search by keyword on ReinhartRealtors.com?  Our Advanced Search allows you to search the description of homes for sale using keywords.
>  Click here to try our Advance Search.