The Reinhart Blog
The 18 Essential Ann Arbor Area Events to Attend July 2019
Quite possibly the most fun-filled month in our region, July is the height of summer and celebration in Ann Arbor. To honor the season, our communities are coming together for outdoor events, concerts, games, parades, races, festivals and so much more. Our guide even includes a few inaugural events, so you may find a few new favorites!
Jump ahead:
Arts + Culture | Community Celebrations | Sports | Food + Drink
Arts + Culture
June 6 – August 29, 11:30 a.m. | Downtown at the corner of Liberty and Division
Since 2008, Sonic Lunch has been bringing free, outdoor concerts to the streets of downtown Ann Arbor every summer. Suitable for all ages, the 2019 concert series kicks off on June 6th and continues through August for a total of 11 shows. All shows begin at 11:30 a.m. and you can see the full lineup here.
July 5 – 7, 8 a.m. – 4 p.m. | Riverside Park
Camaro Superfest is a full weekend of fun in Riverside Park, and it's the nation's largest, longest-running all-Camaro car show. This year, the event theme is pioneers, honoring the first year of each of the six generations of Camaro. All Camaro owners are invited to exhibit and spectators are admitted all weekend for free. To get all the details, click here.
July 6, 9 a.m. – 4 p.m. | Ypsilanti Freighthouse
This inaugural event at Ypsilanti Freighthouse is free to attend and packed with family-friendly fun, including local authors, crafts, book-themed artisans, kids' story hours and more. To get updates, RSVP to the Facebook event here.
July 11 – 14, various times | Various locations
Taking place right here in Ann Arbor, Nevertheless Film Festival is a fully women-run, brand new film festival. The event serves to amplify the voices of female-identifying filmmakers, inspire audiences of all ages, and engage the community in conversation about the power of equal representation behind the camera. To learn more, check out the website here.
July 12, 2 – 10 p.m. | Downtown Ann Arbor  
The 25th Annual Rolling Sculpture Car Show is returning to Main, Liberty and Washington Streets in the heart of Downtown Ann Arbor this July. The event itself is free and open to the public and all cars are welcome to exhibit for a pre-registration fee of $20. On the day of the show, guests will enjoy 300 exotic, antique, classic and one-of-a-kind cars, live music from Hot Rod DJ and Surfer Joe, and family activities provided by The Ann Arbor District Library.
July 12 – 13, various times | Mill Pond Park
The Saline Celtic Festival originally began as a one-day festival but has grown in popularity and fun to include a full weekend of entertainment. Today, the event includes Highland dance competitions, ancient Celtic athletic competitions, kids' activities at Wee Folks Island, living history, jousting, free workshops, sheep herding dog demonstrations, and so much more!
July 12 – 14, various times | Downtown Plymouth
Art In The Park is celebrating its 40th year in 2019 by welcoming over 400 artists from around the country. These professionals and hobbyists will be offering paintings, sculpture, ceramics, jewelry, fiber, woodwork, glass, photography, folk art and so much more. And all the art comes along with live entertainment and food to create Michigan's second-largest art fair!
July 18 – 21, various times | Downtown Ann Arbor
Kicked off by the Townie Street Party on Monday, July 15th and hosted in conjunction with the State Street Art Fair, Ann Arbor Summer Art Fair and Ann Arbor's South University Art Fair, the Ann Arbor Art Fair has grown into quite the event. All around town, you'll find stage performances, street performers and street painting, an art activity zone, a youth art fair, and even more.
July 19 – 20, various times | Historic Depot Town
Showcasing some of the best professional Elvis tribute artists in North America, Elvisfest offers fun for fans and music lovers of all ages. With the purchase of your ticket (ranging in price from $20 to $60) you can enjoy kids activities, a classic car show, local food vendors, an adult beer tent, raffles and more.
July 25 – 27, various times | Downtown Chelsea
This weekend festival began over three decades ago and has grown to be one of the best summer events in the region. Over two days and three nights, you can experience live music, an indie art market, kids' entertainment, a classic car show and more in historic downtown Chelsea.
July 27, 10 a.m. – 4 p.m. | North Bay Park
For the third year, Ypsilanti Township is hosting this hyper-local arts and crafts show at the newly renovated North Bay Park. Guests can shop from local makers, enjoy kid-friendly activities, see live entertainment and more. For updates, RSVP to the Facebook event here.
Community Celebrations
July 4, 11 a.m. | Historic Depot Town
Honor and celebrate the July 4th holiday with one of the area's favorite, patriotic traditions: Ypsilanti's Independence Day Parade. This 90-year tradition is Michigan's oldest parade and will fill the streets of Depot Town with community fun and plenty of red, white and blue!
July 18 – 21, various times | Ella Sharp Park
Offering free admission and just $5 parking on site, Jackson's Hot Air Jubilee is a full weekend of hot air balloons, entertainment, carnival rides and food. Along with several balloon launches scheduled throughout the festival, you can explore the Ella Sharp Museum, dance to the live DJ, play in Kids Kingdom and so much more! Check out the full schedule here.
Sports
July 4, 6:30 a.m. | Downtown Ann Arbor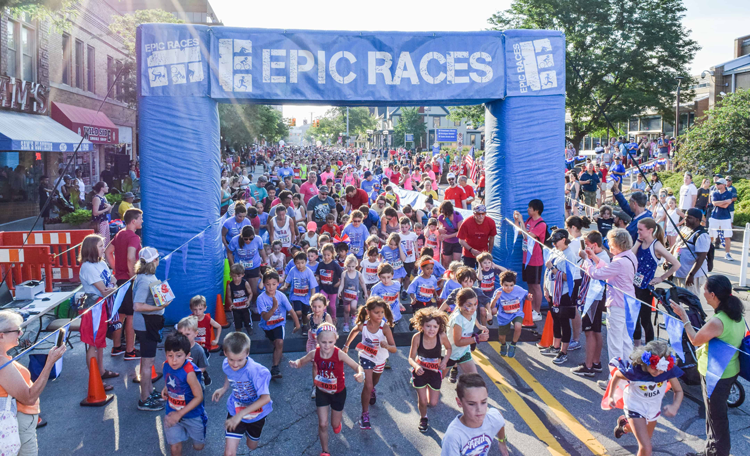 Photo courtesy of Epic Races
On the morning of July 4th in Downtown Ann Arbor, racers will take off from the intersection of Fourth and Liberty—the most patriotic intersection in town. The main race is a 3.1-mile course, but this epic event also offers a one-mile, noncompetitive distance, a special kids' run, a Children's Bicycle-Decorating Contest and the optional add-on event, Ray's Red Hots Hot Dog Eating Contest! For more details and online registration, click here.
July 13, 10 a.m. – 5 p.m. | Ford Lake Park
The Pro Wakeboard Tour is the most dominant professional wakeboard circuit in the world, and this year it's making a stop right here in Ypsilanti! At Ford Lake Park on July 13th, attendees can watch men's and women's competitions in surfing and wakeboarding, and advance tickets cost no more than $5. To see all the additional deals and ticketing specials, click here.
July 21, 7:30 a.m. | Waterloo Recreation Area
One of the coolest triathlon events in the country, Battle of Waterloo features 10 different legs totaling 42 miles throughout the beautiful Waterloo Recreation Area. Participants in the full distance will bike paved roads, run dirt lanes, climb steep trails and swim across three lakes. Or, you can opt for Half the Battle, which includes six legs and 18 miles. For all the details and online registration, click here.
Food + Drink
July 18, 4 – 8 p.m. | Alumni Field
Each year on the third Thursday of July in Manchester, the largest chicken broil of its kind comes to town! Benefiting local public schools, community parks, libraries and civic causes, your $9–10 ticket includes a dinner of chicken, locally famous coleslaw, a roll with butter, potato chips, radishes and a beverage, as well as live music entertainment and a classic car show. For event updates, RSVP to the Facebook event here.
July 26 – 27, various times | Riverside Park
The oldest of the Michigan Brewers Guild's four annual festivals, the 22nd Annual Michigan Summer Beer Festival will host approximately 150 local breweries sampling more than 1,000 different craft beers. Guests can also enjoy live music from Michigan bands and food available for purchase! To purchase your tickets and learn more, click here.
Happy July!
---
---
---
---
---
---
---
---
---