The Reinhart Blog
Where to Shop to Build the Perfect Ann Arbor Gift Basket
The Ann Arbor area is defined by its food, its art, its stories and its hyper-local character. And our regional creators and entrepreneurs know exactly how to show off our state produce, our quirky creativity, our iconic water towers and, of course, our University of Michigan pride.
In this guide, we rounded up some of those local businesses, artists and creators so you can build the perfect gift basket for a new resident, a far off family member, or anyone who needs a little sampling of Southeast Michigan. We also provided the retail locations and links to online stores where they're available so you can shop in person or virtually!
Retail location at 117 W Liberty St in Ann Arbor
Located in Downtown Ann Arbor, the Ann Arbor Art Center is our go-to for enjoying art exhibition, connecting with local artists, and even learning new art skills. The 117 Gallery Shop—located in their Downtown headquarters—is the retail shop where you can find original, handmade works of art for sale by both emerging and established artists from Michigan and beyond. These include original paintings and prints, ceramics, jewelry and more.
Retail location at 315 Detroit St in Ann Arbor
A beloved weekly tradition in Kerrytown, the Ann Arbor Farmers Market is a 100-year-old, year-round market where you can shop from more than 100 local businesses. As a producer-only market, you'll find only local products from Michigan, Ohio or Indiana, and the vendors include fourth-generation farmers, bakers, coffee roasters, artisans and more. It's the perfect place to find Michigan nuts, local maple syrup, fermented sauerkraut or handmade goods for your gift basket!
Retail location at 3203 Broad St in Dexter
Located right on Main Street in the charming town of Dexter, Artistica Gallery showcases more than 35 Michigan artisans inside their cozy shop. These products range from hand-carved, wooden bowls and fabric arts to personal products like soaps and balms. To preview their artists, artisans and products, follow the team on Facebook here.
Retail location at 100 S 4th Ave in Ann Arbor | Online store
Photo courtesy of Bløm Meadworks
Bløm (pronounced bloom) is a hyper-local meadery located in the heart of Ann Arbor. Unlike many other meaderies and cideries, every ingredient is sourced from Michigan and their mead is fermented like a dry craft cider so it's not as thick or as sweet as other meads you may have tried. In addition to hosting pop-ups and weekly yoga classes, they also sell their naturally gluten-free mead in cans both in the taproom and online. To view their online store, click here.
Retail location at 333 S Main St in Ann Arbor | Online store
Inspired by and named after Bo Schembechler—the University of Michigan head football coach from 1969 to 1989—Bo is a store built by and for Wolverines. In the Main Street shop, you can purchase clothing and hats, mugs and glasses, posters and vinyl decals, and basically everything you need to show your Michigan pride. To shop online, click here.
This Etsy shop is run by an Ypsilanti local hand-pouring soy candles to create some of our favorite scents. These include Coffee House which is infused with the scent of freshly ground coffee beans, sweet cream and hazelnut, Rare Book Room which gives off the scent of cedarwood, leather and vanilla, and Campfire which smells just like a summer campfire. The stylish candles even say, "Hand-poured in Ypsilanti, MI" right on the front! To learn more about Bookend Candle Co., you can follow them on Instagram here.
Retail location at 1 Nickels Arcade in Ann Arbor
A landmark of the historic Nickels Arcade, Caravan Gift Shop has been an Ann Arbor shopping destination for more than 90 years! Their charming and eclectic shop is the perfect place to find globally inspired and globally sourced goods, including handcrafted jewelry, unique cards and paper goods, handcrafted wallets, watches, home decor and more.
Retail location at 223 S Main St in Ann Arbor | Online store
Cherry Republic is a Michigan business dedicated to Michigan's Montmorency Tart Cherry and all the delectable products it can help to create. Their inventory boasts more than 200 cherry-based products like chocolate-covered cherries, BBQ sauces, jams, jellies, salsas, nut mixes, ice cream toppings, baked goods, condiments, soda pop, cherry wine and cherry beer. To shop online, click here, or stop by the retail shops in Glen Arbor, Traverse City, Holland, Frankenmuth, Charlevoix and right here in Ann Arbor.
Retail location at 415 N 5th Ave in Ann Arbor | Online store
Perfectly merging vintage and modern, FOUND offers a mix of home decor, pillows, rugs, textiles, candles, jewelry and gifts. And many of those goods are made right here in Michigan by local artisans! Their brick and mortar location is in Ann Arbor's Kerrytown district, but you can also shop much of their inventory online here.
Retail location at 209 S 4th Ave in Ann Arbor | Online store
Photo courtesy of Le Bon Macaron
Born from a love of French culture, Le Bon Macaron is a local, family business that offers two of the most charming cafés in Michigan: one in Grand Rapids and one in Downtown Ann Arbor. If you stop in the store, you can get French press coffee and espresso, fresh scones, ice cream sundaes, French and Italian sodas made with handcrafted fruit puree and, of course, the macarons that have made them famous. But, you can also shop online for Le Bon merchandise and customizable macaron boxes! Check out the online shop here.
Retail location at 124 E Washington St in Ann Arbor | Online store
The perfect place to experience our hometown's book culture, Literati is a locally owned and operated book-lovers' haven in Downtown Ann Arbor. On the store's lower level, you'll find the bookstore, and upstairs, they operate a full-service coffee shop called Literati Coffee. In the bookstore, you'll find the team's famous public typewriter open to the public for typing messages. Over the years, they've accumulated thousands of these love notes, poems, sentences and salutations. Published in 2018, "Notes From A Public Typewriter" compiles some of their favorites alongside essays, photos and more, and this book is the perfect addition to any Ann Arbor gift basket! You can learn more about it and purchase it online here.
Six retail locations | Online store
The M Den is the official retailer of Michigan Athletics, which means you can find branded clothing for women, men and kids, Michigan Nike products, hats, furniture and home decor, autographed memorabilia, toys, jewelry, pet accessories and more. You can shop online here or stop by one of five Ann Arbor locations to shop in person.
Retail location at 216 S Main St in Ann Arbor | Online store
Photo courtesy of Rock Paper Scissors
Located on Main Street in Ann Arbor, Rock Paper Scissors is a paper goods and gift store. In addition to their huge selection of personalized stationery and cards, they carry a variety of fun and funny gifts: mugs, glasses, books, candles, balms, cocktail mixers, keychains, decor and more. To shop online, click here.
Retail locations at 1155 Rosewood St and 117 E Liberty St in Ann Arbor | Online store
Photo courtesy of Laura Garbarz via RoosRoast
RoosRoast is hands down one of the best coffee roasters in Michigan and word of this has reached as far as Portland, San Francisco and Manhattan. With their Loring Smart Roaster, they use 80 percent less energy than similar roasters and still create outstanding coffees (have you tasted Lobster Butter Love?). RoosRoast has received several accolades, including the best coffee shop in Washtenaw County, the number one coffee shop in Southeast Michigan and more. If you can't stop by their two Ann Arbor locations, you can shop coffee, tea and merchandise online here.
To find more local roasters, check out The Best Coffee Roasters Around Ann Arbor.
One of the region's best wineries, Sandhill Crane operates a year-round tasting room in Jackson and the Cider Mill Tasting Room in Dexter during apple season. Made in small batches right on the premises, the tasting lineup includes well-balanced acidic white wines, rich reds, flavorful fruit wines and delicious dessert wines. Upon visiting, you can enjoy tastings, schedule a winery tour and purchase bottles for yourself and your gift basket.
To find even more regional wineries, check out The 14 Essential Wineries to Visit Near Ann Arbor.
Retail location at 12855 E Old US Hwy 12 in Chelsea | Online store
If you need a little snack in your gift basket, check out True North, a locally owned and operated specialty meat shop in Chelsea. In store, you can shop smoked meats and fish, handmade sausages, bratwurst, burger patties, hand cut steaks and more. And their jerky, award-winning snack sticks, hot sauces and specialty cheeses are perfect additions to show off true Michigan flavor. To shop more than 25 different jerky flavors online, click here.
This Ypsi-inspired Etsy shop is the online destination for all things Ypsilanti. These mugs, tops, towels, tags, posters and cards feature tons of local character and plenty of Ypsilanti Water Tower jokes. You can even buy a customizable, handmade Ypsi Water Tower piñata! But if that won't fit in your basket, maybe think about a "Greetings from Ypsi" whiskey tumbler; check it out here.
Retail location at 3723 Plaza Dr in Ann Arbor | Online store
Photo courtesy of Zingerman's Creamery
Zingerman's Community of Businesses is an icon of Ann Arbor. Their story started with a small deli opened in 1982 and has grown into a community of more than 10 different local businesses all located right here in the Ann Arbor area. At the creamery, they create handmade, full-flavored cheeses and gelati using traditional methods and the highest quality milk sourced from small-scale, regional farmers. At the Cream Top Shop, you can taste cheeses, gelato and sorbet and take home the perfect, cheesy addition to any gift basket. To order online, check out Zingerman's Mail Order here. And to learn more about all the businesses, check out Your Guide to 14 Zingerman's Businesses in Ann Arbor.
Do you have a gift basket idea?
Tell us where you're shopping in the comments below!
---
The List to Send Your Friends When They Ask What to Do in Ann Arbor
So, you have friends or family coming into town and you've suddenly forgotten everything there is to do in Ann Arbor. We've all been there. But luckily, there's plenty to do in our charming little town. And with this guide, you now have a curated list to send that covers student culture, local food, townie favorites, educational experiences, music, film and books, outdoor exploration, craft beer and more.
Other helpful guides include Where to Take Out of Town Guests in Ann Arbor, Michigan and Spending a Day in Downtown Ann Arbor, Mapped. Enjoy!
1. Go shopping in Kerrytown.
Kerrytown is a charming market district located just a few blocks from the heart of downtown Ann Arbor. Here, you'll find the year-round Ann Arbor Farmers' Market, other annual events like Kerrytown KindleFest, beloved restaurants like Miss Kim and The Lunch Room, as well as local shops 16 Hands, Ann Arbor Spice Merchants, Spun and more.
This landmark shop has the biggest cones in town at the lowest prices, and they also serve up homemade donuts and donut minis! With more than 30 ice cream flavors, hand-dipped shakes and malts, everyone can find a cold, refreshing treat to enjoy. Follow the team on Instagram and get ready to drool.
To track down more local ice cream, check out The 10 Best Places for Ice Cream in Ann Arbor, Michigan.
Photo courtesy of Michelle Andonian via University of Michigan Museum of Natural History
The U-M Museum of Natural History story begins all the way back in 1837 when the university was created, but the first museum building wasn't constructed until 1881. In April 2019, the museum celebrated its most recent grand reopening after a move into the brand new Biological Sciences Building, part of the U-M School of Literature, Sciences and the Arts. Today, the constantly expanding exhibits include interactive displays about mastodons and prehistoric whales, multimedia artwork, the evolution of life on Earth, space exploration and more. You can even see the museum staff at work in the Fossil Prep Lab! For more information on your visit, click here. And remember, admission to the museum is free, but donations are always accepted.
4. See a show at
The Ark
.
The Ark is Ann Arbor's destination for live music and has been since it was founded in 1965 by four area churches. Today, the venue offers more than 300 nights of shows each year in one of the best listening rooms anywhere. In the past, they've brought huge acts like Howie Day, Blind Pilot and the Violent Femmes to town! See all their upcoming events here.
And for even more music-centric activities, check out The Music Lover's Guide to Ann Arbor.
The Michigan Theater Foundation was founded in 1979 to save the Michigan Theater from the wrecking ball—and we're so glad it was. Originally founded in 1928, the theater is now home to three screening spaces for independent movies, concerts, comedy shows, national tours and more. You can check out the current films here and peruse the special event schedule here. Or, head over to the historic State Theatre for even more movies and shows!
Fleetwood Diner is the home of late night eats in Ann Arbor. You can get their entire menu of diner classics 24 hours a day, and that lineup includes omelets, pancakes, egg dishes and, of course, the famous hippie hash, which is a plate of homemade hash browns topped with grilled tomato, green pepper, onion, mushroom, broccoli and feta cheese.
Photo courtesy of Bill's Beer Garden
Open seasonally March through October, Bill's Beer Garden is a community gathering place that offers an impressive lineup of Michigan, domestic and imported craft beers and wines. Located right next door to Downtown Home & Garden, the outdoor beer garden has long, communal tables and shaded areas for gathering with friends. Follow the team on Instagram here to get updates on weather closures and special events.
And if you're visiting outside of the Bill's Beer Garden season, check out Your Ultimate Guide to 20 Craft Breweries in the Ann Arbor Area to learn more about our town's best craft breweries.
Photo courtesy of Literati Bookstore
Literati Bookstore is a locally owned and operated book-lovers' haven in downtown Ann Arbor. On the store's lower level, you'll find the bookstore and the team's famous public typewriter which invites anyone and everyone to type a message. Over the years, they've accumulated thousands of love notes, poems, sentences and salutations. Published in 2018, "Notes From A Public Typewriter" compiles some of their favorites alongside essays, photos and more. Stop by to shop local for books, type your own notes on the Literati public typewriter, then head upstairs to visit Literati Coffee, a full-service coffee shop.  
If you need more books during your visit, check out Your Guide to Ann Arbor's Independent Bookstores, Mapped.
9. Order sangria at Dominick's.
Dominick's is famous for their potent sangria, their Italian-inspired eats and, of course, their patio! Since opening in 1960, this locally owned spot has been the go-to for locals, students, families, you name it! Swing by the patio on a sunny summer day and you'll quickly find out why.
Zingerman's Delicatessen was the first business to open in what is now the famous Zingerman's Company of Businesses, and it opened all the way back in 1982 with a staff of just two people. Today, the deli is still located in the small, red brick building across from the Ann Arbor Farmers' Market, but the menu and the staff have grown astronomically. That menu features some of the best sandwiches you can get in the state of Michigan alongside other creations—some of which are made at the other Zingerman's businesses around town. Right next door to the deli, you'll find Next Door Dessert & Coffee House where you can order cakes, pies, cupcakes, gelato, cookies, brownies, chocolates, candies and more.
To track down all the Zingerman's businesses in the area (including bakeries, coffee roasters, creameries and restaurants), check Your Guide to 14 Zingerman's Businesses in Ann Arbor.
11. Go kayaking on the Huron River.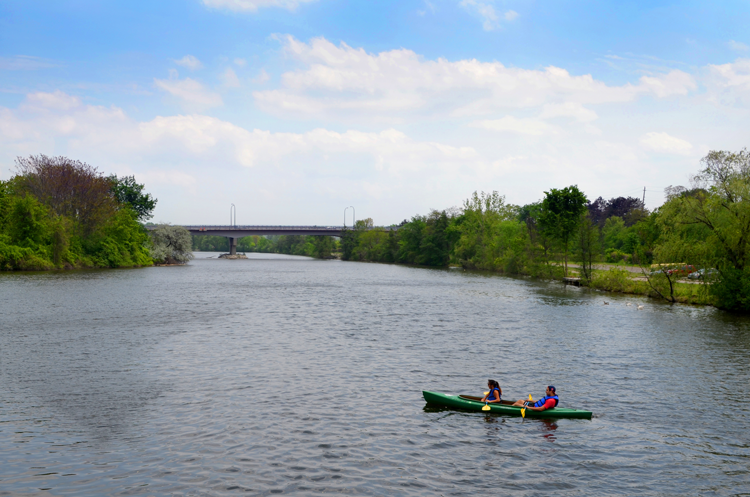 If you visited Ann Arbor and you didn't see the Huron River, did you even visit Ann Arbor? Well, maybe, because this picturesque river is pretty hard to miss. One of the area's favorite outdoor activities is kayaking and canoeing on the water and resources like the Gallup Park Livery and Argo Park Livery make it easy to do. For full details on where to go and what you need, you can read The Ultimate Guide to Kayaking in Ann Arbor.
One of the most obvious attractions in Ann Arbor is the University of Michigan campus, but you can do a lot more on campus than just people watch in The Diag. For example, the University of Michigan Museum of Art is one of the largest university art museums in the country! Their collections represent 150 years of art collecting and include everything from 1000 BCE Middle Eastern artifacts to 21st-century paintings. Admission to the museum is always free, but a $10 donation is also appreciated. Get full details and plan your visit here.
Matthaei Botanical Gardens and Nichols Arboretum are two educational and environmental gardens located on the U-M campus. The botanical gardens include 11 outdoor spaces full of bonsai, native and medicinal plants, perennials and more which bloom seasonally from spring to the first frost. During the colder months, you can head inside to the year-round conservatory which is filled with plants from around the world.
The second area, Nichols Arboretum, is one of the richest landscapes in the region. It spans miles of trails and land with collections of native and exotic trees and shrubs crafted into a landscape that was originally started by O. C. Simonds in 1907. To see visiting information on both the gardens and the arboretum, click here.
The Ann Arbor Farmers' Market is open year-round on Saturdays, and during the summer, you can enjoy it twice a week on Saturdays and Wednesdays! From May through October, they also host six food truck rallies scheduled on the first Wednesday of the month. It's a great place to get a sense for our Ann Arbor community and to get a little local shopping done.
15. Spend a day in Ypsilanti.
Located directly southeast of Ann Arbor along the Huron River, Ypsilanti represents some of Michigan's best and most interesting hidden gems, including dining destinations, outdoor recreation, historic attractions, craft breweries and events. To begin your exploration of this charming community, check out Your Ultimate Guide to Ypsilanti, Michigan.
Want to add something to the itinerary?
Tell us about your essential Ann Arbor activities in the comments below!
---
Your Ultimate Guide to Milan, Michigan
A growing city of just over 5,000, Milan, Michigan straddles the Washtenaw and Monroe County line, providing its residents with quick access to Ann Arbor, Ypsilanti, Monroe, Detroit and Toledo, Ohio. While the town was founded in 1831 as an agricultural community, it has grown into a community of small business owners and professionals. And with nearly 200 acres of parkland in the city, recreational opportunities abound!
Whether you're new to Milan or you're just visiting for the day, keep reading to learn more about some of the best local restaurants, the most fun activities, the coolest places to go and the biggest annual events.
Jump ahead:
The Essential Eateries | Things to Do | Outdoor Recreation | Annual Events
White space 
White space
The Essential Eateries
JR's Hometown Grill and Pub originally opened in 2009 in Adrian and has since grown to include five hometown restaurants. At the Milan location, you can get the same amazing menu, including the team's famous steaks, ribs and delicious burgers. Also at the Milan location, you can eat breakfast seven days a week!
Run by locals Tom and Vicki right here in Milan, Zilke Farm Kitchen branched out from Zilke Vegetable Farm and the team's summer farmstand. Though this is not a sit-down restaurant, they sell a great selection of healthy, local, tasty ingredients as well as take-home freshly prepared meal kits, ready-to-heat single serving meals, salads and more. And it's all available in a comfortable store that's designed to feel like a home kitchen and pantry.
Open seasonally, Milan Dairy Barn has been a tradition for generations of Milan families. Though they're famous for soft serve and hard serve ice cream treats like sundaes, shakes, flurries and banana splits, they also offer a huge menu of hot dogs, hamburgers and cheeseburgers, chili cheese fries and more.
A staple in the Milan food scene, Milan Coney Island has been owned and operated by the same family since 1999. The welcoming, family atmosphere comes free with their huge breakfast, lunch and dinner menus of American classics, including steaks, corned beef sandwiches, burgers and more.
A beloved local business, the most frequent review you'll hear about Roy's is that they have the best burgers in Michigan. In an all-American diner setting, they also serve up BBQ sandwiches, cheese steak hoagies, baby back ribs, hot dogs and the Bubba Burger, which is two half-pound patties stacked on three pieces of Texas toast.
Open seasonally at DR Trailer, Papa G's serves some of the best BBQ in the area. Their menu can include things like homemade brisket chili, smoked sausage, ribs and more. To stay up-to-date on their operating hours and menu, follow the team on Facebook here.
Things to Do
Photo courtesy of Original Gravity Brewing Company
Original Gravity is Milan's original brewery. Though Brad Sancho just opened this microbrewery in 2008, it's still the town's only craft brewery and serves as the local destination for beer, community and fun. Focused on creating an outstanding taproom experience, their space has old-school arcade games, board games, televisions and delicious deli sandwiches.
Featured in The Best Coffee Roasters Around Ann Arbor, Milan Coffee Works has been an area favorite for years. At their headquarters—a charming, bright and welcoming coffee shop in the heart of Milan—they roast coffees in small batches. While you're hanging out in the cozy, neighborhood cafe, we also recommend tasting the homemade chai! For information on events and pop-ups, follow the team on Facebook here.
Photo courtesy of Milan Dragway
Milan Dragway is a quarter-mile, NHRA-sanctioned drag strip that hosts events throughout the spring, summer and fall. Their race schedule includes Test & Tune events where you can test your car, plus spectator events like Bike Night, Aeroquip Heads Up and Kickin' It Old School. And kids 12-years-old and younger are always admitted for free! To see the race schedule, click here.
The Owl is an all-day hangout that offers exclusively organic, shade grown, carbon-free and fair trade coffee. By night, they also offer Michigan's finest craft beers and ciders for an atmosphere that anyone can enjoy. As a community hangout, The Owl offers weekly events, like beer yoga, trivia night, live music and more. To stay up-to-date on events, follow the team on Facebook here.
Photo courtesy of Adventure, Ink
This small, locally owned comic, book and gaming store is the headquarters of fun and gaming in Milan. As a neighborhood shop, they've built a community where everyone is welcome to play, teach and learn about role-playing games, board games, card games and more. To stay up-to-date on fun events and workshops, follow the team on Facebook here.
Downtown Milan is one of the best places to shop local in town, and Northern Chicks is a beloved shop located at the heart of Main Street. Their cozy, down-home boutique offers a curated collection of vintage home decor, including old and new, as well as Michigan-made artisan gifts and boutique clothing.
During the fall season, Wasem Fruit Farm offers more than a dozen varieties of apples you can pick yourself, you-pick raspberries available in September and early October, you-pick pumpkins in October, and pears! And during a fall visit, guests get the chance to taste plain, apple, blueberry and pumpkin donuts paired with some of the best, fresh cider in the region.
Just next door, you can also venture to Talladay Farms for a trip through one of the Midwest's largest corn mazes. It covers 27 acres!
Outdoor Recreation
Wilson Park
The headquarters of outdoor recreation, community events and family-friendly fun in Milan, Wilson Park cover 35 acres in Downtown Milan. Here, you'll find charcoal grills, playground equipment, basketball courts, a sand volleyball court, walking and biking paths, as well as softball and baseball fields.
Gump Lake Park
This 9-acre park is home to an adult softball league as well as a variety of local youth baseball teams. Located just south of Main Street, the park features two baseball/softball diamonds and is connected to Wilson Park by a paved multi-use path that runs along the scenic Saline River.
Located just west of Milan, this preserve protects 113 acres and more than one-half mile of Saline River shoreline. Explorers can enjoy 2.25 miles of trail and high-quality floodplain forest habitat with oak, walnut, butternut, and sycamore trees.
Annual Events
May
Photo courtesy of Mary Kerkes Photography via Milan Main Street
Organized by Milan Main Street, Bloom is an annual celebration of spring complete with free activities for the entire family, like field day games, scavenger hunts, a flower mart, an artisan market, a bike parade, live music and more.
May  
The annual Milan Fair is a favorite regional event for good reason! Each year, highlights include a carnival, a parade, an artisan market, fireworks, kids' activities, and an entertainment tent with things like karaoke and live music. For information on this year's event, click here.
June – October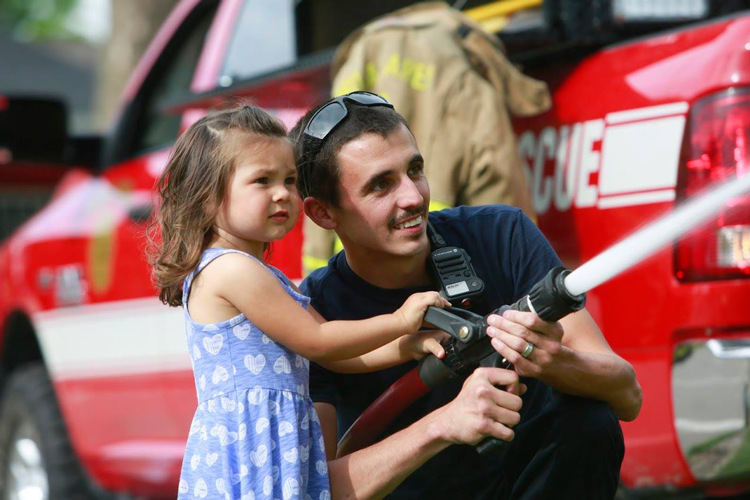 Photo courtesy of Lori Nemeth Photography via Milan Main Street
On the third Thursday of each month from June through October in downtown Milan, 3rd Thursdays turns the neighborhood into a free, family-friendly festival. Attractions include local food and beer, live music, activities for both kids and adults, and shopping with vendors offering handmade, handcrafted and homegrown goods.
August
An annual event hosted by Milan Main Street, Route 23 Arts & Music Festival is a three-day celebration complete with live music, street performers, plays, a street art fair, food trucks, a craft beer festival and a beer garden. For information on this year's event, click here.
November
In celebration of Small Business Saturday, Pop On Main Street brings together the Milan small business community for a full day of special deals and promotions, pop-up markets, food trucks, artisans and vendors. For information on this year's event, click here.
February
Centered around Milan's downtown shopping area, Wilson Park and Edgetown, this annual event is one of our favorite winter happenings in Southeast Michigan. Activities include a chili cook-off, the Let's Chill Winter Fest Wine Walk, indoor and outdoor winter games, ice carving, an artisan tent, local food, The Big Freeze and more. For full details on the next event, check out the website here.
What do you love about Milan?
If we missed your favorite local business, attraction or event, tell us about it in the comments below!
---
10 Reasons Ann Arbor is the Best College Town in America
Ann Arbor is home to the world-renowned University of Michigan. On its own, our hometown university has consistently ranked on National University Rankings amongst other ivy league superstars like Yale and Harvard. But the university paired with our outstanding community has landed Ann Arbor on lists of the country's best college towns. This Livability list, 2017 Best College Towns, puts us in the top ten, and Ann Arbor regularly ranks in the top five of Livability's Top 100 Best Places to Live (it snagged the number one spot in 2018!).  
We could go on and on listing awards, accolades and honors our little city has won (like 5 Great College Towns to Settle In Post-Graduation), but now, we're going to let the community speak for itself. Keep reading to find out exactly what makes Ann Arbor the best college town in America.
1. The school
This one is kind of a no-brainer, but we can't talk about our perfect college town without bragging about the university that makes it what it is. The University of Michigan is continually ranked amongst the best universities in the nation, and in the US News & World Report 2019 ranking of the best national universities, it makes the top 30. Boasting a total undergraduate enrollment of just under 30,000, UM offers students more than 1,500 organizations, more than 60 Greek chapters, and an impressive lineup of athletics for both athletes and fans.
2. The food
Late night food, date night food, patio dining — you name it and Ann Arbor has it. Our humble foodie city offers local eats you won't find anywhere else, covering just about every cuisine, every craving and every occasion. To get a sampling of some of Ann Arbor's best, check out The 13 Best Places to Eat After Midnight in Ann Arbor, The 13 Best Places to Get a Burger in Ann Arbor, The 15 Best Date Night Restaurants in Ann Arbor and The 16 Essential Brunch Spots in Ann Arbor.
3. The events
Whether you're looking for events hosted by the university or outside of the university, our local calendar is packed. On campus, you'll find regular events through the University Musical Society at Hill Auditorium, theater performances with the School of Music, Theatre & Dance at the Power Center for the Performing Arts, as well as annual student celebrations like Winterfest, Friday Flicks, UMix Late Night, UM Slam Poetry and more.
Outside of the university, our community calendar is filled with events for foodies, musicians, artists, outdoor enthusiasts—events like Cinetopia Film Festival, Taste of Ann Arbor, Ann Arbor Summer Festival, FestiFools and FoolMoon, Kerrytown BookFest, Huron River Day, and so many more. To stay up-to-date on the essential events each month, follow along on the Reinhart blog where we post monthly event guides for Ann Arbor and our surrounding communities.
4. The outdoor recreation
Is there any activity more stereotypically college than disc golf? We don't think so, and Ann Arbor is home to two public courses maintained by the city, as well as a FootGolf course! In fact, our city boasts nearly 2,100 acres of parkland and 14 recreation facilities where visitors can hike, bike, picnic, swim, cross-country ski—you name it.
For ideas on where to go and what to do, check out 8 Things to Do in the Ann Arbor Area for Outdoor Enthusiasts.
5. The Main Street 
Every college town needs a hub for local food, local events and local character. Not only is this the place you'll spend most of your free time, it's also the place you'll take your parents, your friends and your family every time they visit. Here in Ann Arbor, that place is Main Street, the heart of downtown, located less than half a mile from the UM campus.
The downtown area is home to some of the city's best local restaurants (try Aventura, The Pretzel Bell and Spencer for starters) and local events like Taste of Ann Arbor, Rolling Sculpture Car Show and Midnight Madness. To stay up-to-date on the happenings around the area, check out the Main Street Area Association.
6. The football   
You're going to spend a lot of time in The Big House. But UM athletic events will also make you well acquainted with the Crisler Center and Yost Ice Arena because our university is home to one of the best football programs, one of the best basketball programs, and one of the best ice hockey programs in the country. Needless to say, you'll have a way to show off your Michigan pride all year long! #GoBlue
For more information on all Wolverine athletics, check out the University of Michigan Athletics website.
7. The museums
Operated both through the university and through community organizations, Ann Arbor is packed with museums and educational opportunities. The long list of options includes University of Michigan Museum of Art which is one of the largest and oldest university art museums in the country, the Kelsey Museum of Archaeology which presents research on Classical, Egyptian, and Near Eastern archaeology, and the University of Michigan Museum of Natural History which displays four billion years of natural history.
8. The live music
Live music is one of the best ways to spend an evening whether you're a student, a graduate or a regular townie. The University of Michigan School of Music, Theatre & Dance puts together more than 900 performances every year. And outside of the university, you'll find impressive and diverse event calendars at The Ark, The Blind Pig, Kerrytown Concert House and even Michigan Theater.
9. The local art
Ann Arbor's local and public art provides a way for you to practice your own creativity, a way to admire the work of your peers and your community, and an opportunity to get some iconic Instagram photos. Yes, we're talking about The Michigan Wings, the perfect spot for your first day of school photo and your graduation photo. You can find this blue and maize mural at the corner of East William and Maynard streets at Tower Plaza.
Other landmark murals include The Bookstore Mural which depicts the colorful heads of Woody Allen, Edgar Allan Poe, Hermann Hesse, Franz Kafka and Anaïs Nin. And you have to snap a photo at the Singing in the Rain mural located on the 5th Ave. entrance to the Library Lane Parking Structure!
To start your official exploration of Ann Arbor art, visit Ann Arbor Art Center, a nonprofit arts center that hosts rotating exhibits, classes, events and a supply shop.
10. The craft beer
Craft beer culture seems to especially boom around major colleges and universities — and we don't think that's a coincidence. Here in Ann Arbor, we've experienced the craft beer boom as much as any other college town (and maybe even more than most). To get the lowdown on the city's best, check out Your Ultimate Guide to 20 Craft Breweries in the Ann Arbor Area. It even has an interactive map so you can track down the one closest to you right now!
Are you a University of Michigan alumnus?
Let us know why you think Ann Arbor is the best college town in the comments below!