The Reinhart Blog
10 Reasons Ann Arbor is a Great Place to Call Home
In very brief summary, Ann Arbor is unlike any other town. The stories behind our beloved businesses, the legends driving our annual events, and quirky things like fairy doors and Hash Bash make our hometown one of the best places to live—and one of the most interesting, too.
Living here puts residents within driving distance of Detroit, minutes from the Lower Peninsula's largest state park, a quick trip from the perfect vacation on Lake Michigan, along the route of the Huron River and in close proximity to Michigan's best historic small towns. 
To get the short list of our favorite things about Ann Arbor, keep reading! 
1. It really is one of the best places to live.
If you already live here, you know. Ann Arbor is consistently ranked on lists of the country's best cities to live, visit and go to school. Some of our favorites include College Ranker's The 50 Best College Towns to Live in Forever, Livability's 5 Great College Towns to Settle In Post-Graduation, and The Travel's 10 US Destinations For Your Next Long Weekend Getaway.
2. It's home to one of the country's best universities.
The University of Michigan is continually ranked amongst the best universities in the nation, and in the US News & World Report 2019 ranking of the best national universities, it makes the top 30. Boasting a total undergraduate enrollment of just under 30,000, UM offers students more than 1,500 organizations, more than 60 Greek chapters, and an impressive lineup of athletics for both athletes and fans.
Even locals who aren't involved in the university can enjoy university facilities and programs like the University of Michigan Museum of Natural History, the University of Michigan Museum of Art, Matthaei Botanical Gardens and Nichols Arboretum and more. 
3. It's a haven for coffee lovers.
If you haven't sampled A2's coffee culture, you're in for a treat. Our small city ranks with craft coffee giants like Seattle, San Francisco and New York. Our hometown has been named on The 10 Best Cities for Coffee Lovers in America and Livability's 10 Unexpectedly Awesome Coffee Cities. A quick trip to downtown Ann Arbor can include stops at Literati Coffee, RoosRoast, lab, Comet Coffee and Sweetwaters Coffee & Tea—all packed into a few blocks! 
To preview the local coffee scene, check out The 16 Best Coffee Shops in the Ann Arbor Area. And read The Best Coffee Roasters Around Ann Arbor to find a few shops that do their own roasting!
4. And for book lovers!
Ann Arbor's history is rich with literature, books, bookstores and book-themed festivals. Before the nationwide bookstore Borders closed its doors for good, it was founded and headquartered right here in downtown Ann Arbor. Today, our city's book-loving culture is alive and well through local, indie businesses like Literati Bookstore, Bookbound and Nicola's Books. To track down even more places to shop, check out Your Guide to Ann Arbor's Independent Bookstores, Mapped. For events, clubs and more, check out The Book Lover's Guide to Ann Arbor. 
5. We love local. 
Bookstores and coffee shops aren't the only things that are indie and local around here. Ann Arbor also boasts tons of local craft breweries, local shops and eateries that were built right here and have become staples of our community. For example, Arbor Brewing Company was the first brewpub to open in Ann Arbor and only the fifth brewpub to open in the entire state of Michigan. Learn more in Your Ultimate Guide to 20 Craft Breweries in the Ann Arbor Area. 
Another national name that began right here is Zingerman's, and though it is nationally recognized, this community of businesses has stayed right here in Ann Arbor and has grown to include the original deli, a coffee roaster, a bakery, a cheese and gelato shop, multiple restaurants, an event venue, and more. For the complete details, check out Your Guide to 14 Zingerman's Businesses in Ann Arbor. 
6. We have a year-round farmers' market. 
Speaking of loving local, Ann Arbor has an outdoor farmers' market that operates all year long! At the heart of Kerrytown, the Ann Arbor Farmers' Market brings together our community, our local makers, our local growers and our local artisans for weekly events—and bi-weekly events during the summer! For the full schedule and information about seasonal food truck rallies, click here. 
7. There's always something to do. 
We know in a suburban city like Ann Arbor, things can sometimes feel slow and quiet, but boring isn't in our vocabulary around here. In addition to fun activities found in guides like 14 Things to Do in Ann Arbor Under $20, 10 Ann Arbor Date Ideas Perfect for Any Time of Year and 18 Things to Do with Kids in Ann Arbor, our community hosts tons of special events and festivals throughout the year. In our blog post, The Ultimate Guide to Annual Events in Ann Arbor, we highlighted more than 25! And that just covers the largest ones. To stay up-to-date on even more, check out Destination Ann Arbor here. 
8. It offers urban amenities and rural adventure.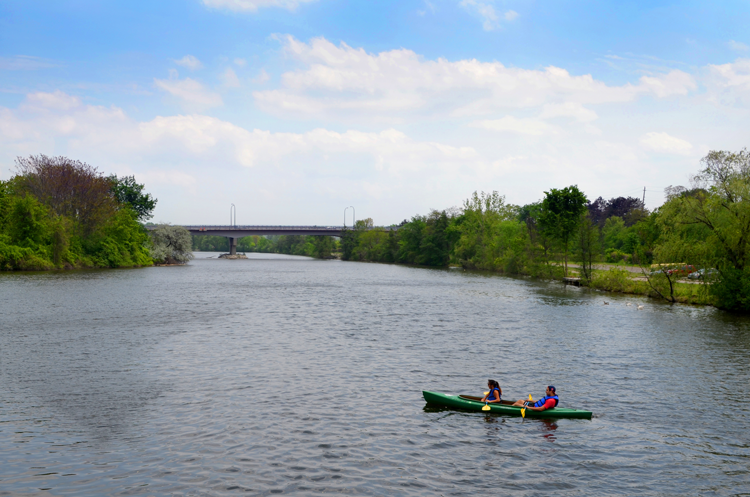 Ann Arbor offers the fun of a college town, the amenities of a city, and the open space of a charming, rural town. It's the urban center of Washtenaw County and is less than an hour from Detroit, but also offers proximity to the huge Waterloo State Recreation Area and Pinckney Recreation Area near Chelsea and Dexter. For outdoor fun both in town and outside of it, check out 8 Things to Do in the Ann Arbor Area for Outdoor Enthusiasts, The Ultimate Guide to Kayaking in Ann Arbor, Everything You Can Do in Waterloo Recreation Area and Your Summer Guide to Ann Arbor's City Parks, Mapped. 
9. It's an affordable place to live. 
Home to a variety of industries and an award-winning university, Ann Arbor is a great place to live, work and invest. According to the United States Census Bureau, median household income in Ann Arbor is $61,247 which is higher than both Michigan and the United States. And, widening the range to the entirety of Washtenaw County, the median household income jumps to $65,618.
Looking to housing, the median value of owned homes is $271,600 and median gross rent is $1,166. Measured with the median household numbers we discussed, Ann Arbor is one of the country's more affordable places to live—especially when compared to popular urban areas across the country. If you want to find homes on the market right now, click here to view the area's newest listings. And to get more economic and social statistics like this, check out our other guide 10 Reasons to Stay in Ann Arbor After Graduation.
10. It's surrounded by more small towns we love.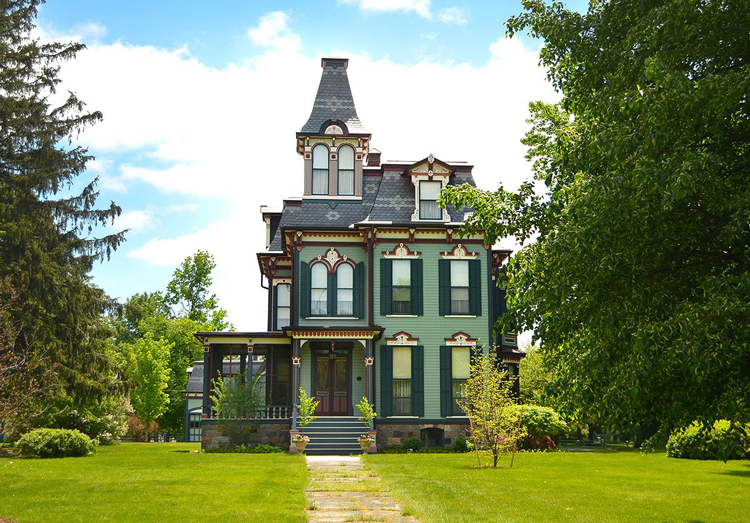 Living in Ann Arbor puts you within reach of some of our state's most charming small towns. These quieter and historic communities—like Chelsea, Dexter, Milan, Saline and Ypsilanti—are home to some of Michigan's best hidden gems, from entertainment at The Purple Rose Theatre Company to coffee and beer at Cultivate. To begin your explorations of these communities, we recommend the following guides: Your Ultimate Guide to Chelsea, Michigan, Your Ultimate Guide to Dexter, Michigan, Your Ultimate Guide to Milan, Michigan, Your Ultimate Guide to Saline, Michigan and Your Ultimate Guide to Ypsilanti, Michigan. 
That was our short list. 
For even more reasons to love Ann Arbor, including the college culture, economic statistics and housing information, check out 10 Reasons We're Lucky to Live in Ann Arbor, 10 Reasons Ann Arbor is the Best College Town in America and 10 Reasons to Stay in Ann Arbor After Graduation.
And to stay up-to-date on local events, things to do, favorite businesses and regional real estate, you can follow us on Facebook and Instagram. 
---
15 Fun Things to Do in Ann Arbor When You're Not Drinking
Ann Arbor is both a college town and a great craft beer town, which means you'll find tons of things to do when you're looking for craft cocktails, beer gardens, taprooms, late night bars and the like. But if you're worried you won't be able to find anything to do outside of bar hopping and brewery crawling, there's no need—our hometown also offers an impressive lineup of fun things to do, shows to see, classes to take, places to shop, and more. There's even one spot on this guide serving up incredible mocktails! 
Next time you're looking for something to do in Ann Arbor without the booze, stop by one of these local favorites for art, music, shopping, movies, food, games, tours, tea, coffee and ice cream.
Photo courtesy of Ann Arbor Art Center
Located in downtown Ann Arbor, the Ann Arbor Art Center is our local headquarters for enjoying art exhibition, connecting with local artists, and learning new art skills. Their educational experiences are available for all ages and topics cover everything from painting and ceramics to jewelry making and metalsmithing. Depending on how deep you want to delve, you can choose a class that lasts just a few hours, a full day or four weeks. To see upcoming topics and classes, click here.
The Ann Arbor Farmers' Market is open year-round on Saturdays, and during the summer, you can enjoy it twice a week on Saturdays and Wednesdays! From May through October, they also host six food truck rallies scheduled on the first Wednesday of the month. It's a great place to get a sense for our Ann Arbor community and to get a little local shopping done.
See a show at
The Ark
.
Photo courtesy of Jennifer Patselas via The Ark
The Ark is Ann Arbor's destination for live music. Founded in 1965 by four area churches, the venue has grown to offer more than 300 nights of shows each year in one of the best listening rooms anywhere. In the past, they've brought big names like Howie Day, Blind Pilot and the Violent Femmes to town! See all their upcoming events here.
Dine and drink at
Aventura
.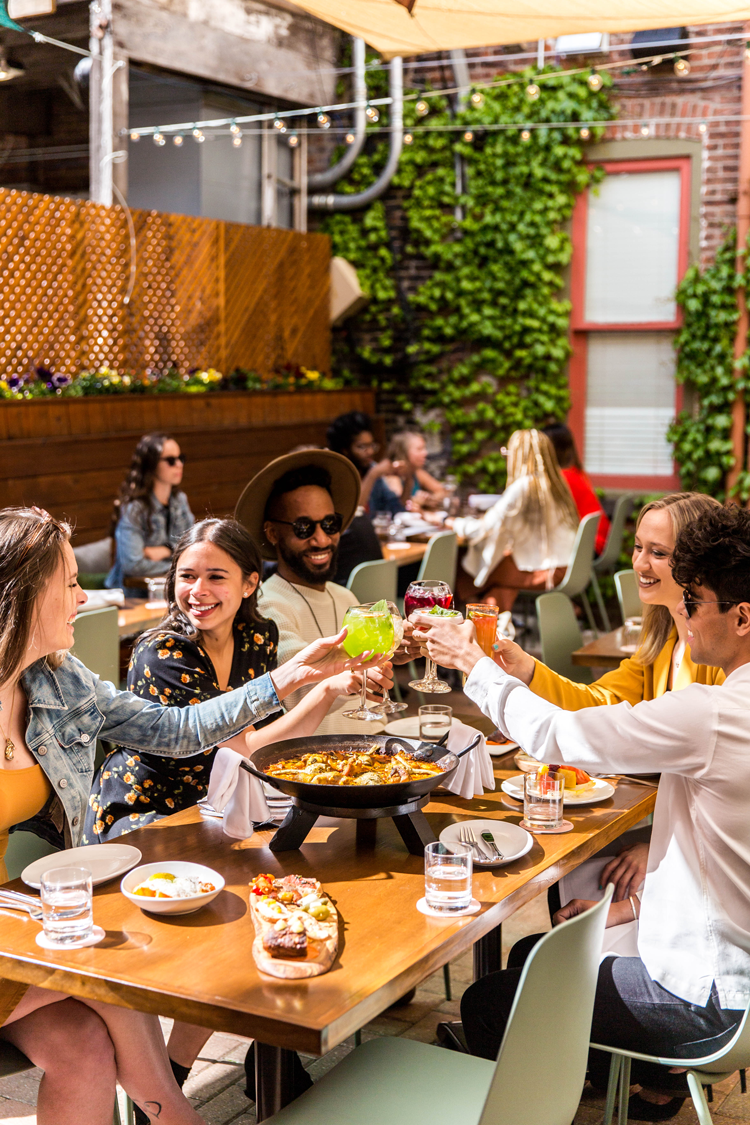 Photo courtesy of Claire Lindsey, Aventura
Aventura is a charming spot in downtown Ann Arbor that offers authentic Spanish cuisine and culture, including tapas, paella, vino and artisan cocktails. Inspired by the old-world atmosphere and the historical nature of the building itself, the eatery merges Ann Arbor history with modern Spanish influence. Also on the menu, you'll find an impressive selection of crafted mocktails like Sangria Falsa, which is made with pomegranate, Earl Grey tea, cinnamon and citrus. To see the full menu, click here.
Founded right here in Ann Arbor and inspired by our hometown neighborhoods, chefs, businesses and history, By the Sidewalk Food Tours explores all of that and more. The Classic Ann Arbor By The Sidewalk tour is a three hour, guided walking tour through downtown Ann Arbor and Kerrytown that pairs food tastings with history, art, architecture and local stories.
Go out for coffee. 
If you haven't taken the opportunity to explore Ann Arbor's coffee scene, you're definitely missing out. In fact, our hometown has been named on The 10 Best Cities for Coffee Lovers in America and National Geographic's guide These Unexpected Cities Have the Best Coffee in the U.S. To explore the most up-to-date happenings on the coffee scene, check out Coffee Ann Arbor on Facebook and Instagram.
You can also preview the coffee scene with our guide The 16 Best Coffee Shops in the Ann Arbor Area. And check out The Best Coffee Roasters Around Ann Arbor to find a few shops that do their own roasting!
Escape from
Decode
. 
As Michigan's top escape game, Decode offers some of the most interesting and complex escape rooms in the state—and they have facilities in Ann Arbor, Ypsilanti and Detroit! In Ann Arbor, their facility offers a three-part adventure called Minerva's Trilogy. The story is about Minerva, an adolescent Artificial Intelligence machine with lofty goals. The Minerva Project and Minerva's Return are the first and last parts, both one-hour escape rooms. And the second part, Minerva's Escape, is a free puzzle hunt through downtown Ann Arbor.
Photo courtesy of Andrew Jager via Blank Slate Creamery
Locally owned and operated, the ice cream at Blank Slate Creamery is homemade using fresh, all-natural ingredients, which has landed them on numerous rankings as the top ice cream in Ann Arbor and even throughout the state of Michigan. You can see a list of several of their locally-sourced ingredients on their website, which includes milk and cream from Guernsey Farms Dairy in Northville.
To find even more ice cream in the area, check out The 10 Best Places for Ice Cream in Ann Arbor, Michigan.
The Michigan Theater Foundation was founded in 1979 to save the Michigan Theater from the wrecking ball—and we're so glad it was. Founded in 1928, the theater is now home to three screening spaces for independent movies, concerts, comedy shows, national tours and more. Check out the current films here and peruse the special event schedule here. Or, head over to the historic State Theatre for even more movies and shows!
Pinball Pete's opened its doors more than 30 years ago and has since become the Ann Arbor destination for arcade fun. You can spend your quarters along the entire wall of pinball machines, play video games, and challenge your friends to a game of pool or air hockey!
Ann Arbor's favorite tea spot, TeaHaus offers options suited for a quick stop or an entire afternoon. For example, the full English tea is a three-tiered service brought out to each table complete with white china and linens. The experience includes all the tea you can drink, four finger sandwiches, the soup of the day, two scones with jam, jellies, lemon curd and clotted cream, and three desserts. Get all the details here and be sure to make your reservation a few days in advance. 
Photo courtesy of Michelle Andonian via University of Michigan Museum of Natural History
The U-M Museum of Natural History story begins all the way back in 1837 when the university was created, but the first museum building wasn't constructed until 1881. In April 2019, the museum celebrated its most recent grand reopening after a move into the brand new Biological Sciences Building, part of the U-M School of Literature, Sciences and the Arts. Today, the constantly expanding exhibits include interactive displays about mastodons and prehistoric whales, multimedia artwork, the evolution of life on Earth, space exploration, and more. You can even see the museum staff at work in the Fossil Prep Lab! For more information on your visit, click here. And remember, admission to the museum is free, but donations are always accepted.
One of the most obvious attractions in Ann Arbor is the University of Michigan campus, but you can do a lot more on campus than just people watch in The Diag. For example, the University of Michigan Museum of Art is one of the largest university art museums in the country! Their collections represent 150 years of art collecting and include everything from 1000 BCE Middle Eastern artifacts to 21st-century paintings. Admission to the museum is always free, but a donation is also appreciated. Get full details and plan your visit here.
Head to Waterloo State Recreation Area.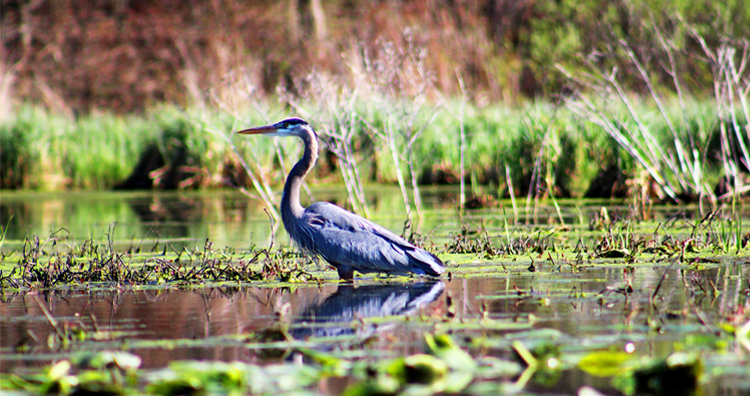 Waterloo Recreation Area is the largest park in the Lower Peninsula! It offers more than 20,000 acres of outdoor paradise just minutes from Ann Arbor in Chelsea, including campgrounds, mountain biking opportunities, more than 40 miles of multi-use trail, boating and fishing, horseback riding, and more. To learn more, check out Everything You Can Do in Waterloo Recreation Area. 
Tucked between Zingerman's Bakehouse and Zingerman's Creamery, BAKE! is Zingerman's hands-on teaching bakery. Here, you can learn everything from cake baking to cheese pairing. Classes are open to the public in categories like pizza making, donut frying, flour grinding, soft pretzel creation and more. To see the full schedule and reserve your spot online, click here.
Do you have a local tip? 
If you have a favorite thing to do in Ann Arbor when you're not drinking, tell us about it in the comments below!
---
Where to Shop to Build the Perfect Ann Arbor Gift Basket
The Ann Arbor area is defined by its food, its art, its stories and its hyper-local character. And our regional creators and entrepreneurs know exactly how to show off our state produce, our quirky creativity, our iconic water towers and, of course, our University of Michigan pride.
In this guide, we rounded up some of those local businesses, artists and creators so you can build the perfect gift basket for a new resident, a far off family member, or anyone who needs a little sampling of Southeast Michigan. We also provided the retail locations and links to online stores where they're available so you can shop in person or virtually!
Retail location at 117 W Liberty St in Ann Arbor
Located in Downtown Ann Arbor, the Ann Arbor Art Center is our go-to for enjoying art exhibition, connecting with local artists, and even learning new art skills. The 117 Gallery Shop—located in their Downtown headquarters—is the retail shop where you can find original, handmade works of art for sale by both emerging and established artists from Michigan and beyond. These include original paintings and prints, ceramics, jewelry and more.
Retail location at 315 Detroit St in Ann Arbor
A beloved weekly tradition in Kerrytown, the Ann Arbor Farmers Market is a 100-year-old, year-round market where you can shop from more than 100 local businesses. As a producer-only market, you'll find only local products from Michigan, Ohio or Indiana, and the vendors include fourth-generation farmers, bakers, coffee roasters, artisans and more. It's the perfect place to find Michigan nuts, local maple syrup, fermented sauerkraut or handmade goods for your gift basket!
Retail location at 3203 Broad St in Dexter
Located right on Main Street in the charming town of Dexter, Artistica Gallery showcases more than 35 Michigan artisans inside their cozy shop. These products range from hand-carved, wooden bowls and fabric arts to personal products like soaps and balms. To preview their artists, artisans and products, follow the team on Facebook here.
Retail location at 100 S 4th Ave in Ann Arbor | Online store
Photo courtesy of Bløm Meadworks
Bløm (pronounced bloom) is a hyper-local meadery located in the heart of Ann Arbor. Unlike many other meaderies and cideries, every ingredient is sourced from Michigan and their mead is fermented like a dry craft cider so it's not as thick or as sweet as other meads you may have tried. In addition to hosting pop-ups and weekly yoga classes, they also sell their naturally gluten-free mead in cans both in the taproom and online. To view their online store, click here.
Retail location at 333 S Main St in Ann Arbor | Online store
Inspired by and named after Bo Schembechler—the University of Michigan head football coach from 1969 to 1989—Bo is a store built by and for Wolverines. In the Main Street shop, you can purchase clothing and hats, mugs and glasses, posters and vinyl decals, and basically everything you need to show your Michigan pride. To shop online, click here.
This Etsy shop is run by an Ypsilanti local hand-pouring soy candles to create some of our favorite scents. These include Coffee House which is infused with the scent of freshly ground coffee beans, sweet cream and hazelnut, Rare Book Room which gives off the scent of cedarwood, leather and vanilla, and Campfire which smells just like a summer campfire. The stylish candles even say, "Hand-poured in Ypsilanti, MI" right on the front! To learn more about Bookend Candle Co., you can follow them on Instagram here.
Retail location at 1 Nickels Arcade in Ann Arbor
A landmark of the historic Nickels Arcade, Caravan Gift Shop has been an Ann Arbor shopping destination for more than 90 years! Their charming and eclectic shop is the perfect place to find globally inspired and globally sourced goods, including handcrafted jewelry, unique cards and paper goods, handcrafted wallets, watches, home decor and more.
Retail location at 223 S Main St in Ann Arbor | Online store
Cherry Republic is a Michigan business dedicated to Michigan's Montmorency Tart Cherry and all the delectable products it can help to create. Their inventory boasts more than 200 cherry-based products like chocolate-covered cherries, BBQ sauces, jams, jellies, salsas, nut mixes, ice cream toppings, baked goods, condiments, soda pop, cherry wine and cherry beer. To shop online, click here, or stop by the retail shops in Glen Arbor, Traverse City, Holland, Frankenmuth, Charlevoix and right here in Ann Arbor.
Retail location at 415 N 5th Ave in Ann Arbor | Online store
Perfectly merging vintage and modern, FOUND offers a mix of home decor, pillows, rugs, textiles, candles, jewelry and gifts. And many of those goods are made right here in Michigan by local artisans! Their brick and mortar location is in Ann Arbor's Kerrytown district, but you can also shop much of their inventory online here.
Retail location at 209 S 4th Ave in Ann Arbor | Online store
Photo courtesy of Le Bon Macaron
Born from a love of French culture, Le Bon Macaron is a local, family business that offers two of the most charming cafés in Michigan: one in Grand Rapids and one in Downtown Ann Arbor. If you stop in the store, you can get French press coffee and espresso, fresh scones, ice cream sundaes, French and Italian sodas made with handcrafted fruit puree and, of course, the macarons that have made them famous. But, you can also shop online for Le Bon merchandise and customizable macaron boxes! Check out the online shop here.
Retail location at 124 E Washington St in Ann Arbor | Online store
The perfect place to experience our hometown's book culture, Literati is a locally owned and operated book-lovers' haven in Downtown Ann Arbor. On the store's lower level, you'll find the bookstore, and upstairs, they operate a full-service coffee shop called Literati Coffee. In the bookstore, you'll find the team's famous public typewriter open to the public for typing messages. Over the years, they've accumulated thousands of these love notes, poems, sentences and salutations. Published in 2018, "Notes From A Public Typewriter" compiles some of their favorites alongside essays, photos and more, and this book is the perfect addition to any Ann Arbor gift basket! You can learn more about it and purchase it online here.
Six retail locations | Online store
The M Den is the official retailer of Michigan Athletics, which means you can find branded clothing for women, men and kids, Michigan Nike products, hats, furniture and home decor, autographed memorabilia, toys, jewelry, pet accessories and more. You can shop online here or stop by one of five Ann Arbor locations to shop in person.
Retail location at 216 S Main St in Ann Arbor | Online store
Photo courtesy of Rock Paper Scissors
Located on Main Street in Ann Arbor, Rock Paper Scissors is a paper goods and gift store. In addition to their huge selection of personalized stationery and cards, they carry a variety of fun and funny gifts: mugs, glasses, books, candles, balms, cocktail mixers, keychains, decor and more. To shop online, click here.
Retail locations at 1155 Rosewood St and 117 E Liberty St in Ann Arbor | Online store
Photo courtesy of Laura Garbarz via RoosRoast
RoosRoast is hands down one of the best coffee roasters in Michigan and word of this has reached as far as Portland, San Francisco and Manhattan. With their Loring Smart Roaster, they use 80 percent less energy than similar roasters and still create outstanding coffees (have you tasted Lobster Butter Love?). RoosRoast has received several accolades, including the best coffee shop in Washtenaw County, the number one coffee shop in Southeast Michigan and more. If you can't stop by their two Ann Arbor locations, you can shop coffee, tea and merchandise online here.
To find more local roasters, check out The Best Coffee Roasters Around Ann Arbor.
One of the region's best wineries, Sandhill Crane operates a year-round tasting room in Jackson and the Cider Mill Tasting Room in Dexter during apple season. Made in small batches right on the premises, the tasting lineup includes well-balanced acidic white wines, rich reds, flavorful fruit wines and delicious dessert wines. Upon visiting, you can enjoy tastings, schedule a winery tour and purchase bottles for yourself and your gift basket.
To find even more regional wineries, check out The 14 Essential Wineries to Visit Near Ann Arbor.
Retail location at 12855 E Old US Hwy 12 in Chelsea | Online store
If you need a little snack in your gift basket, check out True North, a locally owned and operated specialty meat shop in Chelsea. In store, you can shop smoked meats and fish, handmade sausages, bratwurst, burger patties, hand cut steaks and more. And their jerky, award-winning snack sticks, hot sauces and specialty cheeses are perfect additions to show off true Michigan flavor. To shop more than 25 different jerky flavors online, click here.
This Ypsi-inspired Etsy shop is the online destination for all things Ypsilanti. These mugs, tops, towels, tags, posters and cards feature tons of local character and plenty of Ypsilanti Water Tower jokes. You can even buy a customizable, handmade Ypsi Water Tower piñata! But if that won't fit in your basket, maybe think about a "Greetings from Ypsi" whiskey tumbler; check it out here.
Retail location at 3723 Plaza Dr in Ann Arbor | Online store
Photo courtesy of Zingerman's Creamery
Zingerman's Community of Businesses is an icon of Ann Arbor. Their story started with a small deli opened in 1982 and has grown into a community of more than 10 different local businesses all located right here in the Ann Arbor area. At the creamery, they create handmade, full-flavored cheeses and gelati using traditional methods and the highest quality milk sourced from small-scale, regional farmers. At the Cream Top Shop, you can taste cheeses, gelato and sorbet and take home the perfect, cheesy addition to any gift basket. To order online, check out Zingerman's Mail Order here. And to learn more about all the businesses, check out Your Guide to 14 Zingerman's Businesses in Ann Arbor.
Do you have a gift basket idea?
Tell us where you're shopping in the comments below!
---
The 16 Best Coffee Shops in the Ann Arbor Area [Interactive Map]
Coffee fuels our spirit almost as much as supporting other local businesses does. And as a hip, college town (and the best place to live in the whole country, according to Livability) it's only natural that Ann Arbor and its surrounding communities have plenty of amazing coffee shops brewing some of the best caffeinated beverages in town.
Sip like a local and try one of these top Ann Arbor area coffee shops for yourself. You can also use our interactive map to find a coffee shop conveniently located near you!
Photo courtesy of Literati Bookstore, Literati Coffee and Michael Gustafson
In 2011, when Ann Arbor's original, local bookstore, Borders, closed its doors all over the country, Hilary and Mike Gustafson moved back to their home state and opened Literati Bookstore as a book-lovers haven in downtown Ann Arbor. Literati Coffee is the full-service espresso and coffee bar located above the bookstore. There, you can grab a mug, grab a book, and enjoy events, book clubs, author readings and other community-oriented gatherings.
Deeply local Roos Roast is the coffee headquarters for freshly roasted beans in Ann Arbor. At their charming locale in Rosewood, they roast all their coffees in house and offer a lively and cozy vibe. The new downtown location is everything we want in a local coffee shop, but you can also find them year-round at the Ann Arbor Farmers Market! They've been voted the best in Washtenaw Country and the best in Southeast Michigan, so we suggesting stopping by to experience Roos for yourself.
Photo courtesy of The Common Cup
The Common Cup is a gathering place for students, community members and visitors alike. As a true A2 café, they source dairy products from Michigan's own Guernsey Farms, tea from Ann Arbor's TeaHaus, and coffee beans from Ypsilanti's Hyperion Coffee Co. (also on our list!). In addition to designing a warm, cozy space for local art and great coffee, The Common Cup is a non-profit coffeehouse run through University Lutheran Chapel.
Zingerman's Coffee Co. is a wholesale roaster supplying cafes, restaurants and businesses all over the region, but they also offer their own coffees at the Zingerman's Coffee Bar at Zingerman's Southside Producers row. Located alongside Zingerman's Creamery, Zingerman's Bakehouse and Zingerman's Candy Factory, you can get all the best in one convenient spot.
Every Mighty Good coffee beverage starts with beans from select farms, mills and co-ops. Then they're roasted in small batches and packaged to preserve freshness. Whether you're picking up a bag from the grocery store or stopping in at the coffee shops downtown, near campus, in Arbor Hills or inside The Jefferson Market, you're guaranteed a fresh cup of coffee that is both sustainable and empowering (for you and for the community!). Check out the team's philosophy, mission and story here.
Photo courtesy of Comet Coffee and Joseph Saborío
Located inside Ann Arbor's historic Nickels Arcade, Comet Coffee has been serving delicious beverages since 2009. Amidst the bright, covered shopping district, you can settle down with a mug in a shop that is welcoming, fun and cozy shop — a true hallmark of the arcade and the city!
The team at Electric Eye Cafe turned one of Ann Arbor's cutest Kerrytown houses into an actual coffee house. Stop in for a cup of your favorite caffeinated beverage, a locally sourced snack, goods and apparel sold through local businesses, and an entire library of free books to read while you're there. To showcase various flavors and styles, Electric Eye rotates between small roasters on a monthly basis so you may find new coffees each time you stop by!
Six Michigan locations | Facebook
Sweetwaters is well-known throughout Michigan and Ohio (and even as far as Walnut Creek, California!), but the humble coffeehouse began right here in Ann Arbor. Alumni of the University of Michigan, Wei and Lisa Bee founded the first Sweetwaters in 1993 in Downtown A2. Now you can grab a globally-inspired beverage or snack Downtown, in Kerrytown, on the UM campus, at Westgate Library, in Canton and in Ypsi.
1423 E Stadium Blvd | Facebook
Photo courtesy of Black Diesel Coffee
Black Diesel is a picturesque little cafe that brews coffees worthy of your Instagram feed. Sourcing single origin beans from right down the street and across the state, you'll soon find your new favorite espresso beverage or pour over coffee — all offered alongside snacks, paninis, gelato, cookies and more!
This coffee bar and tap house is an Ypsi favorite. Built around the mantra, "craft, community and cause," you'll find the best craft coffee and beer, regular community events, and support of worthy causes. The space itself is bright, open and ready to become your second Ypsilanti living room.
The source of many of our favorite coffee shops in Ann Arbor and around the state, Hyperion is an outstanding roaster right here in Ypsi. Featured in Phaidon's Where to Drink Coffee as one of the best of the midwest, we definitely recommend stepping through that giant green door and into your new coffee paradise.
Photo courtesy of Cross Street Coffee
In early 2017, Ypsilanti's beloved Ugly Mug Coffee changed its name to Cross Street Coffee and upgraded the interior — but they're still serving some of the region's favorite caffeinated bevvies. The business has been family-owned and operated for over a decade, but the building itself has a long history. The historic building once housed one of the first gas stations in the county, then a Greyhound, and then a coffee shop. It's worth a stop if you love coffee, local art and friendly faces!
The Plymouth Coffee Bean is the longest running independent coffee shop in the entire state of Michigan. With a focus on coffee, music, art and poetry, it has served as the community's second home and headquarters for community art since 1993. And you can get professionally-prepared crépes at the beloved Crépe Counter!
Inside what is quite possibly the most charming building in Plymouth, you'll find this roaster and coffee bar full of experts in beans, flavor and latte art. The team's mission is to craft and share coffee in a way that elevates the entire experience, so it makes sense that you'll find one of the region's best right here.
Photo courtesy of The Peaberry Bean & Beats
Where do homemade foods, craft coffees, music, book signings and poetry slams come together? The Peaberry Bean & Beats, of course! By day this café is the perfect place to work, study or catch up with friends. During evenings and weekends, it's the community's favorite spot for local musicians, artists, comics and poets to show off their talents.
At Saline's Carrigan Cafe, it's all about local. The beans are sourced from Coffee Express in Plymouth and the treats are sourced from places like Ed's Bread, Guernsey Dairy and Rumi's Passion Bakery. Stop by to say hello to Tobin the teddy bear, warm up with a mug of coffee, and you'll soon learn why this is a neighborhood favorite!
Share your favorites
Let us know which local coffee shops you love in the comments below!
---
Top 7 Places to get Coffee in Washtenaw County
Where do you get your morning coffee?  Fortunately for coffee lovers, Washtenaw County is home to several amazing local coffee houses.
Bearclaw Coffee
The first cup of Bearclaw coffee was served in a small log cabin north of Dexter, Michigan. Since then Bearclaw Coffee Company has quickly grown with locations in Ann Arbor, Chelsea, Dexter, and Ypsilanti.
Beezy's
Located in Ypsilanti, Michigan, Beezy's is a local café serving delicious coffee, soup, salad and fresh baked bread.
Comet Coffee
Located in the historic Nickels Arcade in downtown Ann Arbor, Comet Coffee serves coffee, espresso, and tea. Each cup of coffee is made to order, freshly ground and brewed.
Roos Roast
RoosRoast is an Ann Arbor coffee roaster deeply committed to the local economy.  Are you unsure what to order? Try the lobster butter love.
Mighty Good Coffee
On the north end of Main Street in downtown Ann Arbor, the Mighty Good Coffee café and roaster is a great place for meet-ups with friends and coworkers, or a quiet place to get work done.
Sweetwaters Coffee & Tea
Sweetwaters serves coffee, tea, Ice Dragons, shakes, and hot chocolate as well as pastries and desserts.  Sweetwaters has 4 locations in Ann Arbor and one in Ypsilanti.
Zingerman's Coffee Co
While Zingerman's might be better known for its sandwiches, they have a wide variety of coffee beans and roasts from all over the world.