The Reinhart Blog
Your Fall Bucket List for the Ann Arbor Area
Fall in Michigan is one of our favorite things—thanks in large part to you-pick apples, corn mazes, Michigan football, freshly pressed cider, pumpkin donuts, and all the reds and golds of our tree-lined neighborhoods. To help you make the most of the season here in Ann Arbor, we rounded up some of the region's best autumn activities (donuts included!). 
For more seasonal fun, check out The 11 Best Places to See Michigan's Fall Colors Near Ann Arbor and 19 Pumpkin Patches, Apple Orchards and Cider Mills You Can Visit Near Ann Arbor. 
Photo courtesy of Wiard's Orchards & Country Fair
Wiard's was founded in Michigan by George Wiard in 1837 and has become one of the region's most beloved fall destinations. Covering nearly 100 acres and located just minutes from Ann Arbor, attractions include the seasonal Wiard's Country Fair, an agri-entertainment park that offers orchards, a cider mill, you-pick apples, a corn maze, a you-pick pumpkin patch, an apple cannon, giant inflatables, pony rides, hayrides, a petting farm, miniature golf, a haunted barn, children's play areas and even more. You can also step inside the Country Store and Bakery to taste fresh cider, seasonal donuts, freshly baked pies, jams, jellies, honey and apple salsas.
Open seasonally, Dexter Cider Mill is the oldest continuously operating cider mill in the entire state. Today, the team makes cider the same way it was made 120 years ago: using locally grown, handpicked apples on an oak rack press. Even their equipment is over 100 years old! In addition to natural cider, fresh apples, doughnuts, apple nut bread, made-from-scratch apple pies, apple strudel, apple turnovers and hand-rolled gingersnaps, you can also purchase homemade hard ciders made on-site.
3. Celebrate every Michigan football game. 
Fall is Wolverine season in Ann Arbor. The full football schedule includes several regularly scheduled home games through November 30th. Check it out here and check out A Complete Guide to Tailgating for U-M Football Games in Ann Arbor for help celebrating on game day.
Each year, the Southern Michigan Railroad hosts Fall Color Tours, seasonal events that explore the area's changing foliage from the comfort of a train car. Because the rides sell out every single year, the railroad offers a variety of seating options, dates and rides. Six dates are available throughout October 2019 and October 12th and 13th are scheduled during Tecumseh's 26th Annual Appleumpkin Festival. For full details on these Fall Color Tours, click here.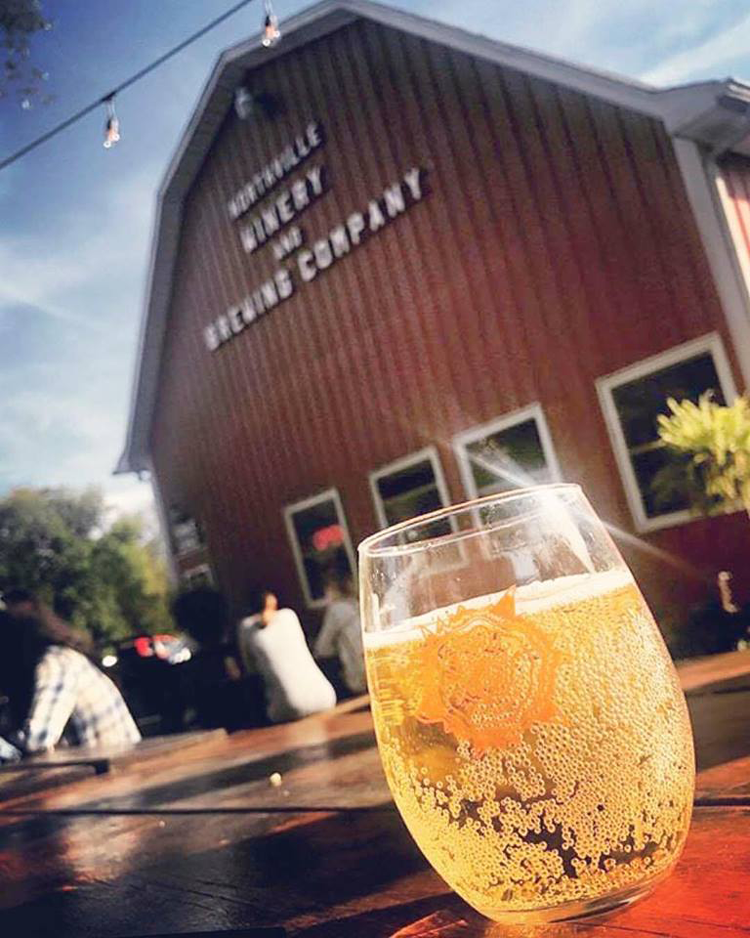 Photo courtesy of Northville Winery & Brewing Co.
This hometown spot makes all their wine, hard cider and beer on-site and is open year-round with frequent live music events and a delectable calendar of local food trucks. To see what's on tap and what events are coming up, check out the website here, and don't miss Dead at the Winery every Thursday! 
For more Michigan made cider, check out Where to Get the Best Hard Cider in Michigan. 
Photo Courtesy of Epic Races
Every year, Epic Races celebrates Thanksgiving with a race through Hudson Mills Metropark! This running and walking event features four different distances: a 5K loop around scenic Hudson Mills, a 10K course comprised of two 5K loops, a quick mile fun run, and the Iron Turkey which is the 10K and 5K all at once. For more details and online registration, click here. 
A trip to this family-owned and -operated farm includes three professionally designed corn mazes with 5 miles of challenging trails, hayrides, some of the best seasonal donuts in the region, a pick-your-own pumpkin patch, you-pick apples, a petting barn and more. Though these mazes aren't haunted, you do have the opportunity to find your way through after dark, too—just don't forget your flashlight!
During the fall season, Wasem Fruit Farm offers more than a dozen varieties of apples you can pick yourself, you-pick raspberries available in September and early October, you-pick pumpkins in October, and pears! At the farm, you'll also get the chance to taste plain, apple, blueberry and pumpkin donuts paired with some of the best, fresh cider in the region! For the most accurate hours and information, follow the team on Facebook here. 
Photo courtesy of Jolly Pumpkin Artisan Ales
Founded by Ron Jeffries in 2004, Jolly Pumpkin began in Dexter and now operates pubs and tap houses in Dexter, Ann Arbor, Detroit, Traverse City, Royal Oak, Grand Rapids and Chicago. Each location—whether full-service pub or casual taproom—offers its own character, menu and lineup of sour, artisanally aged Jolly Pumpkin beers. And it's not only the name that has pumpkin in it. In 2017, they finally released a sour pumpkin ale made with pumpkin, a pumpkin spice blend and cacao nibs. To see what's pouring right now nearest you, you can see all their locations here. 
To learn more about the area's craft breweries, check out Your Ultimate Guide to 20 Craft Breweries in the Ann Arbor Area [Interactive Map].
The University of Michigan Nichols Arboretum began in 1907 and has developed into miles of trails and land home to collections of both native and exotic trees and shrubs. These plants transform during the fall to showcase some of the best colors in Southeast Michigan, including golds, reds and even inky purples.
To find more fall foliage, check out The 11 Best Places to See Michigan's Fall Colors Near Ann Arbor. 
Enjoy your fall! 
For more seasonal fun, check out The 11 Best Places to See Michigan's Fall Colors Near Ann Arbor and 19 Pumpkin Patches, Apple Orchards and Cider Mills You Can Visit Near Ann Arbor. 
---
---
---
---
---
---
---
---
---