The Reinhart Blog
13 Unique Wedding Venues in the Ann Arbor Area
Ann Arbor is characterized by its individuality, its history and its quirky character. Lucky for all our area couples, that translates into more than a few jaw-dropping wedding venues. We looked into some of the most popular options and chose the ones that stood out to us as the most beautiful and the most unconventional.
Check out our top choices, peruse a few stunning photos from local photographers, and start planning your dream wedding today. Enjoy!
University of Michigan | Ann Arbor
Photos courtesy of Abby Rose Photo
Located right on the University of Michigan campus, the Michigan League and the Michigan Union are available for event rentals. Both venues are perfect locations for ceremonies and receptions as they each offer various spaces for seated events, dinners, dancing and more. Good luck choosing which one to rent for your wedding! Personally, we can't get enough of the League's ballroom and courtyard garden.
The Rust Belt Market | Ferndale
Photo courtesy of Erin Hannum Photography
The Rust Belt Market is a marketplace, venue and bar in downtown Ferndale. The dreamy event space is chic and rustic thanks to a chevron wood wall, wooden archway and twinkling string lights. And you'll also have the opportunity to rent the Revel Bar, a 1000-square-foot, full-service bar adjacent to main room.
University of Michigan Museum of Art | Ann Arbor
Photo courtesy of Abby Rose Photo
UMMA hosts nearly 20 weddings a year in their 93,000-square-foot facility located at the center of the University of Michigan campus. For larger events, we love the elegance of the Apse which boasts marble floors, a 40-foot skylight and works of art from the UMMA permanent collection. Additionally, galleries may be open for your event for a private viewing experience!
Frutig Farms: Misty Farm | Ann Arbor
Photo courtesy of Meg Darket Photography
At Misty Farm, a part of Frutig Farms, you can have the backyard barn wedding of your dreams without sacrificing your own backyard or buying a barn. Located just six miles from downtown on sixteen beautiful acres, you'll find an outdoor ceremony area, space for a tent and a historic, restored barn with room for a band, dancing and eating.
Kerrytown Concert House | Ann Arbor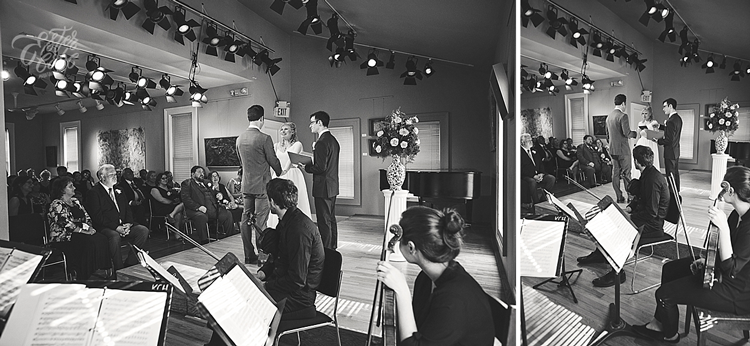 Photos courtesy of Ester Cobe Photography
A popular venue for Ann Arbor wedding ceremonies, Kerrytown Concert House is a unique venue set in a restored Victorian house in the historic Kerrytown area of downtown Ann Arbor. That puts it within walking distance of other Downtown reception venues! The space has a capacity of just over 100 guests and the elegant Steinway model C piano and professional sound system are also available.
Sunset Cove Bed & Breakfast | Pinckney
Photo courtesy of Abby Rose Photo
For intimate weddings, Sunset Cove is the perfect garden setting. With a maximum capacity of 100 guests, you'll have a lake view to one side and a stunning lodge on the other. Some of our favorite photos from Sunset Cove weddings are taken during an outdoor, tented reception which allows for more guests and more garden views!
The Henry Ford Museum of American Innovation | Dearborn
Photo courtesy of Jillian Bowes
The Henry Ford offers three different event and wedding venues, but by far, the most unique is the Henry Ford Museum of American Innovation. The venue has four different areas available including the historic theater and a classic garden courtyard. Inside, an event in the Museum Plaza will be set amongst highlights of the museum's collection including a jaw-dropping airplane!
Matthaei Botanical Gardens | Ann Arbor
Photo courtesy of Nicole Haley Photography
As one of the region's most iconic gardens, Matthaei Botanical Gardens is a gorgeous natural setting for any event. Both outdoors and indoors, there are seven distinct options which include the lush, tropical setting of the Conservatory. Possibly our favorite space, the indoor, greenhouse-style space can hold up to 100 guests for an intimate occasion any time of year.
Ann Arbor Art Center | Ann Arbor
Photo courtesy of Chelsea Brown Photography
Located in the historic Walker Building in the heart of downtown Ann Arbor, this beloved museum offers spaces for both intimate gatherings and mid-size celebrations. On the second floor, you'll find the 117 Gallery which features eight art exhibitions annually, exposed brick walls, wood floors and high ceilings. In summary, it's stunning!
Michigan Theater | Ann Arbor
Photo courtesy of Chelsea Brown Photography
You may know the Michigan Theater as an Ann Arbor landmark for film screenings, concerts and other live performances, but did you know you can rent the space for your wedding? Whether it's set in the historic main auditorium, the screening room or the new 60-seat Annex Cinema, a wedding here will transform your big day into a jaw-dropping production.
Vinology | Ann Arbor
Photos courtesy of Jennifer Boris Photography
Vinology Wine Bar and Restaurant is always a cozy dining option in Downtown Ann Arbor, but it gets even better when it's decked out for your wedding! There are three event rooms total and all three can be rented together to accommodate up to 100 guests. Perfectly suited for an intimate ceremony, dinner, reception and dance floor, we love this A2 option!
The Inn at St. John's Atrium | Plymouth
Photo courtesy of Allie & Co. Photography
The Inn at St. John's offers three distinct event spaces, but for the most unconventional and memorable occasions, we recommend the Atrium. Set beneath a towering sky-light ceiling, the decor is a perfect blend of rustic and industrial with plenty of natural light.
Café Cortina | Farmington Hills
Photo courtesy of Amber Marie Photography
This Italian countryside setting is ideal for intimate, outdoor and indoor events. Amidst the warmth of the courtyard fireplace and surrounded by gardens, you and up to 185 guests can dance in the outdoor space or relax inside in front of another fireplace and a cozy interior.
Where did you get married?
If you fell in love with your Ann Arbor wedding venue, give it a shout-out in the comments below!
---
Gorgeous Mid Century House on the Northside of Ann Arbor
This week we are featuring Thomas Bradshaw's featured listing – 1490 Pear Street, Ann Arbor, MI 48105
Q. Can you describe the architectural style of the home?
Charming mid-century meets 1.5 story cottage.
Q. What distinctive features set this home apart?
With old world charm and beautiful original wood details, this home is sure to delight you.
Q. What are the advantages of the location & neighborhood?
Located in the Northside School area of Ann Arbor, this home is a quick walk to Argo Park, as well as within biking distance of Kerrytown and the Ann Arbor Farmers Market. It is also close to the U of M Medical Center, Kellogg Eye Center, and the new STEAM program.
Q. Have there been any recent renovations or upgrades?
The original details of the home have been meticulously maintained.
Q. What amazing views will the new homeowner be able to enjoy?
This home is on a large almost 1/3 acre lot which is very unique for this neighborhood. You will enjoy the privacy and the serenity of nature.
Q. What makes the price of this home so great?
It's a fabulous price for the condition and location of the home.
Come see the property in person at the open house this Sunday, August 9th from 1:00pm to 3:00pm.
For more information about 1490 Pear Street Ann Arbor, MI or if you are interested in scheduling a showing, please contact Thomas Bradshaw  at 734-272-6419.
Are you looking for homes for sale in Ann Arbor, MI?
---
Rev Up Your Thursday
No matter your age, Thursdays in the Ann Arbor area are jam packed with events for everyone. Ann Arbor hosts a free concert every Thursday at Sonic Lunch; while in Saline, bands play at the Summer Music Series. Ypsilanti has classic cars at the Depot Town Cruise Night; and in Chelsea, enjoy music, art, and movies at the Sounds and Sights on Thursday Night.
Sonic Lunch – Ann Arbor


Started in 2008, Bank of Ann Arbor's Sonic Lunch is a free summer outdoor concert series at the corner of Liberty and Division in downtown Ann Arbor. This free lunchtime music concert runs from 12:00pm to 1:30pm. Sonic Lunch runs June through August.
Sounds and Sights on Thursday Night – Chelsea

Photo by Amanda Presnell
Enjoy the sounds of some of the region's best musicians while taking in the sights of vibrant downtown Chelsea, Michigan. Performances are held on nearly every street corner and grassy area in downtown each Thursday. It's two hours of fun starting at 6:30 and lasting until 8:30 p.m. In addition to music festivities include including children's entertainers, a juried sculpture walk, outdoor movies, plenty of great food, local brew and an assortment of unique retail shops. The fun lasts until the second Thursday in August.
Saline Summer Music – Saline


Ten free concerts are held in downtown Saline every Thursday evening. They run from June through the middle of August. In addition to the music there are also art activities for children provided by the 212 Arts Center. Due to the level of fun for kids and adults alike the popularity of this event increases each year.
Depot Town Cruise Night – Ypsilanti

Photo by Jakub Biernacki

Depot Town rocks on Thursday evenings during Cruise Nights when hundreds of visitors stroll the length of Cross Street to check out classic cars, hot rods, and customs. It's also a perfect time to sit at one of the several sidewalk restaurants, grab a bit to eat and watch the cars roll in.
---
Reinhart Has Record – Best Month Ever
April was the best month in Reinhart's history for newly signed sales agreements! This is a reflection of rising consumer confidence, improving economic indicators, favorably low mortgage interest rates and growing inventory of homes for sale.
If you've been thinking about listing or buying, the market is strong and now is a very good time.
For sound advice and help creating your real estate plan, call a Reinhart Realtor today. 
---
Starting Your Rental Search in the Ann Arbor Area
Whether you are moving because of a job transfer, a personal relationship, or for a fresh start, it can be an overwhelming process. Before you spend lots of time online looking at numerous websites for a house, apartment, or other rental property ask yourself these questions first.

How soon do you need to move in?
Rentals move quickly in the Ann Arbor area. It is recommended that you start looking around 60 days before you need you need to move. If you are looking for a campus rental they usually rent out about a year in advance. Don't wait to enlist the help of an expert.
How many bedrooms and bathrooms would you like?
Along with location and square footage, the number of bedrooms and bathrooms can have an impact on the price of rental units.
What is your desired price range?
Supply and demand have significantly increased the average rental rate in Ann Arbor. Properties that rent for less than $1000.00/month are in especially short supply.
Can you be flexible about location?
If you are willing to expand your search area you may have more options. Popular Ann Arbor neighborhoods, such as Kerrytown and the Old West Side are a rare find.

Do you have pets?
Many rentals do not allow pets. If pets are welcome, they are usually limited in the number, size and breed. Make sure you disclose any pets you have before showing appointments are requested.
How is your credit?
Resolve any outstanding credit issues now because you can assume it will be checked by the landlord or leasing company.
Length of lease?
One year leases are standard for the area. Short-term leases are difficult to find but may be available in our represented apartment communities. We also have partnered with Extended Stay hotels in the area and can even pass along our discounted special rates.

Do you have special needs?
If you can't live without a dishwasher, in-home laundry, covered parking, a particular floor level, outdoor space or something else, please be sure to let us know so we can tailor our search for you.
Scheduling showings.
Occupied single-family homes and condos typically require 24-48 hours' notice to see because the current tenants have to approve the showing. Many apartment communities have model units that can be shown during leasing office hours
After answering all the questions above you are now ready to begin your search. Our professional property management team will take the worry and hassle out of finding the perfect rental home. We have access to every rental property currently listed and can make finding a rental hassle-free experience.
Contact one of our experienced residential property managers to begin making your move by calling (734)669-4100.