The Reinhart Blog
---
With Halloween at the end of the month, there is a frightening amount of fun to be had throughout the Ann Arbor area.
---
Dexter Cider Mill

August – November
The Dexter Cider Mill is the oldest continuously operating Cider Mill in Michigan. Cited by "Hour Detroit" magazine as one of the 101 places to visit in the greater Metropolitan area. Today cider is made the same way it was made 120 years ago by using an oak rack press. The Dexter Cider Mill is open Wednesday – Sunday from 8 a.m. – 5 p.m. There are no admissions or parking fees.
---
University of Michigan Football

September – November
Every fall with the return of the school year brings the return of football season. Whether you are a die-hard fan or just happen to be in town visiting, the football games make an impression. During the weekends when a game is played at home expect large crowds and allow extra time for your commute throughout the city.  To see the full schedule click here.
---
Talladay Farms Corn Maze

September 23 – October 30
Talladay Farms Corn Maze is one of the largest corn mazes in the Midwest covering 27 acres, and this year features mazes shaped like musical instruments. There is also a kids corner, with barrel train rides, straw mounds, pumpkin bowling, and more. They also have a separate haunted maze that opens Friday, October 7, 2016, and is open Friday and Saturday nights, at dark, in October.
---
Smoke and Ale Fall Festival

October 8
Chelsea, Michigan's annual Smoke & Ale Fall Festival and BBQ Cook-off Contest will take place Oct. 8, 2016, starting at 11:00 am at the Chelsea Fairgrounds. The BBQ contest is for professionals, semi-professionals, and foodies alike. Live music sets the tone for this casual and upbeat fall event. They are expecting over 2,000 people  this year, including BBQ tournament teams, cornhole tournament competitors, live bands, breweries, and meat and beer enthusiasts. There is also a kids area with games and activities for children and multiple bounce houses.
---
Highland Cemetery Tours

October 14 – 15, 22-22, and 28-29
Highland is an outstanding example of the "garden" or "rural" style of cemetery design, popular in this country during the 19th century. The garden cemetery movement sought to create tranquil places where visitors could find solace in the beauty of a natural setting. A masterpiece of landscape architecture, Highland's rolling hills contain original plantings of oak, pine, cypress, willow, and cedar, making a natural habitat for wildlife.
Many old Ypsilanti names can be found at Highland, inscribed on headstones and monuments designed in Greek, Roman, Egyptian, Gothic, Victorian and American "Natural" architectural styles. Perhaps most notable of Highland's monuments are the Starkweather Memorial Chapel, the Flowers and Quirk Mausoleums, the Soldier's Monument and the Veteran and Unknown Soldier's field.
---
Cranes, Colors and Cabernet Festival

October 15
This is a major annual event in the Chelsea area that takes place in October of each year while the Sandhill cranes gather before their migration south. Numbers of these great birds very from year to year, but the celebration is always on! The Cranes Colors and Cabernet Festival is a joint venture between Sandhill Crane Vineyards, the Jackson Audubon Society, The Phyllis Haehnle Memorial Sanctuary, Legacy Land Conservancy, and The Big 400. Activities include guided bird watching and walk and wine tasting and release parties, and sometimes guided walks with wine.
---
Trick or Treat on the River

October 16
Spend the afternoon enjoying the haunting fall beauty of the Huron River and trick or treating by canoe or kayak. As you paddle up and down Gallup Pond, you will encounter creatures handing out treats and candy. Feel free to join in and dress up. Bring a bag for your candy, and keep an eye out for swamp monsters and pirates.
---
Halloween Maze

October 23
This free, family-friendly Halloween Maze includes cider and donuts. The event will take place October 23 from 1:00 – 4:00 pm at 2200 Green Road, Ann Arbor, MI. Donations are being accepted and will go to the Pulmonary Hypertension Association (PHA). Help make hay for PHA.  Click here to donate.
---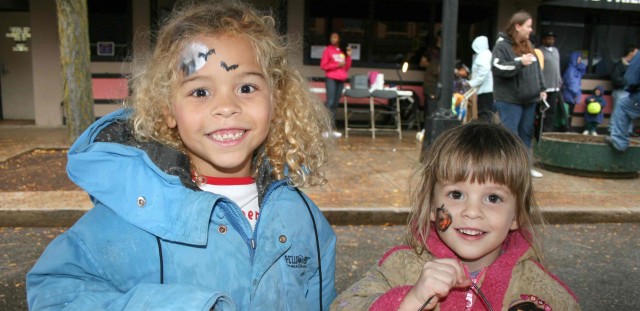 Downtown Ypsilanti Halloween Festival

October 27
Join in the festivities at the Downtown Halloween Festival from 5:00 pm – 6:30 pm on October 27 at the Library Park Plaza in Ypsilanti. There will be candy, fire trucks, candy, the Library Boo-kmobile, candy, face-painting, candy, a costume contest with prizes, a DJ, clowns making balloon animals, a tow truck, and a hearse.
---
The Haunted Belfry: An Open Tower Concert

October 30
In this family-friendly event, U-M carillon students in costume will perform eerie music on the 60-bell Lurie Carillon, surrounded by bats, cobwebs, and a fantastic view of North Campus. If you're in costume,  you might be asked to ring a bell. Free to the public.
---
Halloween Treat Parade

October 31
It's our sixteenth annual Treat Parade in downtown Ann Arbor! Area merchants welcome your little costumed characters to the neighborhood with greets and treats. Black and orange balloons will fly from participating businesses. Join the fun from 11am to 5pm. Get an early start and head to the Ann Arbor District Library on S. Fifth Ave. for a Halloween Party, first floor lobby. This year you can choose to attend from 10:30 to 11am or from noon to 12:30. Come in costume for stories, puppets and trick-or-treats.
---
---
---
---
---
---
---
---
---
http://feeds.feedburner.com/reinhartrealtors/cGKc