The Reinhart Blog
Traditionally, Thanksgiving has been a time for our families to come together to share a meal inside our homes. But we don't all have traditional families and that's okay! If you're on the hunt for places to dine out where you can get a turkey dinner minus the clean-up, or where you can enjoy some of Ann Arbor's best Chinese food, then you've come to the right place.
If you're looking in advance, check out Zingerman's Roadhouse Thanksgiving To-Go where you can take home a full family feast November 20th, 21st and 23rd. Their Coffee Spiced Smoked Turkey was named "the greatest turkey recipe in the history of Thanksgiving" by Esquire.
And if you're looking for food on Thanksgiving Day, November 22nd, keep reading! All of these restaurants have been confirmed, but we provided their phone numbers so you can double check and make your reservations. 
3660 Jackson Rd | Facebook | (734) 213-9800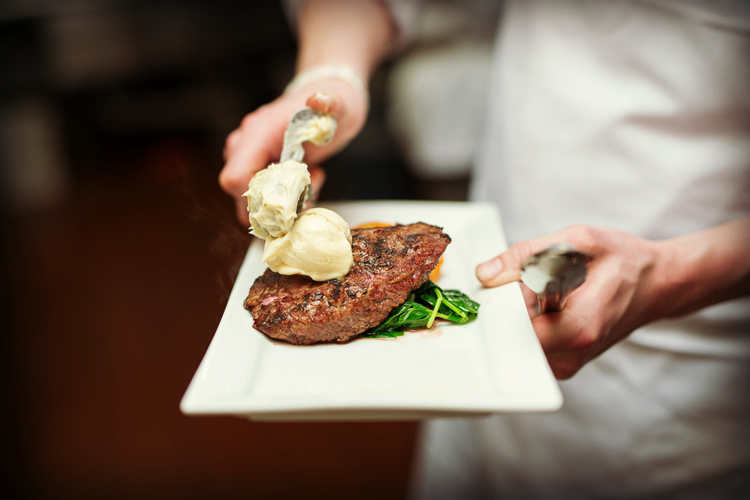 Photo courtesy of Carlyle Grill
Ann Arbor's Carlyle Grill is driven by comfort—from the atmosphere to the menu filled with homestyle dishes made with regional ingredients. Open from 11 a.m. to 7 p.m. on Thanksgiving Day, the team is serving up hand-carved turkey, Sparrow's Market prime rib, acorn squash stuffed with kale risotto, Faroe Island salmon, family-style sides, and a dessert of pumpkin or pecan pie. For all the details and to make your reservations, click here.
401 Depot St | Facebook | (734) 769-0592
Famous for seafood, steaks and pasta dishes, Gandy Dancer is located in the beautifully restored 1886 Michigan Central Depot, making it the ideal setting for elegance, food and celebration. Doesn't that sound like the perfect combination for Thanksgiving?
18 W Michigan Ave | Facebook | (734) 483-8200
Haab's has been serving the Ypsilanti community since they opened their doors in 1934. When it opened way back then, The Haab Brothers' Café was the first establishment in Washtenaw County where food was the primary draw. And today, everyone is still understandably crazy about the food. In addition to being open on Thanksgiving from 11 a.m. – 8 p.m., Haab's serves a killer Grilled Turkey Reuben throughout the year!
2080 W Stadium Blvd | Facebook | (734) 668-1292
In keeping with their name, Holiday's is open 365 days a year and they're open from 8 a.m. to 3 p.m. on holidays. Their menus cover everything from breakfast to lunch and pancakes to ribeye, so if you're dining out this Thanksgiving, you can come for breakfast and lunch! When you do, be sure to order something from the dessert menu (like Gourmet Carrot Cake or pumpkin pie).
1753 Plymouth Rd + 2370 S Wayne Rd | Facebook | (734) 357-8823
Consistently named as Ann Arbor's best place for Chinese food, Lucky Kitchen has been serving our community since 1993. They also offer catering and are a University of Michigan Strategic Supplier for catering needs, and they make food for the Ann Arbor Meals on Wheels Asian Menu. You can dine in with them at both locations during the holidays, including Thanksgiving, Christmas and New Year's.
2900 S State St | Facebook | (734) 332-9700
Photo courtesy of Mediterrano
Mediterrano is the Carlyle Grill's sister restaurant serving up flavors inspired by 14 different countries. Driven by the belief that the Mediterranean diet is inherently nutritious, they source their meats and produce from local farmers and purveyors as much as possible.
On Thanksgiving Day, they're turning that local sensibility and Mediterranean inspiration into a festive family dinner. Open from 12 to 7 p.m., they're serving Sliced Turkey Breast, Turkey Leg Confit, Scottish Salmon, Prime Rib, Vegetarian Paella and an impressive lineup of family-style sides. To see them all and get more details, click here.
512 E William St | Facebook | (734) 663-3379
Back in 1948 when it opened, The Original Cottage Inn was Ann Arbor's first restaurant to serve pizza. Today, they still serve some of the best pies in town as well as classic American, Italian and Greek cuisine. On Thanksgiving, you won't find their regular menu, but you will find a restaurant filled with volunteers to continue an Ann Arbor tradition that has been going strong for more than 30 years. Each year on Thanksgiving Day, Cottage Inn opens its doors to the impoverished people and families in our community to enjoy a free meal that includes roasted turkey, mashed potatoes, gravy, stuffing, veggies and seasonal fall favorites for dessert. If you'd like to volunteer, call the restaurant at (734) 663-3379.
300 S Maple Rd | Facebook | (734) 929-9200
The Quarter is the only place in Ann Arbor where you can get European-inspired, bistro-style dining with a Creole twist. Driven by the rich heritage of New Orleans cooking, their menu of homemade dishes includes things like Bronzed Stuffed Chicken with Gumbo Sauce, Catfish and Shrimp, Cajun Crawfish Flat Bread and different specials every week.
On Thanksgiving Day, The Quarter celebrates the holiday with their special event, Thanksgiving Supper. Follow the team on Facebook for event updates.
3050 Jackson Ave | Facebook | (734) 665-3636
Weber's has been serving the people and families of Ann Arbor since 1937 and the restaurant has become a go-to for prime rib, live Maine lobster and house-made desserts. For Thanksgiving 2018, they're offering four different dining options. Dinner in the dining room features a special holiday menu of individual turkey dinners, prime rib, fresh seafood, roast duck and more. You can also take complete Thanksgiving dinners to go or enjoy the family-style dinner at Weber's, which is a complete Thanksgiving dinner with all the fixings to feed parties of four or more. To see all the options and make your reservation, click here.
44045 Five Mile Road | Facebook | (734) 357-5700
Located about 30 minutes outside of Ann Arbor in Plymouth, 5ive has become a destination steakhouse that offers an impressive suite of bourbons and wines from around the world and hand-cut steaks that are chosen from the top 2% of grain- and grass-fed beef in the world. The menu covers everything from breakfast and brunch to pub grub and desserts (check out the Snickerdoodle Cheesecake). On Thanksgiving Day, they'll be offering a special holiday menu in the dining room for anyone hoping to celebrate outside of their home kitchen. Call in advance to make reservations.
Want to add to the list?
If you know of a restaurant in the Ann Arbor area that will be open on Thanksgiving Day, tell us about it in the comments below.
---
Southeast Michigan and our Ann Arbor area communities have been built on a strong agriculture history. As a result, we're blessed with year-round farmers markets, local agriculture experiences, and plenty of places to pick a pumpkin and sip fresh apple cider every fall.
To prove it, we rounded up 19 local spots where you can pick your own pumpkin, pick your own apples, watch your cider being pressed, eat a pumpkin donut, an apple donut and a cinnamon sugar donut, then enjoy festive, farm activities. This fall, make a trip to one (or more!) of these family farms and you'll want to come back every year.
Get directions | Facebook | Apples, cider + pumpkins
Alber Orchard & Cider Mill is located just 30 minutes west of Ann Arbor in Manchester. Over the years, their tractor-drawn hayrides, 7-acre corn maze, you-pick pumpkin patch, kids play area, free straw maze and animal area have become family favorites. While visiting, you can also enjoy tours of the vintage cider press, fresh pressed and specially blended apple cider, and delicious, crisp heirloom and family favorite apples. There is no admission charge to enter Alber Orchard, but there are fees for some activities.
Get directions | Facebook | Pumpkins
Blast Corn Maze is a famous seasonal destination in the Ann Arbor area. The huge, 10-acre corn field contains 3.5 miles of corn maze trails with three exits available for a short, medium or long journey. After you successfully traverse the maze, the whole family can pick a pumpkin from the you-pick pumpkin patch, take photos with farm props, test out the corn cannon, drive pedal cars and more.
Get directions | Facebook | Apples, cider + pumpkins
Photo courtesy of Coleman's Corn Maze
A trip to this family-owned and operated farm includes three professionally designed corn mazes with five miles of challenging trails, hayrides, some of the best seasonal donuts in the region, a pick-your-own pumpkin patch, you pick apples, a petting barn and more. Though these mazes aren't haunted, you do have the opportunity to find your way through after dark—just bring a flashlight!
Get directions | Facebook | Cider + pumpkins
Photo courtesy of DeBuck's Corn Maze and Pumpkin Patch
Open to the public every fall, DeBuck's Corn Maze and Pumpkin Patch offers more than 15 acres of winding corn maze trails, a 20-acre pick-your-own pumpkin patch, family-oriented fall attractions and hands-on field trips. During your visit, be sure to order up a delectable festival treat from Linda's Country Kitchen; the menu includes homemade cinnamon sugar donuts, pulled-pork sandwiches, apple cider, nachos and more.   
Get directions | Facebook | Apples + cider
Just 20 minutes northwest of Ann Arbor, Dexter Cider Mill is the oldest continuously operating cider mill in the entire state. Today, the team makes cider the same way it was made 120 years ago: using locally grown, hand picked apples on an oak rack press. Even their equipment is over 100-years-old! In addition to natural cider, fresh apples, doughnuts, apple nut bread, made-from-scratch apple pies, apple strudel, apple turnovers and hand rolled gingersnaps, you can also purchase homemade hard ciders made on-site.
Get directions | Facebook | Cider + pumpkins
This working farm in Plymouth has more than 80 acres of pumpkins! During the fall, families can also enjoy hay rides, fresh apple cider, seasonal donuts, a hay maze and other activities. And when you're not visiting during the fall season, you can find their produce, flowers and pumpkins at the Ann Arbor and Northville farmers' markets.
Get directions | Facebook | Apples, cider + pumpkins
A famously fun destination in South Lyon, Erwin Orchards offers a you-pick raspberry patch, you-pick sweet cherries, a huge you-pick pumpkin patch and you-pick apples with 15 different varieties. Available seasonally, you can also enjoy award-winning, fresh pressed, unpasteurized apple cider or raspberry cider paired with apple spice and pumpkin donuts!
Get directions | Facebook | Apples, cider + pumpkins
Jenny's Farm Stand is a 200-year-old working farm in Dexter. Available year-round, you can shop seasonal produce, Jenny's Hot 'n Sweet Pickles, local products, baked goods, pie filling and more. During the fall, the family fun increases with a free straw maze, horse-drawn hay rides through the pumpkin patch, pony rides, hot and fresh pumpkin donuts, fresh apple cider and, more.
Get directions | Facebook | Apples, cider + pumpkins
Lesser Farms and Orchard is a family-owned and operated farm. Though you can't pick your own here, you can find some of the region's best plums, apples, fresh pressed cider, homemade jams and jellies, beeswax candles, raw, local honey and pumpkins!
Lutz Orchard | Saline
Get directions | Apples + pumpkins
Located on 12 acres in Saline, this real, working farm offers fresh picked apples available seasonally, squash and pumpkins. During the fall, you're invited to pick your own apples and meet the farm animals!
Get directions | Facebook | Cider
Photo courtesy of Maybury Farm
Situated on 85 acres, this Northville farm has been a landmark in the community for more than 100 years. Here, children and families can experience the joy of animals, agriculture, farmland and forests year-round. During the fall, the farm fun gets festive with the Great Pumpkin Festival—a two-day family festival in October—and the corn maze, a festive adventure that continues through October before the farm closes up to prepare for Santa. Because they partner with Parmenter's Northville Cider Mill & Winery, you can also enjoy homemade donuts and fresh apple cider during your visit!
Get directions | Facebook | Apples + cider
Famous for their cherry juice concentrate, Obstbaum Orchards is a 40-year-old apple orchard and cider mill nestled in Salem on the outskirts of Northville. On autumn weekends, everyone is invited to taste fresh apple cider, seasonal donuts, homemade apple pies, hay rides and more.
Get directions | Facebook | Cider
Photo courtesy of Parmenter's Northville Cider Mill & Winery
With no admission fee and free parking, Parmenter's in Northville is a great fall destination near Ann Arbor because they offer their own treats and they partner with neighboring places like Maybury Farm and Northville Winery and Brewing Co. for even more fun. Located within the historic homes of Cabbagetown, the urban cider mill offers year-round cider and you can watch it being pressed on Wednesdays, Fridays, Saturdays and Sundays. During weekends through September and October, you can also step inside the Nut Hut where they make candied almonds, the Fudge Hut where they make fresh fudge, and the Chow Mill where they serve hot dogs and kielbasa.
Get directions | Facebook | Apples, cider + pumpkins
Since 1977, Plymouth Orchards and Cider Mill has been the local destination where families can enjoy fresh-pressed, award-winning apple cider, fresh-made donuts, crispy caramel apples, icy apple cider slushies, fresh baked pies and a fun farm experience that includes wagon rides, a children's animal park, a cider mill garden and October pumpkin picking.
Get directions | Facebook | Pumpkins
Located just 30 minutes from Ann Arbor, The Pumpkin Factory is a family-friendly Halloween farm complete with a corn maze, a pumpkin patch and haunted hayrides through the fall season.
Get directions | Facebook | Cider + pumpkins
Photo courtesy of Three Cedars Farm
Beginning Labor Day weekend each year, Three Cedars Farm offers old-fashioned fun for all ages. Farm activities include a you-pick pumpkin patch, a seven-acre corn maze, a barn yard play land with live animals, hay rides, train rides and reservable bonfire sites. Inside the Donut Hut, you can taste fresh, homemade donuts, freshly pasteurized cold apple cider, hot cider, coffee and icy apple cider slushes.
Get directions | Facebook | Apples, cider + pumpkins
During the fall season, Wasem Fruit Farm offers more than a dozen varieties of apples you can pick yourself, you-pick raspberries available in September and early October, you-pick pumpkins in October, and pears! During your fall visit, you'll get the chance to taste plain, apple, blueberry and pumpkin donuts paired with some of the best, fresh cider in the region!
Just next door, you can venture to Talladay Farms, where you can challenge your family on a trip through one of the Midwest's largest corn mazes. It covers 27 acres!
Get directions | Facebook | Apples, cider + pumpkins
Wiard's Cider Mill and Apple Orchard was founded in Michigan by George Wiard in 1837 and has become one of the region's most beloved fall destinations. Covering nearly 100 acres and located just minutes from Ann Arbor, attractions include the seasonal Wiard's Country Fair, an agri-entertainment park that offers orchards, a cider mill, you-pick apples, a corn maze, a you-pick pumpkin patch, an apple cannon, giant inflatables, pony rides, hayrides, a petting farm, miniature golf, a haunted barn, children's play areas and even more. Step inside the Country Store and Bakery to taste fresh cider, seasonal donuts, fresh baked pies, jams, jellies, honey and apple salsas.
Get directions | Facebook | Cider + pumpkins
Founded in 1852 by James Wing, Wing Farms has lasted through more than 150 years and five generations and is still going strong today. Comprised of 205 acres, including the homestead, the family produces primarily corn, soybeans and rye as well as giant pumpkins available to pick every Friday, Saturday and Sunday during the fall season. To get to the pumpkin patch, you'll hop on a free hayride and you can enjoy fresh apple cider, too!
As an added bonus, Wing Farms raises their own turkeys and every bird is all-natural, non-GMO, antibiotic free and hormone free.
Do you have a favorite fall destination?
Tell us all about them in the comments below!
---
Our home state of Michigan — The Great Lakes State — borders four of the Great Lakes and contains more than 11,000 inland lakes. So, when you're looking for a summer swimming destination, this is a good place to be.
And in the communities around Ann Arbor, we get to take advantage of countless swim beaches, state parks and pristine waters. To help you on your water-themed summer adventures, we rounded up a handful of the best options around Ann Arbor. From just a few minutes away to about two hours away on the shores of Lake Michigan, these should all be on your summer bucket list!
Distance from Ann Arbor: 12 miles | Get directions
Photo courtesy of Washtenaw County Parks & Recreation Commission
Operated by the Washtenaw County Parks and Recreation Commission, Independence Lake Park offers countless, year-round attractions. During the summer months, the park's 360 acres feature trails for biking and hiking as well as fishing, boating and swimming in Independence Lake. Featuring both a small dock and a boat launch, you can take off in your kayak or leap off the dock into the water. When you're done, you can sunbathe on the beach or continue the water-themed fun at Blue Heron Bay Spray Park, which features water canons, geysers and water slides.
Distance from Ann Arbor: 14 miles | Get directions
Ypsilanti's Rolling Hills Park is a 439-acre park and one of the most recreational-diverse destinations in Washtenaw County. Anyone looking for swimming adventures and water-themed fun can enjoy a splash in the waves, a float on the lazy river, or a ride down the slides of the Water Park.
Distance from Ann Arbor: 16 miles | Get directions
Van Buren Park Beach is one of Southeast Michigan's most popular spots for lake swimming. Just a 20 minute drive from Ypsilanti, the entire park offers hiking trails, three play structures, picnic areas, pavilions, horseshoe pits, a volleyball court, a basketball court, grills, a community garden, restrooms and, of course, the beach with its own concession stand for snacks and refreshments!
Distance from Ann Arbor: 20 miles | Get directions
Covering a whopping 11,000 acres, Pinckney State Recreation Area is one of our favorite outdoor destinations in the Ann Arbor area. Known for its extensive trail system and chain of excellent fishing lakes, the park also offers over forty miles of multi-use trails, picnicking, playgrounds, beaches, a concession stand, boat launches and rowboat, canoe, paddle boat and kayak rentals.
For swimmers, there are two public beaches, one at Silver Lake and one at Halfmoon Lake. A third beach at Bruin Lake is only open to campers and you can see a list of available campgrounds here.
Distance from Ann Arbor: 19 miles | Get directions
Covering 4,947 acres, Brighton Recreation Area is a hilly, outdoor paradise interspersed with a number of picturesque lakes. The best swimming lake can be found at Bishop Lake. The remodeled, universally accessible beach features a beach house with vending machines, picnic shelters and a sand volleyball court.
In addition to the lake and beach attractions, Bishop Lake is also home to Jump Island! This lake waterpark features an inflatable iceberg, inflatable slides, runways and more so you can slide, run, walk and play atop the water.
Distance from Ann Arbor: 22 miles | Get directions
The largest park in the Lower Peninsula, Waterloo Recreation Area consists of more than 20,000 acres. Across these grounds, you'll find two modern campgrounds, a rustic campground, an equestrian campground, swimming beaches, several picnic sites, 11 fishing lakes, eight boat launches, 12 miles of interpretive nature trails, 47 miles of hiking trails, four rustic cabins, a yurt, equestrian trails, mountain biking trails, and the Gerald E. Eddy Discovery Center.
Day-use swimmers should head to the public beach at the Portage Lake Unit. And registered campers can also take a dip at the beach accessible from the Sugarloaf Campground.
Distance from Ann Arbor: 22 miles | Get directions
At 4,000 acres, Island Lake Recreation Area offers a bit of northern Michigan just 30 minutes from Ann Arbor. In addition to mountain biking, hiking, boating and fishing areas, you'll find two beaches available for swimming. There's one at Kent Lake and one at Spring Mill Pond, a spring fed pond with more than 100 feet of sandy beach!
Distance from Ann Arbor: 25 miles | Get directions
Just 40 minutes from Ann Arbor directly above Island Lake Recreation Area, Kensington Metropark is one of the most popular parks in the state of Michigan. Throughout 4,486 acres, you'll find an 18-hole golf course, a 27-hole disc golf course, a nature center, a farm center, beautiful picnic areas as well as scenic hiking and biking trails for hours of enjoyment.
And, on the 1,200-acre Kent Lake, you can swim at Martindale or Maple beaches, get soaked at the Splash 'n' Blast, or just spend the day fishing, boating and picnicking along the water.
Distance from Ann Arbor: 37 miles | Get directions
Offering 5,900 acres of forest, marshes and lakes in the rolling hills of Southern Michigan, Highland Recreation Area is a destination for equestrian riders, mountain bikers, hikers and boaters during the summer months. Boat access can be found on four lakes within the park for fishing and recreational boating and swimmers can enjoy the public beach on Teeple Lake!
Distance from Ann Arbor: 43 miles | Get directions
An hour north of Ann Arbor, Seven Lakes State Park is made up of farmland, rolling hills, forested land and 230 acres of water. During the summer months, you can rent or bring row boats, canoes and paddle boats, or embark on a hike across more than six miles of trails. Near the swim beach, you'll find a boat launch, a concession stand for snacks, restrooms and changing courts as well as horseshoes, volleyball and playground equipment!
Distance from Ann Arbor: 140 miles | Get directions
One of the most popular beaches for swimming along the southern shores of Lake Michigan, South Beach Park offers concessions, a playground and historic memorials in addition to the sandy swimming beach. Just steps from the beach, visitors can enjoy the skatepark or walk out onto the pier to watch the sunset against the beautiful South Haven Lighthouse.
Distance from Ann Arbor: 165 miles | Get directions
Within three hours of Ann Arbor, Grand Haven State Park is the furthest on our list, but offers some of the best views. The 48 acre park consists entirely of sandy beach with Lake Michigan bordering on the east and Grand River bordering on the north. From the beach, you can dip your toes in the water and enjoy scenic views of Lake Michigan and the Grand Haven pier and lighthouse.
Just keep swimming!
In the comments below, let us know where you're headed this summer.
---
Home to 159 parks and located at the heart of an impressive lineup of state recreation areas and open spaces, Ann Arbor offers countless opportunities to opt outside. From hiking and fishing in town to boating through the Chain of Lakes and even kayaking down the Huron River, there are a variety of new hobbies available to every A2 local and visitor.
We rounded up our top eight activities to kick off your outdoor adventures. Mostly suited for warm weather, these are great ways to take advantage of our outdoor spaces this summer!
Hiking
Wonderful nature walks and hikes can be found in every Ann Arbor area park, nature area, recreation area and open space. Just within Ann Arbor itself, you'll find trails through Nichols Arboretum, Bluffs Nature Area, Dolph Nature Area and Bird Hills Nature Area, the largest park in Ann Arbor. And minutes from town, Pinckney Recreation Area and Waterloo Recreation Area offer a combined 31,500 acres of wilderness to explore!
Bird Hills Trail
Inside Ann Arbor's largest and most forested park, the Bird Hill Trail is a serene getaway within the city limits. It traverses a quick, hilly route with plenty of magnificent views!
Bog Trail
Located just outside of Chelsea, Waterloo Recreation Area's Bog Trail is a 1.5-mile trail that leads to a floating bog in Cedar Lake.
Waterloo-Pinckney Trail
The 36-mile Waterloo-Pinckney Trail travels from Big Portage Lake in Waterloo Recreation Area to Green Lake and into Pinckney Recreation Area.
Biking
Whether you're looking for road biking or mountain biking, you can find the perfect trail in and around Ann Arbor. In addition to road and dirt routes through our communities, the surrounding parks and open spaces offer countless multi-use trails suitable for rugged bicycle adventures.
Huron River Drive
Amongst local bikers, the classic road bike choice is the 24-mile route along Huron River Drive from Ann Arbor to Dexter and back.
Island Lake Recreation Area
Mountain bikers can opt for the Island Lake Recreation Area bike loops which, together, cover about 15 miles. You can travel the East Loop around the Huron River, the nine-mile West Loop, or both!
DTE Energy Foundation Trail
Located in Waterloo Recreation Area, the DTE Energy Foundation Trail is already an extensive trail system and is still being developed for even more mileage. As of June 2018, mountain bikers can enjoy the 4-mile Green Lake Loop and the 4.5-mile Big Kame Loop.
Kayaking
Ann Arbor and its surrounding communities have developed along the banks of the Huron River and amidst countless lakes and ponds suitable for paddle sports. So, whether you want a challenging route down the river or a peaceful float atop a lake, you'll find the perfect setting right here.
Argo Park
Argo Park is home to the Argo Canoe Livery where you can rent kayaks and tubes, buy concessions and participate in river-themed programs. From here, you can enjoy a relaxing, 3.7-mile paddle down the Huron River to Gallup Park, a trip that typically takes 1.5 hours.
Gallup Park
Another Ann Arbor park, Gallup also has its own livery — Gallup Park Canoe Livery — where you can rent materials, learn about the river and embark on river trips. Leaving from here, your trip will begin with a van ride upriver to Barton Park then continue on the water through Argo Pond, down the Argo Cascades, and back to Gallup Park. The trip is 5.7 miles and takes about 2.5 hours.
Waterloo Recreation Area
Inside Waterloo, paddlers will find 11 inland lakes open to kayaks, canoes and rowboats of all kinds.
Boating
In Michigan, you're never more than six miles from a lake or river. And thanks to our impressive system of lakes connected by the Huron River, boating is a popular summer sport amongst the locals of Washtenaw County.
The Portage Lake Chain of Lakes
By far the most popular boating route in the Ann Arbor area, the Chain of Lakes is located in Washtenaw and Livingston Counties and is comprised of seven lakes connected by the Huron River. The trip begins at Little Portage Lake and Big Portage Lake in Waterloo Recreation Area, travels through Base Line Lake, Whitewood Lakes, Gallagher Lakes and Strawberry Lake, then ends at Zukey Lake in Hamburg Township.
Seven Lakes State Park
About an hour north of Ann Arbor, Seven Lakes State Park offers 230 acres of water for swimmers, paddlers, fishermen and, of course, boaters!
Swimming
The Great Lakes State contains more than 11,000 inland lakes with plenty of shoreline for swimmers. Some of these beachside waters even boast man-made water parks! 
Independence Lake Park
During the summer months, the park's 360 acres feature trails for biking and hiking as well as fishing, boating and swimming in Independence Lake. Just off the beach, you can also enjoy water-themed fun at Blue Heron Bay Spray Park.
Island Lake Recreation Area
You'll find two beaches available for swimming in Island Lake Recreation Area. There's one at Kent Lake and one at Spring Mill Pond, a spring fed pond that offers more than 100 feet of sandy beach!
Rolling Hills Park
Anyone looking for swimming adventures and water-themed fun near Ypsilanti can enjoy a splash in the waves, a float on the lazy river, or a ride down the slides of the Water Park.
Fishing
With a license, fishing is available in many of our area lakes and recreation areas. For those just starting out, we've rounded up a few of the region's great options.
Argo Park
The Huron River offers fishing opportunities up and down its banks. At Argo Park, you can fish for carp along the embankment that forms part of the Argo Dam. Just a ten-minute walk from Downtown Ann Arbor, this is the closest fishing to the heart of town!
Lillie Park
Lillie Park in Pittsfield Township offers shore fishing in multiple locations on Haven Lake.
Lake Erie
Second best to deep sea fishing, Lake Erie offers boat angling opportunities to catch walleye, crappie, bluegill and more.
Disc Golf
Played much like regular golf, disc golf is played with a frisbee instead of a ball. Many Ann Arbor area parks offer courses complete with metal baskets to use as landmarks.
Rolling Hills Park
The same Ypsilanti park that offers swimming and a water park offers an 18-hole disc golf course!
Bandemer Park
One of two disc golf courses in Ann Arbor city parks, the course at Bandemer Park winds through a wooded area along the Huron River. It is a nine-hole course, and each hole has three tee pads.
Waterloo Recreation Area
The disc golf course at Waterloo Recreation Area is an 18-hole course at the Portage Lake Unit.
Horseback Riding
In Ann Arbor area parks, horseback riding trails are nearly as prominent as mountain biking trails!
Pinckney Recreation Area
Across more than 11,000 acres of open space, Pinckney Recreation Area offers 13 miles of equestrian trails, a staging area and a stable
Waterloo Recreation Area
Waterloo Recreation Area offers 18 miles of horseback riding trails accessible from a staging area off Loveland Road. And, Horse 'N Around Stables inside the park offers horse rentals, boarding, lessons and more.
Brighton Recreation Area
Home to a full-service riding stable and an equine experience suited for all riding levels, Brighton Recreation Area offers 19 miles of trails, a riding stable, rustic equestrian camping and a staging area. For more information on rentals and programs, check out Brighton Recreation Riding Stable.
How do you #OptOutside?
If you have a favorite park or activity in the Ann Arbor area, let us know in the comments below!
---
Ann Arbor is characterized by its individuality, its history and its quirky character. Lucky for all our area couples, that translates into more than a few jaw-dropping wedding venues. We looked into some of the most popular options and chose the ones that stood out to us as the most beautiful and the most unconventional.
Check out our top choices, peruse a few stunning photos from local photographers, and start planning your dream wedding today. Enjoy!
University of Michigan | Ann Arbor
Photos courtesy of Abby Rose Photo
Located right on the University of Michigan campus, the Michigan League and the Michigan Union are available for event rentals. Both venues are perfect locations for ceremonies and receptions as they each offer various spaces for seated events, dinners, dancing and more. Good luck choosing which one to rent for your wedding! Personally, we can't get enough of the League's ballroom and courtyard garden.
The Rust Belt Market | Ferndale
Photo courtesy of Erin Hannum Photography
The Rust Belt Market is a marketplace, venue and bar in downtown Ferndale. The dreamy event space is chic and rustic thanks to a chevron wood wall, wooden archway and twinkling string lights. And you'll also have the opportunity to rent the Revel Bar, a 1000-square-foot, full-service bar adjacent to main room.
University of Michigan Museum of Art | Ann Arbor
Photo courtesy of Abby Rose Photo
UMMA hosts nearly 20 weddings a year in their 93,000-square-foot facility located at the center of the University of Michigan campus. For larger events, we love the elegance of the Apse which boasts marble floors, a 40-foot skylight and works of art from the UMMA permanent collection. Additionally, galleries may be open for your event for a private viewing experience!
Frutig Farms: Misty Farm | Ann Arbor
Photo courtesy of Meg Darket Photography
At Misty Farm, a part of Frutig Farms, you can have the backyard barn wedding of your dreams without sacrificing your own backyard or buying a barn. Located just six miles from downtown on sixteen beautiful acres, you'll find an outdoor ceremony area, space for a tent and a historic, restored barn with room for a band, dancing and eating.
Kerrytown Concert House | Ann Arbor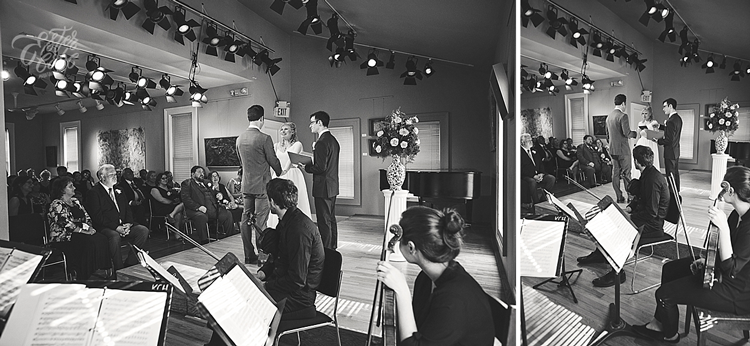 Photos courtesy of Ester Cobe Photography
A popular venue for Ann Arbor wedding ceremonies, Kerrytown Concert House is a unique venue set in a restored Victorian house in the historic Kerrytown area of downtown Ann Arbor. That puts it within walking distance of other Downtown reception venues! The space has a capacity of just over 100 guests and the elegant Steinway model C piano and professional sound system are also available.
Sunset Cove Bed & Breakfast | Pinckney
Photo courtesy of Abby Rose Photo
For intimate weddings, Sunset Cove is the perfect garden setting. With a maximum capacity of 100 guests, you'll have a lake view to one side and a stunning lodge on the other. Some of our favorite photos from Sunset Cove weddings are taken during an outdoor, tented reception which allows for more guests and more garden views!
The Henry Ford Museum of American Innovation | Dearborn
Photo courtesy of Jillian Bowes
The Henry Ford offers three different event and wedding venues, but by far, the most unique is the Henry Ford Museum of American Innovation. The venue has four different areas available including the historic theater and a classic garden courtyard. Inside, an event in the Museum Plaza will be set amongst highlights of the museum's collection including a jaw-dropping airplane!
Matthaei Botanical Gardens | Ann Arbor
Photo courtesy of Nicole Haley Photography
As one of the region's most iconic gardens, Matthaei Botanical Gardens is a gorgeous natural setting for any event. Both outdoors and indoors, there are seven distinct options which include the lush, tropical setting of the Conservatory. Possibly our favorite space, the indoor, greenhouse-style space can hold up to 100 guests for an intimate occasion any time of year.
Ann Arbor Art Center | Ann Arbor
Photo courtesy of Chelsea Brown Photography
Located in the historic Walker Building in the heart of downtown Ann Arbor, this beloved museum offers spaces for both intimate gatherings and mid-size celebrations. On the second floor, you'll find the 117 Gallery which features eight art exhibitions annually, exposed brick walls, wood floors and high ceilings. In summary, it's stunning!
Michigan Theater | Ann Arbor
Photo courtesy of Chelsea Brown Photography
You may know the Michigan Theater as an Ann Arbor landmark for film screenings, concerts and other live performances, but did you know you can rent the space for your wedding? Whether it's set in the historic main auditorium, the screening room or the new 60-seat Annex Cinema, a wedding here will transform your big day into a jaw-dropping production.
Vinology | Ann Arbor
Photos courtesy of Jennifer Boris Photography
Vinology Wine Bar and Restaurant is always a cozy dining option in Downtown Ann Arbor, but it gets even better when it's decked out for your wedding! There are three event rooms total and all three can be rented together to accommodate up to 100 guests. Perfectly suited for an intimate ceremony, dinner, reception and dance floor, we love this A2 option!
The Inn at St. John's Atrium | Plymouth
Photo courtesy of Allie & Co. Photography
The Inn at St. John's offers three distinct event spaces, but for the most unconventional and memorable occasions, we recommend the Atrium. Set beneath a towering sky-light ceiling, the decor is a perfect blend of rustic and industrial with plenty of natural light.
Café Cortina | Farmington Hills
Photo courtesy of Amber Marie Photography
This Italian countryside setting is ideal for intimate, outdoor and indoor events. Amidst the warmth of the courtyard fireplace and surrounded by gardens, you and up to 185 guests can dance in the outdoor space or relax inside in front of another fireplace and a cozy interior.
Where did you get married?
If you fell in love with your Ann Arbor wedding venue, give it a shout-out in the comments below!
---
Coffee fuels our spirit almost as much as supporting other local businesses does. And as a hip, college town (and the best place to live in the whole country, according to Livability) it's only natural that Ann Arbor and its surrounding communities have plenty of amazing coffee shops brewing some of the best caffeinated beverages in town.
Sip like a local and try one of these top Ann Arbor area coffee shops for yourself. You can also use our interactive map to find a coffee shop conveniently located near you!
Photo courtesy of Literati Bookstore, Literati Coffee and Michael Gustafson
In 2011, when Ann Arbor's original, local bookstore, Borders, closed its doors all over the country, Hilary and Mike Gustafson moved back to their home state and opened Literati Bookstore as a book-lovers haven in downtown Ann Arbor. Literati Coffee is the full-service espresso and coffee bar located above the bookstore. There, you can grab a mug, grab a book, and enjoy events, book clubs, author readings and other community-oriented gatherings.
Deeply local Roos Roast is the coffee headquarters for freshly roasted beans in Ann Arbor. At their charming locale in Rosewood, they roast all their coffees in house and offer a lively and cozy vibe. The new downtown location is everything we want in a local coffee shop, but you can also find them year-round at the Ann Arbor Farmers Market! They've been voted the best in Washtenaw Country and the best in Southeast Michigan, so we suggesting stopping by to experience Roos for yourself.
Photo courtesy of The Common Cup
The Common Cup is a gathering place for students, community members and visitors alike. As a true A2 café, they source dairy products from Michigan's own Guernsey Farms, tea from Ann Arbor's TeaHaus, and coffee beans from Ypsilanti's Hyperion Coffee Co. (also on our list!). In addition to designing a warm, cozy space for local art and great coffee, The Common Cup is a non-profit coffeehouse run through University Lutheran Chapel.
Zingerman's Coffee Co. is a wholesale roaster supplying cafes, restaurants and businesses all over the region, but they also offer their own coffees at the Zingerman's Coffee Bar at Zingerman's Southside Producers row. Located alongside Zingerman's Creamery, Zingerman's Bakehouse and Zingerman's Candy Factory, you can get all the best in one convenient spot.
Every Mighty Good coffee beverage starts with beans from select farms, mills and co-ops. Then they're roasted in small batches and packaged to preserve freshness. Whether you're picking up a bag from the grocery store or stopping in at the coffee shops downtown, near campus, in Arbor Hills or inside The Jefferson Market, you're guaranteed a fresh cup of coffee that is both sustainable and empowering (for you and for the community!). Check out the team's philosophy, mission and story here.
Photo courtesy of Comet Coffee and Joseph Saborío
Located inside Ann Arbor's historic Nickels Arcade, Comet Coffee has been serving delicious beverages since 2009. Amidst the bright, covered shopping district, you can settle down with a mug in a shop that is welcoming, fun and cozy shop — a true hallmark of the arcade and the city!
The team at Electric Eye Cafe turned one of Ann Arbor's cutest Kerrytown houses into an actual coffee house. Stop in for a cup of your favorite caffeinated beverage, a locally sourced snack, goods and apparel sold through local businesses, and an entire library of free books to read while you're there. To showcase various flavors and styles, Electric Eye rotates between small roasters on a monthly basis so you may find new coffees each time you stop by!
Six Michigan locations | Facebook
Sweetwaters is well-known throughout Michigan and Ohio (and even as far as Walnut Creek, California!), but the humble coffeehouse began right here in Ann Arbor. Alumni of the University of Michigan, Wei and Lisa Bee founded the first Sweetwaters in 1993 in Downtown A2. Now you can grab a globally-inspired beverage or snack Downtown, in Kerrytown, on the UM campus, at Westgate Library, in Canton and in Ypsi.
1423 E Stadium Blvd | Facebook
Photo courtesy of Black Diesel Coffee
Black Diesel is a picturesque little cafe that brews coffees worthy of your Instagram feed. Sourcing single origin beans from right down the street and across the state, you'll soon find your new favorite espresso beverage or pour over coffee — all offered alongside snacks, paninis, gelato, cookies and more!
This coffee bar and tap house is an Ypsi favorite. Built around the mantra, "craft, community and cause," you'll find the best craft coffee and beer, regular community events, and support of worthy causes. The space itself is bright, open and ready to become your second Ypsilanti living room.
The source of many of our favorite coffee shops in Ann Arbor and around the state, Hyperion is an outstanding roaster right here in Ypsi. Featured in Phaidon's Where to Drink Coffee as one of the best of the midwest, we definitely recommend stepping through that giant green door and into your new coffee paradise.
Photo courtesy of Cross Street Coffee
In early 2017, Ypsilanti's beloved Ugly Mug Coffee changed its name to Cross Street Coffee and upgraded the interior — but they're still serving some of the region's favorite caffeinated bevvies. The business has been family-owned and operated for over a decade, but the building itself has a long history. The historic building once housed one of the first gas stations in the county, then a Greyhound, and then a coffee shop. It's worth a stop if you love coffee, local art and friendly faces!
The Plymouth Coffee Bean is the longest running independent coffee shop in the entire state of Michigan. With a focus on coffee, music, art and poetry, it has served as the community's second home and headquarters for community art since 1993. And you can get professionally-prepared crépes at the beloved Crépe Counter!
Inside what is quite possibly the most charming building in Plymouth, you'll find this roaster and coffee bar full of experts in beans, flavor and latte art. The team's mission is to craft and share coffee in a way that elevates the entire experience, so it makes sense that you'll find one of the region's best right here.
Photo courtesy of The Peaberry Bean & Beats
Where do homemade foods, craft coffees, music, book signings and poetry slams come together? The Peaberry Bean & Beats, of course! By day this café is the perfect place to work, study or catch up with friends. During evenings and weekends, it's the community's favorite spot for local musicians, artists, comics and poets to show off their talents.
At Saline's Carrigan Cafe, it's all about local. The beans are sourced from Coffee Express in Plymouth and the treats are sourced from places like Ed's Bread, Guernsey Dairy and Rumi's Passion Bakery. Stop by to say hello to Tobin the teddy bear, warm up with a mug of coffee, and you'll soon learn why this is a neighborhood favorite!
Share your favorites
Let us know which local coffee shops you love in the comments below!
---
The Super Bowl is right around the corner, but here in Ann Arbor, we're always looking for an opportunity to cheer on our favorite team — whether it's our favorite NFL team or the Wolverines in our own backyard. To make sure you're prepared for both (and for every other sporting event under the sun), we rounded up the area's best sports bars.
But it's not all about who has the biggest TV (although that is an important factor!). These local spots offer the region's best bar food, the best game day atmospheres as well as the brews and the cocktails that stand out from the crowd. And, of course, each one has a few flat screens, TVs and projectors thrown in for good measure. Go Blue!
203 E Washington St | Facebook
Photo courtesy of Haymaker Public House
Located in Downtown Ann Arbor, Haymaker is a favorite sports bar amongst locals, students, visitors and people around the whole state of Michigan. Offering board games, trivia, handcrafted beverages, 24 different draft beers and classic comfort food (including Brisket & Waffle Poutine!), there's something for everyone whether you're watching the game or playing Scrabble.
Photo courtesy of Fraser's Pub
Jimmy and Red Fraser first opened this neighborhood bar in 1962 and it's been the A2 go-to ever since. The taps feature multiple Michigan beers, the menu includes all the bar favorites cooked up with style, and the TVs fill the whole place so you'll never miss the action. Be sure to wear your blue and maize or you may feel left out. Go Blue!
1204 S University Ave | Facebook
The Brown Jug has been a University of Michigan tradition since it opened its doors in 1936. Named after the Michigan vs. Minnesota football trophy, the oldest in college football, you'll never find a place more passionate for the Wolverines or more ready to watch the game.
1140 S University Ave | Facebook
Photo courtesy of Good Time Charley's and Bruno Postigo
Good Time Charley's opened its doors in 1979, the first U of M student walked in, and the rest was history. It's located right across the street from the university and offers a parking structure, making it one of the easiest places to get to before the game starts. We recommend ordering a plate of Pepperoni Styx, hand-twisted breadsticks stuffed with mozzarella and pepperoni and topped with garlic and parmesan. Then get ready to cheer on your favorite team!
A beer garden, 70 taps and live music make this a favorite hang out any time of year. But during football season, you'll find the impressive lineup of TVs tuned to national teams and the Wolverines depending on which day you stop by. Next time you're in Ann Arbor's Westside, come for the game and stay for the craft burgers.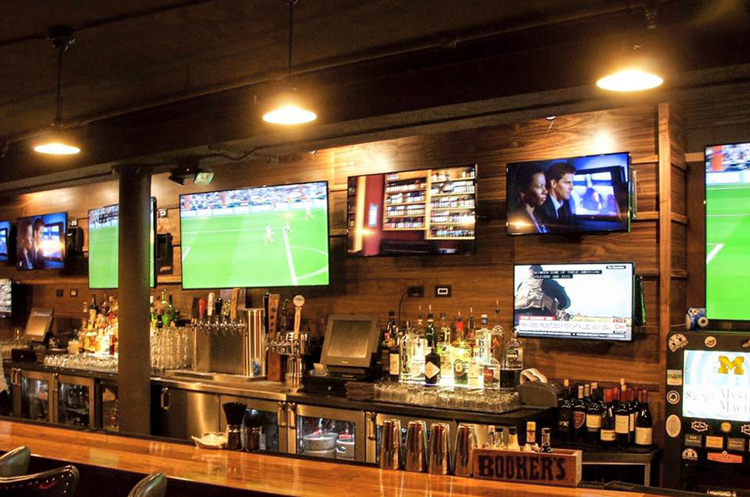 Photo courtesy of The Pretzel Bell
After The Pretzel Bell opened in 1934, it became the campus watering hole for more than 50 years, feeding and hydrating students, townies and visitors alike. After a brief closing, the doors reopened as one of A2's warmest and coziest spots — complete with gourmet pub food, craft beer and cocktails, and dozens of TVs tuned into your favorite team.
7. HopCat | Ann Arbor
HopCat began back in 2008 in Grand Rapids and later opened the Ann Arbor location which has now been serving beer, food and fun for three years. Through those years, they've been offering 100 craft beers on tap in a semi-psychedelic setting that perfectly fits the atmosphere of A2. In fact, the atmosphere, the beer and the food menu have landed them countless awards as the best beer bar in the country and in the world.
2019 W Stadium Blvd | Facebook
You might say Wolverine State Brewing Co. has a little Wolverine pride. They also make some of the best beer in town, offer a huge menu of comfort food and outstanding in-house smoked meats, and they have multiple flat screens around the taproom so you can catch every minute of the game.  
The Wurst Bar is one of the best bars in Ypsilanti. Their enormous lineup of local, national and imported beers is offered alongside artisan pub food selections like Pulled Pork Eggrolls, Bavarian Pretzels, Lobster Rolls and creative burgers — and they have whole menu sections dedicated to tots and to bratwursts! One of our favorites is the Wild Game Cudighi Wurst which is made with rotating game meat, pork, allspice, cinnamon, nutmeg and wine.
114 E Washington St + 720 Norris St | Facebook
Whether you're at the ABC Brewpub in Ann Arbor or the ABC Microbrewery in Ypsilanti, you'll find handcrafted beer, bar games, outstanding food and projector screens to watch the big game in style. The Ann Arbor Brewpub operates as a full restaurant and offers a few more televisions, while the Ypsilanti spot offers bar service and a cozy atmosphere.  
With more than 30 beers on tap, 17 flat screens, and a food lineup of bratwursts, nachos, sliders, burgers and waffle fries — say no more! Scorekeepers has been around for decades and has always been a go-to game day spot, for obvious reasons.
Oscar's is a place for locals and for sports fanatics to come together in one of the area's friendliest and coziest bars. The food is prepared fresh, the hi-def TVs are always on, and the staff is ready to welcome you as a regular!
840 W Ann Arbor Trail | Facebook
The game is always on at Ironwood Grill, whether you're cheering on the Wolverines, the Lions, the Pistons, your favorite Nascar racer — you name it! Inside a bright, welcoming setting you'll find an entire wall of TVs above the bar, with others scattered throughout the dining area, artisan pub food and smokehouse entrées that are slow smoked up to 14 hours with apple, cherry and hickory wood.
Where are you going on game day?
In the Facebook comments, let us know where you go on game day, even if it's not on our list!
http://feeds.feedburner.com/reinhartrealtors/cGKc