The Reinhart Blog
16 Things To Do on a Rainy Day in Ann Arbor
Is rain on the weather forecast? Not a problem. Ann Arbor is packed with a variety of indoor attractions and activities, whether you want to encounter wildlife up close or your idea of adventure is reading a new book with a cup of coffee in hand.
Don't let the rain bring you down! Get out there and explore all that Ann Arbor has to offer in the great indoors.
Duck into this historic brick complex in Kerrytown, where you'll discover an endless array of options, including dining destinations, markets with local produce, and a variety of unique shops and businesses. Use our interactive map and guide to Kerrytown to help narrow down the overwhelming choices available here, with options for food and drink, shopping, and activities.
Photo courtesy of Kim Ellis via the Creature Conservancy
The Creature Conservatory is a nonprofit organization home to a wide variety of animals most of whom were abandoned, injured and non-releasable, or surrendered exotic pets. Their conservation through education mission allows our community to meet these animals, learn about wildlife and nature, attend educational programs and camps, and more. On weekdays from 10 a.m. to 6 p.m., you can enjoy limited outdoor viewing for free, but the conservancy is open indoors on Saturdays and Sundays from 1–5 p.m., allowing an opportunity to get up close and personal with the wildlife.
Cozy up with a movie at Michigan Theater or The State Theatre, two historic theaters just steps away from one another in the heart of downtown Ann Arbor. Founded in 1928, Michigan Theater is now home to three screening spaces for independent movies, concerts, comedy shows, national tours and more. Opened in 1942, The State Theatre is almost as old, and today, offers regular showings of indie movies, limited releases, special screenings and more. To see upcoming showtimes for both theaters, click here.
This retro-yet-timeless activity is a great way to pass the time on a rainy afternoon. Bel-Mark Lanes provides a casual, fun atmosphere perfect for all ages, and their updated scoring system and interactive games take your bowling experience to the next level. And don't worry — they have dinner and drinks covered, too. Guarantee your spot by reserving a lane at Bel-Mark in advance!
Photo Courtesy of Eric Branson via Matthaei Botanical Gardens and Nichols Arboretum
While Matthaei Botanical Gardens has 11 outdoor areas to explore when the sun is shining, their year-round indoor conservatory is the perfect retreat on a rainy day. The conservatory has three climate spaces, the Tropical House, the Temperate House, and the Arid House, featuring a variety of plant species in each biome. Admission to the conservatory is always free, but if you drive here, expect to pay $1.70 per hour for parking with a $5 daily maximum charge.
The home of JIFFY Mix and the industrial heart of Chelsea, Chelsea Milling Company offers free tours open to the public with a reservation. Your one-hour journey through the factory includes an inside look at the packaging plant, a video presentation, refreshments and a product sample. Yes, that means you get to enjoy a free muffin, too!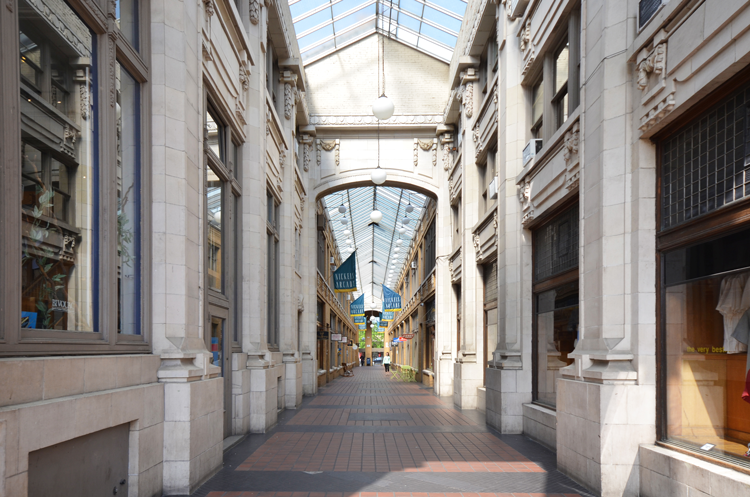 Built in 1915, Nickels Arcade is a covered shopping district with a variety of shops to explore, including Mix, Van Boven Clothing, The Arcadian Antiques, Bivouac, and the Caravan Gift Shop, which has been in operation since 1927. Listed on the National Register of Historic Places, the building is considered one of the only remaining examples of a free-standing commercial arcade building in the state of Michigan. Before you start your adventure in Nickels Arcade, be sure to fuel up with a cup of coffee at Comet Coffee.
The Ark is Ann Arbor's destination for live music. Founded in 1965 by four area churches, the venue has grown to offer more than 300 nights of shows each year in one of the best listening rooms anywhere. This intimate, 400-seat venue brings up-and-coming artists and well-known musicians alike, and in the past, they've brought big names like Howie Day, Blind Pilot and the Violent Femmes to town! See all their upcoming events here.
Photo Courtesy of Hayden Stinebaugh Photography via Aventura
Considered one of the most romantic restaurants in Ann Arbor, Aventura is the perfect escape on a gloomy day. Complete with exposed brick walls, gorgeous tilework, unique light fixtures and bold wallpaper, the interior is cozy, comfortable and inviting, yet remains modern, cheerful and eclectic. Aventura focuses on authentic Spanish cuisine and culture including tapas, paella, vino and delicious, artisan cocktails.
Inspired by the old-world atmosphere and the historical nature of the building itself, restaurateur Sava Lelcaj designed the restaurant from the bones of the original, 1872 space by utilizing classic Spanish design elements paired with works by local artists. In traditional Catalan and Valencian style, the dining room and bar are intertwined, emphasizing the lively social experience of the classic tapas bar.
A rainy day is the perfect excuse to spend hours getting lost in a world of art, history and science at a local museum. Thankfully, Ann Arbor has plenty of museums worth exploring, including the University of Michigan Museum of Art and the Museum of Natural History.
Located on campus, the University of Michigan Museum of Art is one of the largest university art museums in the country. Their collections represent 150 years of art collecting and include everything from 1000 BCE Middle Eastern artifacts to 21st-century paintings. Admission to the museum is always free, but a $10 donation is also appreciated. Get full details and plan your visit here.
The U-M Museum of Natural History features a variety of constantly expanding exhibits, including interactive displays about mastodons and prehistoric whales, multimedia artwork, the evolution of life on earth, space exploration, and more. You can even see the museum staff at work in the Fossil Prep Lab! For more information on your visit, click here. And remember, admission to the museum is free, but donations are always accepted.
As Michigan's top escape game, Decode offers some of the most interesting and complex escape rooms in the state — and they have facilities in Ann Arbor, Ypsilanti and Detroit! In Ann Arbor, their facility offers a three-part adventure called Minerva's Trilogy. The story is about Minerva, an adolescent Artificial Intelligence machine with lofty goals. The first and last parts of the trilogy, Minerva Project and Minerva's Return, are both indoor one-hour escape rooms. And on a sunny day, tackle Minerva's Escape, a free puzzle hunt taking you through downtown Ann Arbor.
Hilary and Mike Gustafson opened Literati Bookstore in 2013 as a book lover's haven in downtown Ann Arbor. On the store's lower level, they set out an old typewriter and invited anyone and everyone to type a note. Using compiled notes, essays and photos collected over the years, the team published "Notes From A Public Typewriter" in 2018, and in 2019, Literati Bookstore was named the Publishers Weekly Bookstore of the Year! And in addition to their public typewriter, their huge inventory of books and their friendly staff, they offer a full-service coffee shop upstairs. There, you can grab a mug, grab a book, and enjoy events, book clubs, author readings and other community-oriented gatherings.
For more bookish places in town, check out The Book Lover's Guide to Ann Arbor, and to track down our favorite coffee shops, take a look at The 16 Best Coffee Shops in the Ann Arbor Area.
Dating back more than 30 years ago, Pinball Pete's has become the go-to destination for arcade fun in Ann Arbor. Both kids and adults alike have a blast here, playing arcade games, video games, pool, air hockey, and much more.
The Ann Arbor Hands-on Museum specializes in interactive exhibits with the goal of helping both children and adults discover the scientist within. Visiting the museum any day of the week means you can explore exhibits like Michigan Nature, Lyons Country Store, MediaWorks, and DTE Energy Foundation Light and Optics. Both you and the little ones will enjoy your time at this hands-on, interactive museum in Kerrytown. General admission is just $12.50, members are admitted for free, and admission is just $5 after 5 p.m. on Thursdays!
Ann Arbor's premier indoor rock climbing gym, Planet Rock offers more than 25,000 square feet of climbing surface, a full training area and a giant bouldering mushroom. Their second location in Madison Heights offers a 15-meter official competition speed climbing wall and an ice climbing training area as well! Special programs for children ages 4 – 19 encourage body awareness, coordination and problem-solving skills, and each program includes free belay lessons for parents and free climbing while their child is in class! Both beginner and experienced climbers can find fun challenges and learning opportunities at Planet Rock.
You may be surprised to find a farmers' market on a list of rainy day activities, but have no fear — this one is completely covered! Plus, the Ann Arbor Farmers' Market is open year-round on Saturdays (plus Wednesdays during the summer!). No matter what time of year it is, and whether the sun is shining or the rain is falling, you can get farm-fresh produce, homemade baked goods, fresh flowers, dairy and meat products, and much more at the Ann Arbor Farmers' Market.
Rain, Rain, Go Away
What are your favorite rainy day activities in Ann Arbor? Let us know in the comments below!
---
---
---
You may also like...
---
Leave a Comment
comments powered by

Disqus