The Reinhart Blog
12 Small-Town Restaurants Worth the Drive from Ann Arbor
Southeast Michigan's small towns are home to some of our favorite local businesses, eateries, breweries, coffee shops and communities in all of Michigan. In these historic cities and towns, entrepreneurs combine neighborhood sensibilities with some of our favorite things—including real, homemade cooking. And that's what we're celebrating in this guide. 
Keep reading to see which local spots made our list, then make the list longer by adding your favorites in the comments below! 
20 N Washington St, Ypsilanti | Facebook 
Photo courtesy of Beezy's
Both a beloved coffee shop and a delicious cafe, Beezy's is a hyper-local option in downtown Ypsilanti. Every day, they make two different seasonal soups, whip up fresh homemade salad dressings, bake hot fresh bread, and prepare everything with a local sensibility using local products from nearby vendors and farmers. To view the menu, click here. 
306 E Michigan Ave, Ypsilanti | Facebook 
This old-school diner has been an Ypsi staple since it opened in 1936. Surrounded by aviation-inspired decor, you can get one of the county's best breakfasts right here in the Bomber dining room, and their huge menu of American classics offers more than 35 options!
2333 Washtenaw Ave, Ypsilanti | Facebook 
One of Ypsilanti's highest-rated eateries, Casablanca serves authentic Moroccan and Arabic cuisine for dine in, carry out and delivery. From fresh hummus to chicken shawarma, this is the best way to explore global cuisine in town.
112 S Main St, Chelsea | Facebook 
Photo courtesy of The Common Grill
This downtown Chelsea restaurant is known around the state and even as far as the James Beard House in New York City where self-taught chef Craig Common was invited to prepare a dinner for their members and guests. For more than 25 years, Craig and his team have been serving innovative New American cuisine with a seafood-forward menu and outstanding service. Preview that menu here and get ready for an unforgettable meal.
307 N River St, Ypsilanti | Facebook 
Photo courtesy of Nick Azzaro via Cultivate Coffee & Taphouse
At Cultivate, you can get sandwiches and bagel sandwiches, sweet toasts and simple snacks, but the real attraction is the freshly roasted coffee, the craft beer and the community atmosphere. Built around the mantra, "craft, community and cause," they roast their own coffee beans, brew their own beer and host some of the region's most beloved community events. You can see those upcoming events here.
8124 Main St, Dexter | Facebook 
One of the community's beloved breakfast, brunch and lunch spots, Dexter Riverview Cafe is a locally owned and operated eatery. Their menu features fresh, homemade oatmeal, homemade biscuits and gravy, pita sandwiches, coneys and so much more. To see that menu, click here. 
972 E Michigan Ave, Saline | Facebook 
MJ Malone and her sidekick Matty J are the powerhouses behind Matty J's Bakery and Cafe. Driven by a passion for real food, the cafe menu balances healthy options with tasty flavors using locally produced ingredients to offer seasonal treats you'll love. Check out the menu here to find out what breads, sandwiches and cookies you can get today.
42 E Cross St, Ypsilanti | Facebook 
Photo courtesy of Ollie Food + Spirits
This Ypsi favorite offers a seasonally rotating menu made with high-quality, locally sourced ingredients and they pair that with a lineup of artisan cocktails, craft beer and wine. These approachable, gourmet eats cater to all kinds of diets—vegans, vegetarians and omnivores alike.
8093 Main St, Dexter | Facebook 
Red Brick is a small, family-owned restaurant nestled in the middle of Downtown Dexter. Led by Executive Chef Cody Wiseley, the kitchen produces fresh, innovative food, and their team combines that with creative craft cocktails and a warm, inviting atmosphere complete with a full bar. That bar also boasts eight beers on tap, all from Michigan breweries! To see the full menu, click here. 
117 S Ann Arbor St, Saline | Facebook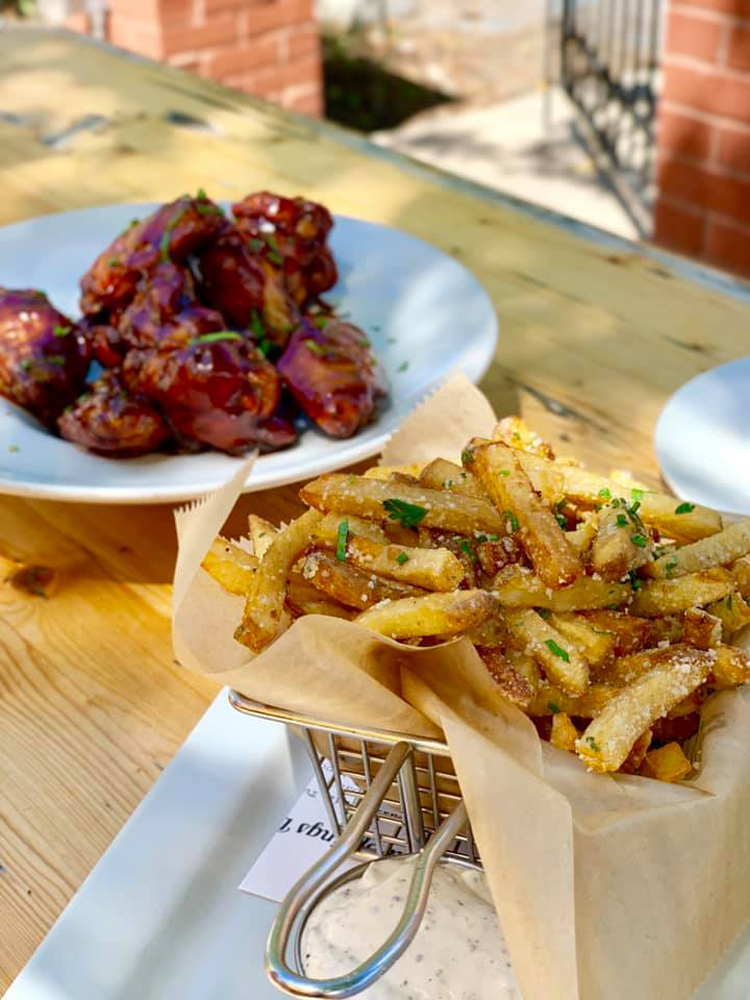 Photo courtesy of Salt Springs Brewery
Named for Saline's ancient, historic salt springs, this hometown brewery is housed in a beautiful, 116-year-old former church. Undoubtedly one of the most impressive settings in Southeast Michigan, you can enjoy true-to-style ales, wine and cider alongside locally sourced food with stunning stained glass as the backdrop.
56 E Cross St, Ypsilanti | Facebook 
Sidetrack has been a local destination since it opened its doors in 1850 and it's easy to explain why. They serve some of the best pub food, pour some of the best beer, and offer it all in one of the best Ypsi atmospheres. Their burger—Our Famous Burger—was included on GQ's 2005 round-up The 20 Hamburgers You Must Eat Before You Die, and that's just one of the reasons we recommend stopping by.
125 S Main St, Chelsea + 105 W Michigan Ave, Saline | Facebook 
Phil and Jenn Tolliver opened Smokehouse 52 in downtown Chelsea in February of 2013 and it's been a beloved neighborhood eatery ever since. Phil's passion for BBQ began when he was a child growing up on a hog farm in Stockbridge. Now, that passion translates into the most delicious and authentic BBQ in the region at locations in both Chelsea and Saline.
Add to the list!
The small towns of Southeast Michigan are home to some of the best local food and drink in the state. Make our list longer by giving your favorite a shoutout in the comments below!
---
---
---
You may also like...
---
Leave a Comment
comments powered by

Disqus