The Reinhart Blog
Your Guide to Kerrytown in Ann Arbor, Mapped
Kerrytown is a charming neighborhood located just a few blocks north of Main Street in Downtown Ann Arbor. Centered around Kerrytown Market & Shops, the neighborhood is home to the year-round Ann Arbor Farmers' Market, the Jim Toy Community Center, annual events like Kerrytown KindleFest, beloved restaurants like Miss Kim and The Lunch Room, as well as tons of local shops and services. Outside of the main Kerrytown market, you'll also find some of Ann Arbor's most beloved institutions, including Zingerman's Delicatessen, Aut Bar, Kerrytown Concert House and more—continuing all the way to the Ann Arbor Hands-On Museum at East Huron Street.
In this guide, we rounded up all there is to do and see in Kerrytown, including the attractions of Kerrytown Market & Shops and the surrounding neighborhood. We included features on more than 30 Ann Arbor businesses. Enjoy!
Jump Ahead: 
Food + Drink | Things to Do | Shopping
Space
Food + Drink
Beloved as an LGBTQ institution, Aut Bar is one of the town's most welcoming food and entertainment establishments. Famous for their classic bar atmosphere which includes trivia nights, drag shows and holiday-themed events, you'll also find one of Ann Arbor's best brunches served every Sunday. To stay up-to-date on brunch and other events happening at Aut, follow the team on Facebook here. 
This true neighborhood bar is the place to go when you want a creative cocktail and a comfortable setting. The drink list rotates with the seasons and includes three rotating taps from Original Gravity Brewing based in Milan. And if you get hungry, you're in a great place for a Spicy Chicken Sandwich, Paneer Poutine or Vegan Chili Fries. To see the full menu, click here.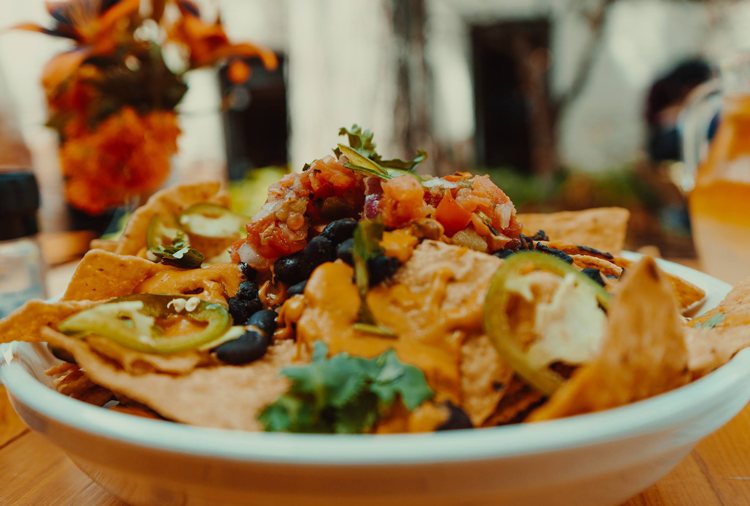 Photo courtesy of The Lunch Room
Often referred to simply as The Lunch Room, The Lunch Room Diner & Canteen is this team's original location in Kerrytown. Other eateries from the team include Detroit Street Filling Station and The Lunch Room Bakery & Cafe where all their bread is made from scratch.  Because only plant-based foods are served at The Lunch Room, you never have to worry about the presence of meat, dairy, eggs, honey or anything processed with animal products. As an added bonus, many of the ingredients are also organic and non-GMO, and many meals can be made gluten-free. 
Though the name is different than other Zingerman's businesses—it was chosen to showcase Korean tradition and honor the restaurant's female chef—the service and quality at this restaurant is everything you'd expect from the Zingerman's team. At Miss Kim, the authentic Korean dishes are driven by and adapted to showcase Michigan's bountiful produce. Shareable small plates include things like Fresh Oysters and Pork Belly Bossam alongside medium and large entrée selections like Fried Calamari and Whole Lamb Shank.
Sweetwaters is well-known throughout Michigan and Ohio (and even as far as Walnut Creek, California!), but the humble coffeehouse began right here in Ann Arbor. Alumni of the University of Michigan, Wei and Lisa Bee founded the first Sweetwaters in 1993 in Downtown A2. Now, you can grab a globally inspired beverage or snack downtown, in Kerrytown, on the UM campus, at Westgate Library, in Canton and in Ypsi.
Ann Arbor's favorite tea spot, TeaHaus offers options suited for a quick stop or an entire afternoon. For example, the full English tea is a three-tiered service brought out to each table complete with white China and linens. The experience includes all the tea you can drink, four finger sandwiches, the soup of the day, two scones with jam, jellies, lemon curd and clotted cream, and three desserts. Get all the details here and be sure to make your reservation a few days in advance. 
The team also operates Eat More Tea, a Kerrytown business open by appointment, for reservations and for special order pickup where you can get tea-inspired treats, eats, gelato and more. 
The first business that opened in the Zingerman's Community of Businesses was this historical deli opened in 1982 with a staff of two, a small selection of specialty foods, a variety of traditional Jewish dishes and a short, simple sandwich menu. Today, the deli is still located in the small, red brick building across from the Ann Arbor Farmers' Market, but you can now get corned beef, pastrami, turkey, chicken, pork, fish and vegetarian sandwiches, as well as breakfasts, salads, housemade Jewish specialty foods, handmade pot pies and more.
If that's still not enough, you can go right next door to Next Door Café for cakes, pies, cupcakes, coffee, gelato, cookies, brownies, chocolates, candies and so much more! They opened this charming shop in 1991 to offer more space and more treats both from Zingerman's businesses and from around the country.
Things to Do
Highlighted in 18 Things to Do with Kids in Ann Arbor, the Ann Arbor Hands-On Museum is home to countless interactive exhibits where children and adults can get interactive and discover their inner scientist. Visiting the museum any day of the week means you can explore exhibits like Michigan Nature, Lyons Country Store, MediaWorks, and DTE Energy Foundation Light and Optics.
This award-winning day spa offers a full spectrum of healing day spa services, including massage, facials, organic spray tans, waxing and nail services in the heart of Kerrytown. They've even been voted the Best Day Spa in Washtenaw County every year since 2012 by Current Magazine's Best of Washtenaw. 
Encore Studio is a woman-run business and the place to go for all your hair and nail needs. In their comfortable studio, you can get haircuts and styles, waxing and makeup application, manicure and pedicure services, and more. 
Grateful Dreads is a beloved and spiritual salon in Kerrytown. Owned and operated by Sandy, this team specializes in dreads and locs whether you need them put in, maintained or repaired. Sandy and her team can also do SoCap fusion extensions, style and cut curly hair, care for afros, thread eyebrows and more. 
An intimate, 110-seat venue, Kerrytown Concert House is a nonprofit organization focused on community engagement and providing audiences with fine art, including everything from live music to gallery exhibitions. Inside their historic home-turned-venue, you can attend affordable events in various genres; check out the event calendar here.
Located in a quiet studio above the People's Food Co-Op, The Rope Yoga Collective is run by a small, dedicated team of certified professionals with a passion for yoga. To view their full class schedule, click here.  
Shopping
This Ann Arbor shop has been operating in town for more than four decades. When it began in 1975, it was an artist collective of eight artists exhibiting artwork by its members in a storefront on Washington Street. In 2011, the store relocated to Kerrytown Market & Shops, and the team still showcases and sells original, finely crafted objects of uncommon quality and character, including jewelry and accessories, unique gifts, and items for the home, office and garden. 
Ann Arbor has an outdoor farmers' market that operates all year long, and it's located right here in Kerrytown. The Ann Arbor Farmers' Market brings together our community, our local makers, our local growers and our local artisans for weekly events—and bi-weekly events during the summer! For the full schedule, vendor information and details about seasonal food truck rallies, click here. 
A branch of the national chain, Spice & Tea Merchants, this store sells the freshest, highest quality herbs and spices available alongside an inventory of locally produced products. In Kerrytown since 2007, they carry herbs, spices, more than 60 spice blends, a variety of sea salts and peppers, and more than 100 flavors of tea with tea accessories.

Catching Fireflies is a Michigan institution with locations in Berkley, Rochester and right here in Ann Arbor. In the whimsical gift gallery, you can shop gifts for every occasion and interest, including kitchen and home goods, accessories, fashion and stationery. 
At Durham's Tracklements, they specialize in smoked salmon and other custom smoked provisions. So, when you stop by to pick up their delicious salmon, be sure to shop pickled herring, rainbow trout, pickled asparagus, smoked cheeses and more, too! Follow the team on Instagram for updates on specials! 
This Kerrytown Market & Shops store is locally owned and totally independent. Owner Mary Campbell and her team work tirelessly to make wine an easy and affordable everyday pleasure, and their inventory is spotted with informative cards and tasting notes so you can choose the right bottle for you. Of course, if you want even more wine opinions, ask them! They're some of Ann Arbor's best wine pros. 
Photo courtesy of FOUND
Perfectly merging vintage and modern, FOUND offers a mix of home decor, pillows, rugs, textiles, candles, jewelry and gifts. And many of those goods are made right here in Michigan by local artisans! Their brick and mortar location is in Ann Arbor's Kerrytown district, but you can also shop much of their inventory online here.
Owned by Paul and Claire Tinkerhess, Fourth Ave Birkenstock is the place to go for comfortable and functional shoes. To read their story, click here. 
The original Fustini's in Traverse City was born from a love of the oil and vinegar stores of Europe and a desire to bring the experience stateside. Now, Jim Milligan and his team have four Michigan locations: Ann Arbor, Holland, Petoskey and the original in Traverse City. Swing by to shop an impressive selection of oils and vinegars alongside other foodie goods and gourmet selections. 
Owned and operated by Tom and Cindy Hollander since 1991, Hollander's is a nationally recognized retailer specializing in decorative papers, bookbinding supplies and teaching workshops. Their retail store stocks more than 2,000 unique decorative papers, as well as traditional artist papers imported from all over the world.
This Kerrytown original has been providing fresh flowers and delivering joy for more than 35 years. Always family-owned and operated, you can find this bright and flower-filled storefront right next door to Zingerman's Next Door! 
In 2019, Monahan's Seafood Market celebrated 40 years of serving the Ann Arbor community and we're so happy to have them. This world-class fish market is the only market in these parts that brings in the majority of their fish whole then cuts each one to your specifications. That makes their seafood the freshest and most delicious in town! 
Motte & Bailey is a type of medieval Norman castle and the name of this local bookstore was chosen to reflect the team's interest in books that concern all the various aspects of history. They opened their original storefront in 2000, moved into their current one in 2006, and have become notable in town for their huge inventory of books, their history-focused reading groups, and their great book deals. Speaking of which, you can take advantage of the "buy three and get a deal" offer every day. For more information, check out the website here.
Mudpuddles is a specialty toy store filled with smart and creative toys and games for all ages. Local owners Jan and Sharon hand select every item in the store so you can rest assured that each one will be suitable for both education and fun. 
Photo courtesy of People's Food Co-op
Ann Arbor's first natural foods grocery store, the People's Food Co-op has been offering local, natural and organic options in every grocery department for more than 40 years. Open seven days a week, the co-op invites members and non-members to shop goods and enjoy healthy food and drink at their very own PFC Café. 
An Ann Arbor tradition since opening their doors in 1983, this beloved butcher and market is the place to go for fresh cuts of meat. Their reviews are filled with phrases like, "This is my favorite place to shop" and, our favorite, "These people care about what you put in your mouth." Next time you need grass-fed prime beef or duck bacon, check out Sparrow. 
Image courtesy of Spun
Spun is a local, family-owned yarn shop in Kerrytown where you can shop yarn and tools, learn at scheduled classes and ask questions at free, drop-in sessions. Their free social knitting and crochet sessions occur four different times per week and they host Ask-a-Knitter throughout the week, too. Regularly scheduled classes are more hands-on and intensive, covering topics like beginning crochet, crochet for knitters, introduction to lace and more. To see the full calendar, click here.
Back in 1989, Founder Missy Park saw a need for athletic gear built for women, and Title Nine was born. Today, the team operates more than 15 stores throughout the country, and as of 2019, Michigan's only retail store is right here in Kerrytown Market & Shops. Stop by to shop women's outdoor and athletic apparel and gear with healthy doses of inspiration and motivation, too. 
The Treasure Mart was originally established in 1960 and is the place to go for antique finds and thrift store shopping. You can discover something new and beloved every time you stop by! 
Specializing in cargo bikes and electric cargo bikes, this Ann Arbor shop boasts the largest selection in the Midwest! In-store, you can shop for new and pre-owned bikes and learn all about how these vehicles help reduce global emissions and save time and money compared to cars. 
This beautiful women's fashion, lifestyle and bridal-blend boutique can be found in the heart of Kerrytown. With a focus on both elegance and simplicity, the locally owned shop is filled with fashion, accessories and everything you else you need to feel stylish and confident. 
Do you have a favorite?
If you have a favorite thing to do in Kerrytown, tell us about it in the comments below! 
---
---
---
You may also like...
---
Leave a Comment
comments powered by

Disqus