The Reinhart Blog
15 Fun Things to Do in Ann Arbor When You're Not Drinking
Ann Arbor is both a college town and a great craft beer town, which means you'll find tons of things to do when you're looking for craft cocktails, beer gardens, taprooms, late night bars and the like. But if you're worried you won't be able to find anything to do outside of bar hopping and brewery crawling, there's no need—our hometown also offers an impressive lineup of fun things to do, shows to see, classes to take, places to shop, and more. There's even one spot on this guide serving up incredible mocktails! 
Next time you're looking for something to do in Ann Arbor without the booze, stop by one of these local favorites for art, music, shopping, movies, food, games, tours, tea, coffee and ice cream.
Photo courtesy of Ann Arbor Art Center
Located in downtown Ann Arbor, the Ann Arbor Art Center is our local headquarters for enjoying art exhibition, connecting with local artists, and learning new art skills. Their educational experiences are available for all ages and topics cover everything from painting and ceramics to jewelry making and metalsmithing. Depending on how deep you want to delve, you can choose a class that lasts just a few hours, a full day or four weeks. To see upcoming topics and classes, click here.
The Ann Arbor Farmers' Market is open year-round on Saturdays, and during the summer, you can enjoy it twice a week on Saturdays and Wednesdays! From May through October, they also host six food truck rallies scheduled on the first Wednesday of the month. It's a great place to get a sense for our Ann Arbor community and to get a little local shopping done.
See a show at
The Ark
.
Photo courtesy of Jennifer Patselas via The Ark
The Ark is Ann Arbor's destination for live music. Founded in 1965 by four area churches, the venue has grown to offer more than 300 nights of shows each year in one of the best listening rooms anywhere. In the past, they've brought big names like Howie Day, Blind Pilot and the Violent Femmes to town! See all their upcoming events here.
Dine and drink at
Aventura
.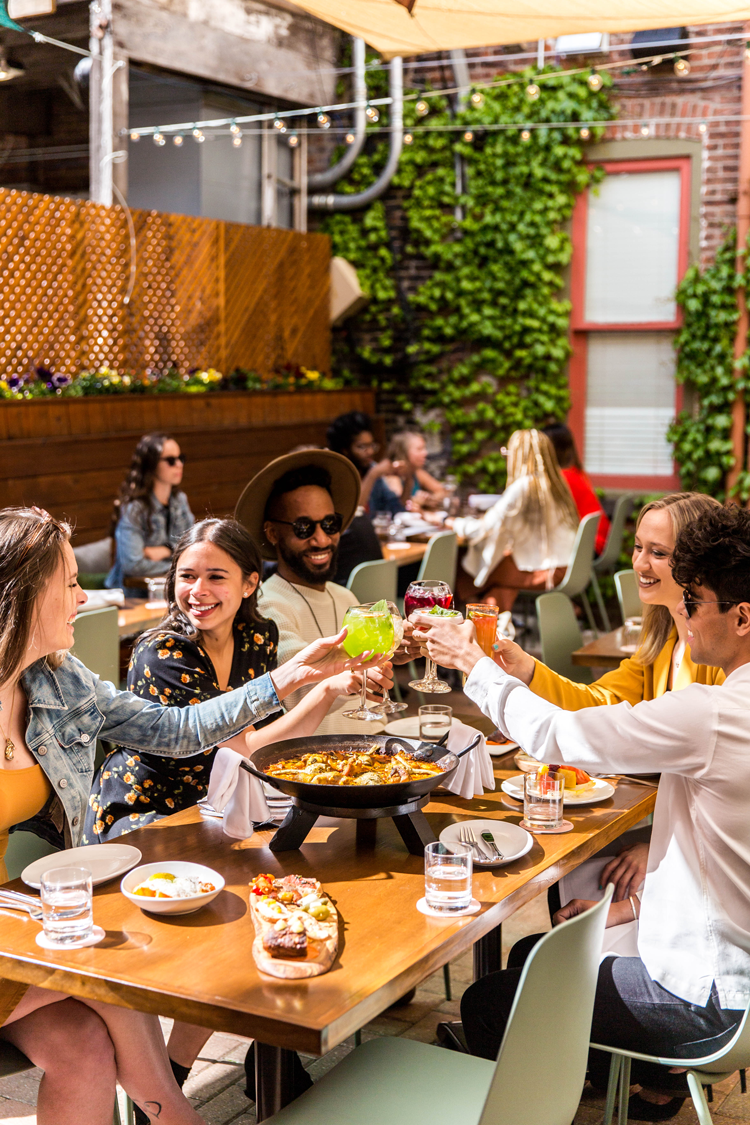 Photo courtesy of Claire Lindsey, Aventura
Aventura is a charming spot in downtown Ann Arbor that offers authentic Spanish cuisine and culture, including tapas, paella, vino and artisan cocktails. Inspired by the old-world atmosphere and the historical nature of the building itself, the eatery merges Ann Arbor history with modern Spanish influence. Also on the menu, you'll find an impressive selection of crafted mocktails like Sangria Falsa, which is made with pomegranate, Earl Grey tea, cinnamon and citrus. To see the full menu, click here.
Founded right here in Ann Arbor and inspired by our hometown neighborhoods, chefs, businesses and history, By the Sidewalk Food Tours explores all of that and more. The Classic Ann Arbor By The Sidewalk tour is a three hour, guided walking tour through downtown Ann Arbor and Kerrytown that pairs food tastings with history, art, architecture and local stories.
Go out for coffee. 
If you haven't taken the opportunity to explore Ann Arbor's coffee scene, you're definitely missing out. In fact, our hometown has been named on The 10 Best Cities for Coffee Lovers in America and National Geographic's guide These Unexpected Cities Have the Best Coffee in the U.S. To explore the most up-to-date happenings on the coffee scene, check out Coffee Ann Arbor on Facebook and Instagram.
You can also preview the coffee scene with our guide The 16 Best Coffee Shops in the Ann Arbor Area. And check out The Best Coffee Roasters Around Ann Arbor to find a few shops that do their own roasting!
Escape from
Decode
. 
As Michigan's top escape game, Decode offers some of the most interesting and complex escape rooms in the state—and they have facilities in Ann Arbor, Ypsilanti and Detroit! In Ann Arbor, their facility offers a three-part adventure called Minerva's Trilogy. The story is about Minerva, an adolescent Artificial Intelligence machine with lofty goals. The Minerva Project and Minerva's Return are the first and last parts, both one-hour escape rooms. And the second part, Minerva's Escape, is a free puzzle hunt through downtown Ann Arbor.
Photo courtesy of Andrew Jager via Blank Slate Creamery
Locally owned and operated, the ice cream at Blank Slate Creamery is homemade using fresh, all-natural ingredients, which has landed them on numerous rankings as the top ice cream in Ann Arbor and even throughout the state of Michigan. You can see a list of several of their locally-sourced ingredients on their website, which includes milk and cream from Guernsey Farms Dairy in Northville.
To find even more ice cream in the area, check out The 10 Best Places for Ice Cream in Ann Arbor, Michigan.
The Michigan Theater Foundation was founded in 1979 to save the Michigan Theater from the wrecking ball—and we're so glad it was. Founded in 1928, the theater is now home to three screening spaces for independent movies, concerts, comedy shows, national tours and more. Check out the current films here and peruse the special event schedule here. Or, head over to the historic State Theatre for even more movies and shows!
Pinball Pete's opened its doors more than 30 years ago and has since become the Ann Arbor destination for arcade fun. You can spend your quarters along the entire wall of pinball machines, play video games, and challenge your friends to a game of pool or air hockey!
Ann Arbor's favorite tea spot, TeaHaus offers options suited for a quick stop or an entire afternoon. For example, the full English tea is a three-tiered service brought out to each table complete with white china and linens. The experience includes all the tea you can drink, four finger sandwiches, the soup of the day, two scones with jam, jellies, lemon curd and clotted cream, and three desserts. Get all the details here and be sure to make your reservation a few days in advance. 
Photo courtesy of Michelle Andonian via University of Michigan Museum of Natural History
The U-M Museum of Natural History story begins all the way back in 1837 when the university was created, but the first museum building wasn't constructed until 1881. In April 2019, the museum celebrated its most recent grand reopening after a move into the brand new Biological Sciences Building, part of the U-M School of Literature, Sciences and the Arts. Today, the constantly expanding exhibits include interactive displays about mastodons and prehistoric whales, multimedia artwork, the evolution of life on Earth, space exploration, and more. You can even see the museum staff at work in the Fossil Prep Lab! For more information on your visit, click here. And remember, admission to the museum is free, but donations are always accepted.
One of the most obvious attractions in Ann Arbor is the University of Michigan campus, but you can do a lot more on campus than just people watch in The Diag. For example, the University of Michigan Museum of Art is one of the largest university art museums in the country! Their collections represent 150 years of art collecting and include everything from 1000 BCE Middle Eastern artifacts to 21st-century paintings. Admission to the museum is always free, but a donation is also appreciated. Get full details and plan your visit here.
Head to Waterloo State Recreation Area.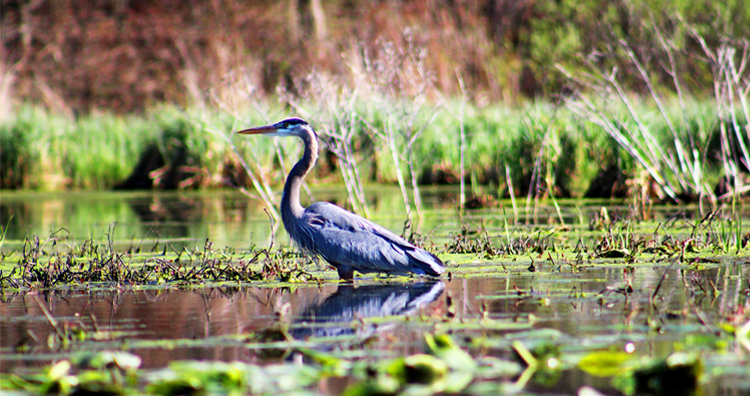 Waterloo Recreation Area is the largest park in the Lower Peninsula! It offers more than 20,000 acres of outdoor paradise just minutes from Ann Arbor in Chelsea, including campgrounds, mountain biking opportunities, more than 40 miles of multi-use trail, boating and fishing, horseback riding, and more. To learn more, check out Everything You Can Do in Waterloo Recreation Area. 
Tucked between Zingerman's Bakehouse and Zingerman's Creamery, BAKE! is Zingerman's hands-on teaching bakery. Here, you can learn everything from cake baking to cheese pairing. Classes are open to the public in categories like pizza making, donut frying, flour grinding, soft pretzel creation and more. To see the full schedule and reserve your spot online, click here.
Do you have a local tip? 
If you have a favorite thing to do in Ann Arbor when you're not drinking, tell us about it in the comments below!
---
---
---
You may also like...
---
Leave a Comment
comments powered by

Disqus