The Reinhart Blog
The List to Send Your Friends When They Ask What to Do in Ann Arbor
So, you have friends or family coming into town and you've suddenly forgotten everything there is to do in Ann Arbor. We've all been there. But luckily, there's plenty to do in our charming little town. And with this guide, you now have a curated list to send that covers student culture, local food, townie favorites, educational experiences, music, film and books, outdoor exploration, craft beer and more.
Other helpful guides include Where to Take Out of Town Guests in Ann Arbor, Michigan and Spending a Day in Downtown Ann Arbor, Mapped. Enjoy!
1. Go shopping in Kerrytown.
Kerrytown is a charming market district located just a few blocks from the heart of downtown Ann Arbor. Here, you'll find the year-round Ann Arbor Farmers' Market, other annual events like Kerrytown KindleFest, beloved restaurants like Miss Kim and The Lunch Room, as well as local shops 16 Hands, Ann Arbor Spice Merchants, Spun and more.
This landmark shop has the biggest cones in town at the lowest prices, and they also serve up homemade donuts and donut minis! With more than 30 ice cream flavors, hand-dipped shakes and malts, everyone can find a cold, refreshing treat to enjoy. Follow the team on Instagram and get ready to drool.
To track down more local ice cream, check out The 10 Best Places for Ice Cream in Ann Arbor, Michigan.
Photo courtesy of Michelle Andonian via University of Michigan Museum of Natural History
The U-M Museum of Natural History story begins all the way back in 1837 when the university was created, but the first museum building wasn't constructed until 1881. In April 2019, the museum celebrated its most recent grand reopening after a move into the brand new Biological Sciences Building, part of the U-M School of Literature, Sciences and the Arts. Today, the constantly expanding exhibits include interactive displays about mastodons and prehistoric whales, multimedia artwork, the evolution of life on Earth, space exploration and more. You can even see the museum staff at work in the Fossil Prep Lab! For more information on your visit, click here. And remember, admission to the museum is free, but donations are always accepted.
4. See a show at
The Ark
.
The Ark is Ann Arbor's destination for live music and has been since it was founded in 1965 by four area churches. Today, the venue offers more than 300 nights of shows each year in one of the best listening rooms anywhere. In the past, they've brought huge acts like Howie Day, Blind Pilot and the Violent Femmes to town! See all their upcoming events here.
And for even more music-centric activities, check out The Music Lover's Guide to Ann Arbor.
The Michigan Theater Foundation was founded in 1979 to save the Michigan Theater from the wrecking ball—and we're so glad it was. Originally founded in 1928, the theater is now home to three screening spaces for independent movies, concerts, comedy shows, national tours and more. You can check out the current films here and peruse the special event schedule here. Or, head over to the historic State Theatre for even more movies and shows!
Fleetwood Diner is the home of late night eats in Ann Arbor. You can get their entire menu of diner classics 24 hours a day, and that lineup includes omelets, pancakes, egg dishes and, of course, the famous hippie hash, which is a plate of homemade hash browns topped with grilled tomato, green pepper, onion, mushroom, broccoli and feta cheese.
Photo courtesy of Bill's Beer Garden
Open seasonally March through October, Bill's Beer Garden is a community gathering place that offers an impressive lineup of Michigan, domestic and imported craft beers and wines. Located right next door to Downtown Home & Garden, the outdoor beer garden has long, communal tables and shaded areas for gathering with friends. Follow the team on Instagram here to get updates on weather closures and special events.
And if you're visiting outside of the Bill's Beer Garden season, check out Your Ultimate Guide to 20 Craft Breweries in the Ann Arbor Area to learn more about our town's best craft breweries.
Photo courtesy of Literati Bookstore
Literati Bookstore is a locally owned and operated book-lovers' haven in downtown Ann Arbor. On the store's lower level, you'll find the bookstore and the team's famous public typewriter which invites anyone and everyone to type a message. Over the years, they've accumulated thousands of love notes, poems, sentences and salutations. Published in 2018, "Notes From A Public Typewriter" compiles some of their favorites alongside essays, photos and more. Stop by to shop local for books, type your own notes on the Literati public typewriter, then head upstairs to visit Literati Coffee, a full-service coffee shop.  
If you need more books during your visit, check out Your Guide to Ann Arbor's Independent Bookstores, Mapped.
9. Order sangria at Dominick's.
Dominick's is famous for their potent sangria, their Italian-inspired eats and, of course, their patio! Since opening in 1960, this locally owned spot has been the go-to for locals, students, families, you name it! Swing by the patio on a sunny summer day and you'll quickly find out why.
Zingerman's Delicatessen was the first business to open in what is now the famous Zingerman's Company of Businesses, and it opened all the way back in 1982 with a staff of just two people. Today, the deli is still located in the small, red brick building across from the Ann Arbor Farmers' Market, but the menu and the staff have grown astronomically. That menu features some of the best sandwiches you can get in the state of Michigan alongside other creations—some of which are made at the other Zingerman's businesses around town. Right next door to the deli, you'll find Next Door Dessert & Coffee House where you can order cakes, pies, cupcakes, gelato, cookies, brownies, chocolates, candies and more.
To track down all the Zingerman's businesses in the area (including bakeries, coffee roasters, creameries and restaurants), check Your Guide to 14 Zingerman's Businesses in Ann Arbor.
11. Go kayaking on the Huron River.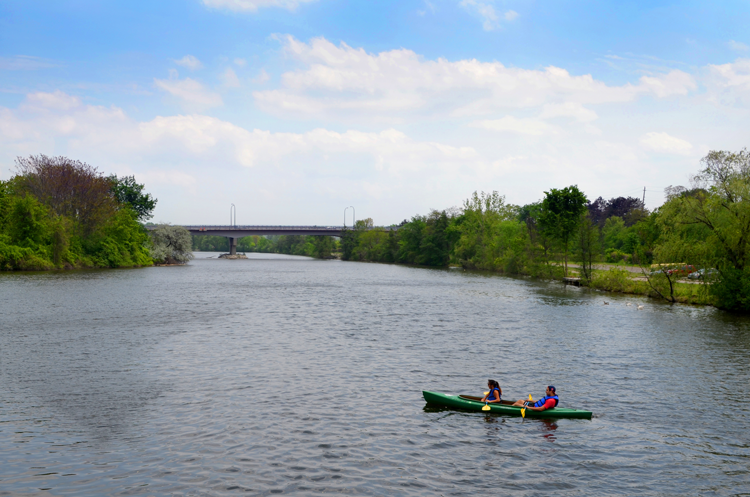 If you visited Ann Arbor and you didn't see the Huron River, did you even visit Ann Arbor? Well, maybe, because this picturesque river is pretty hard to miss. One of the area's favorite outdoor activities is kayaking and canoeing on the water and resources like the Gallup Park Livery and Argo Park Livery make it easy to do. For full details on where to go and what you need, you can read The Ultimate Guide to Kayaking in Ann Arbor.
One of the most obvious attractions in Ann Arbor is the University of Michigan campus, but you can do a lot more on campus than just people watch in The Diag. For example, the University of Michigan Museum of Art is one of the largest university art museums in the country! Their collections represent 150 years of art collecting and include everything from 1000 BCE Middle Eastern artifacts to 21st-century paintings. Admission to the museum is always free, but a $10 donation is also appreciated. Get full details and plan your visit here.
Matthaei Botanical Gardens and Nichols Arboretum are two educational and environmental gardens located on the U-M campus. The botanical gardens include 11 outdoor spaces full of bonsai, native and medicinal plants, perennials and more which bloom seasonally from spring to the first frost. During the colder months, you can head inside to the year-round conservatory which is filled with plants from around the world.
The second area, Nichols Arboretum, is one of the richest landscapes in the region. It spans miles of trails and land with collections of native and exotic trees and shrubs crafted into a landscape that was originally started by O. C. Simonds in 1907. To see visiting information on both the gardens and the arboretum, click here.
The Ann Arbor Farmers' Market is open year-round on Saturdays, and during the summer, you can enjoy it twice a week on Saturdays and Wednesdays! From May through October, they also host six food truck rallies scheduled on the first Wednesday of the month. It's a great place to get a sense for our Ann Arbor community and to get a little local shopping done.
15. Spend a day in Ypsilanti.
Located directly southeast of Ann Arbor along the Huron River, Ypsilanti represents some of Michigan's best and most interesting hidden gems, including dining destinations, outdoor recreation, historic attractions, craft breweries and events. To begin your exploration of this charming community, check out Your Ultimate Guide to Ypsilanti, Michigan.
Want to add something to the itinerary?
Tell us about your essential Ann Arbor activities in the comments below!
---
---
---
You may also like...
---
Leave a Comment
comments powered by

Disqus