The Reinhart Blog
The Book Lover's Guide to Ann Arbor
Once the headquarters and hometown of Borders, an Ann Arbor bookstore that grew to have locations nationwide, Ann Arbor is a famous book-loving city. And despite Borders closing in 2011, our indie bookstores and reading community are still thriving. In Your Guide to Ann Arbor's Independent Bookstores, Mapped, we got to share information and stories from 10 local stores all located within Ann Arbor.
And here, we're sharing even more about book clubs, libraries, nonprofit organizations, book-centered events and more. So if you love books as much as you love Ann Arbor, keep reading!
Jump ahead:
Bookstores | Libraries | Book clubs | Organizations + programs | Annual events
White space
Bookstores
As a mark to Ann Arbor's history, entrepreneurial character and book-loving nature, our town has become a haven for indie bookstores—both longstanding institutions and shops that opened to replace the Borders headquarters. We rounded up Ann Arbor's bookstores in Your Guide to Ann Arbor's Independent Bookstores, Mapped. And below, you'll find features on several of the largest.
Photo courtesy of Literati Bookstore
Hilary and Mike Gustafson opened Literati Bookstore in 2013 as a book lover's haven in downtown Ann Arbor. On the store's lower level, they set out an old typewriter and invited anyone and everyone to type a note. Using compiled notes, essays and photos collected over the years, the team published "Notes From A Public Typewriter" in 2018, and in 2019, Literati Bookstore was named the Publishers Weekly Bookstore of the Year! And in addition to their public typewriter, their huge inventory of books and their friendly staff, they offer a full-service coffee shop upstairs.
Nicola's is a bookstore for everyone with everything and every title you could dream of. That's because this premier independent bookstore specializes in book searches — especially if your dream book is out of print or hard to find. In addition to this unique skill, they also offer an inventory of bestsellers, new releases, classics, children's book and more.
Co-founder Peter Blackshear worked at Ann Arbor's Borders for nearly two decades. When it closed for good, he and his wife decided to pursue their dream of opening their own community bookstore, and since our book-loving community offered the perfect setting, they opened Bookbound right here in 2013. Today, they're a favorite in town offering new releases and bestsellers alongside classics and nonfiction, children's books, bargain books, gifts, special orders and more.
Libraries
Our community libraries are great places to find books and do research, of course, but they've also grown into fun institutions for community events and gathering, education and classes, and even gardening. For more information on a couple of our area library districts, keep reading!
Photo courtesy of Ann Arbor District Library
The Ann Arbor District Library provides services at no charge to all residents living within the library service area, and residents outside the service area can still access available services for a fee. In five different locations, these guests can access millions of items, print and digital research materials, computer and Internet training, free WiFi, library exhibits, special events and more. Their long history also features Friends Books Shop which is an independent bookstore in the Downtown Library and a publishing imprint focused on local authors called Fifth Avenue Press. 
In addition to providing classic library services, research materials and education opportunities in the City of Ypsilanti, Ypsilanti Township and a portion of Superior Township, Ypsilanti District Library locations are home to The Learning Garden, a pollinator garden, the Seed Library and Beezy's Café, a hometown cafe located inside the Whittaker Road library.
Book clubs
In a book-loving community like Ann Arbor, you'll find plenty of other book lovers, and many of Ann Arbor's indie bookstores offer discounts to book clubs! In addition to the formal clubs and discussions listed below, you can find even more organized gatherings through Meetup here.
Washtenaw Reads is an annual initiative organized by our area libraries to promote reading and civic dialogue. Launched in 2003 by the University of Michigan Life Sciences, Values and Society Program, the project has grown to include participating libraries in Ann Arbor, Chelsea, Dexter, Milan, Northfield Township, Saline and Ypsilanti so you can read and discuss with our entire community! After everyone reads, events include author discussions, film screenings, book discussions, community discussions and more. For more information on this year's selection, click here.
One of four book clubs hosted by Literati Bookstore, this option is free and open to the public. Each meeting is about 90 minutes long and if you buy the chosen book from Literati, you get 15% off. You can see the current book and upcoming meeting here.
One of four book clubs hosted by Literati Bookstore, the Feminist Book Club fosters a fun, thoughtful and safe environment where participants can discuss current issues and topics regarding feminism and equality. To see past books, the current book and upcoming meeting dates, click here.
One of four book clubs hosted by Literati Bookstore, the Eco Book Club meets once every few months. At meetings, guests talk about the featured book and discuss matters concerning sustainability, climate change and the environment. To get more information on upcoming books and dates, click here.
One of four book clubs hosted by Literati Bookstore, the Poetry Book Club meets once a month at Literati Coffee. Guests can sit back and relax while reading poems aloud, discussing, and sharing reflections. For information on upcoming books and dates, click here.
Scheduled on one Friday per month, the Crazy Wisdom Monthly Book Discussions explore selected books from the bookstore's diverse inventory. Each selected book is available in the store for 30% off and attending the discussion is always free. For information on the next event and book, click here.
A nationwide program, The Barnes & Noble Book Club brings readers together in their local stores to discuss some of the most compelling books being published today. For more information, click here.
Organizations + programs
Our communities are home to countless nonprofit organizations assisting every family, child and person living here. Below, you'll find a handful that are focused on small book businesses, literacy and youth education. You can find even more local charities in our guide, 23 Local Charities in the Ann Arbor Area and How You Can Help.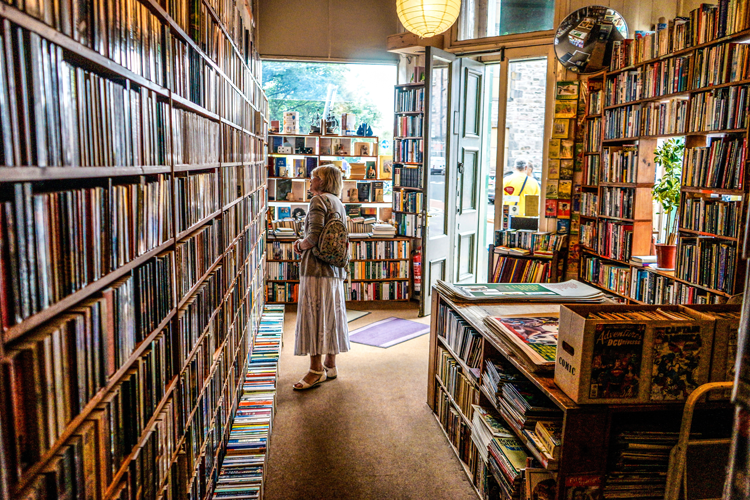 The Book Industry Charitable Foundation began in 1996 as the Borders Group Foundation. In the beginning, employees and executives of Borders Group, Inc. worked to help bookstore employees and booksellers in need. Today, the foundation is alive and well as The Book Industry Foundation and they still serve struggling bookstores around the country affected by natural disasters, medical expenses, violence, the threat of eviction, essential utility shut-off, or the unexpected loss of household income.
Striving to completely eliminate illiteracy in Washtenaw County, this nonprofit organization provides literacy support at no cost to adults through a network of trained tutors, and they've been doing so for more than 40 years. Since 1971, they have served over 20,000 learners and trained and fully supported over 10,000 volunteer tutors. You can find information on joining that team here. Or you can donate directly here.
826michigan inspires school-aged students to write confidently and skillfully with the help of adult volunteers in their communities. They do this through tutoring, workshops, drop-in writing opportunities, field trips, in-school projects and even publishing opportunities.
Annual events
Ann Arbor and our neighboring community, Chelsea, host some of the region's biggest events in book arts and literature. And together, these happenings offer nearly a full month of books, authors, arts and fun!
April
Photo courtesy of Burrill Strong Photography via Midwest Literary Walk
Now more than ten years old, the Midwest Literary Walk is an event presented by Chelsea District Library that invites community members, authors, readers and eaters to celebrate literature. Each author presentation is within walking distance of the next in downtown Chelsea, so you don't have to miss a minute of the action.
May
The Ann Arbor Antiquarian Book Fair takes place annually in the Michigan Union. When the fair returns in 2020, guests can shop and learn about first editions, old and collectible books, literature, children's books, Americana and prints. For just a $5 admission fee, you can access all of this and more, and the money benefits the William L. Clements Library at the University of Michigan.
November
This multi-week festival celebrates culture and arts of all kinds but is heavily anchored by authors, and it has been for the past three decades. Including both free and ticketed events, the schedule always offers interactions with authors, performers, artists, topics and projects that are Jewish or have significant Jewish connections.
Do you have a tip for local book lovers?
Share your insider tips in the comments below!
---
---
---
You may also like...
---
Leave a Comment
comments powered by

Disqus