The Reinhart Blog
The 15 Best Vegan + Vegetarian-friendly Restaurants in Ann Arbor
Through the years, Ann Arbor has cemented itself as one of Michigan's foodie capitals. Whether you're craving burgers, ice cream or plant-based cuisine, you'll find a local spot for it. And very often, you'll find they make it by hand with local ingredients from scratch.
If you're struggling to track down the vegan and vegetarian-friendly places amongst all the options, don't worry. We rounded up the best of the best. Our guide includes plant-based eats in Ann Arbor, Ypsilanti and Saline with restaurants that are all-vegan, all-vegetarian, and others that offer meat-free options alongside meat-filled options so everyone in your group can find a dish to enjoy.
407 N 5th Ave | Facebook | Vegan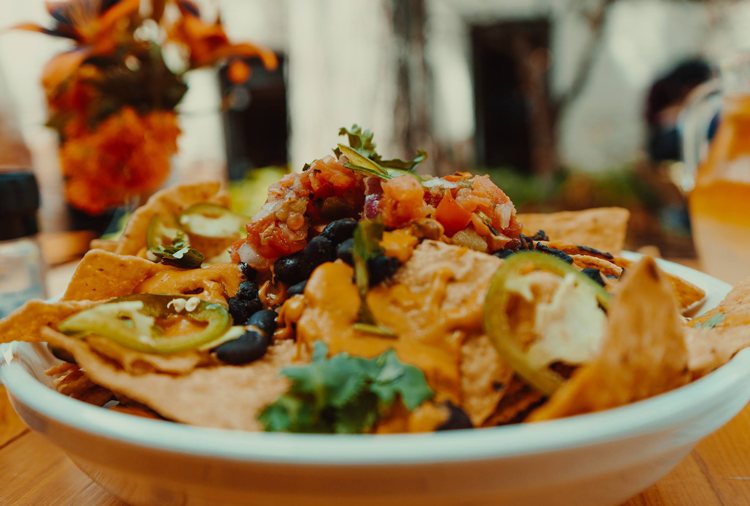 Photo courtesy of Juan Moncayo via The Lunch Room Diner & Canteen
Often referred to simply as The Lunch Room, The Lunch Room Diner & Canteen is the team's original location in Ann Arbor's Kerrytown. Because only plant-based foods are served here, you never have to worry about the presence of meat, dairy, eggs, honey or anything processed with animal products. Additionally, many of the kitchen's ingredients are organic and non-GMO, and most items can be made gluten-free.
The Lunch Room Bakery & Cafe is the team's second location and the headquarters of The Lunch Room Bakery, where they make all their breads in-house from scratch.
533 W Cross St | Facebook | Vegan + vegetarian
Photo courtesy of Atharva Kharkar via Veg-O-Rama
This fast casual, vegetarian restaurant is Ypsi's headquarters for vegan and vegetarian fare. Veg-O-Rama is dedicated to serving delicious plant-based fare that will impress both vegans and meat eaters alike. Their menu features innovative creations like the Peanut Crusted Cajun Black Bean Burger, Mean Green Protein Pea Burger, Tamarind BBQ Jackfruit Sandwich, and other burgers, sub sandwiches, bowls, wraps, pizzas and breakfast items.
Seva
| Ann Arbor
2541 Jackson Ave | Facebook | Vegetarian
Seva has been serving outstanding plant-based cuisine in Ann Arbor since 1973. Now located in Westgate on the town's west side, Seva offers an impressive craft beer list, all housemade desserts, gluten-free options and dishes that will make even carnivores love vegetarian food.
If you find yourself in Detroit, swing by Seva's second location which opened in 2011!
300 Detroit St | Facebook | Vegan
Photo courtesy of Detroit Street Filling Station
Owned and operated by the same team behind The Lunch Room, Detroit Street Filling Station is housed in the historic building that was once The Staebler Family Oil Company. Their menu features the high-quality, vegan eats that we've come to expect from The Lunch Room — but includes its own innovative items like the Detroit Street Burrito, Apple Fritters and the Central American Platter made with seitan steak, fried plantains, pureed black beans, tofu scramble, cashew sour cream, cabbage slaw and corn tortillas.
205 N Main St | Facebook | Vegan 
Owned and operated by Amanda, a Registered Dietitian and a plant-based eater since 2005, Vedge Cafe is where she gets to combine her love for cooking with her passion for educating and sharing diet alternatives. Amanda and her team offer a menu of scratch-made vegan food like Korean BBQ Jackfruit Tacos, The Vedge Stromboli with house-made dough and pepperoni seitan, Reubens and more.
311 S 5th Ave | Facebook | Vegetarian
Earthen Jar is a vegetarian and mostly vegan Indian buffet, as well as the first and only kosher restaurant in Ann Arbor. Everything at the hot buffet, the cold buffet and the dessert buffet is vegetarian and the majority are also vegan. Because everything is clearly marked—whether it's vegan or gluten-free—anyone can eat here without worry.
1816 Whittaker Rd | Facebook | Vegan + vegetarian
Photo courtesy of What's in Your Cup? 
Popularized for their juices, smoothies and vegan milkshakes, What's in Your Cup? also offers an impressive menu of flavor-packed wraps, chili, sandwiches, sweet treats, guacamole and salsas. Whether you just need a fruit-filled smoothie to power your morning or you're looking for a complete, plant-based meal, we recommend stopping by this Ypsi favorite.
117 S Ann Arbor St | Facebook | Options
Named for Saline's ancient, historic salt springs, this hometown brewery is housed in a beautiful, 116-year-old former church. Undoubtedly one of the most impressive settings in Southeast Michigan, you can enjoy true-to-style ales, wine and cider alongside locally-sourced food with stunning stained glass as the backdrop. Their menu includes various vegetarian options that can also be made vegan like the Tempeh Reuben, The Incredibly Tasty Tofu Sandwich and Roasted Vegetable Pizza.
Swing by on Wednesday when the Salt Springs team hosts Vegan Wednesdays! Starting at 5 p.m. every week all the featured dishes are vegetarian and/or vegan.
42 E Cross St | Facebook | Options
This Ypsilanti original offers a seasonally rotating menu, using high-quality, locally sourced ingredients alongside a lineup of artisan cocktails, craft beer and wine. That impressively fresh menu includes clearly marked vegan and gluten-free options like the Vegan Burrito, seasonal tartines, house-made chorizo tempeh, salads, chilaquiles and more.
114 E Washington St | Facebook | Options
When the Greffs opened the doors to Arbor Brewing Company in 1995, it was the first brewpub to open in Ann Arbor and only the fifth brewpub to open in the entire state of Michigan. Today, it has become one of Ann Arbor's and Ypsilanti's favorite destinations for craft beer and inspired food. The food menus at each location also feature an impressive lineup of clearly marked vegetarian and vegan items like the Crispy Quinoa Cake Sandwich, the Vegan Burger and Vegan Chili.
1506 N Maple Rd | Facebook | Options
Photo courtesy of Juicy Kitchen
Using locally sourced produce, hormone-free chicken, and organic vegetables and grains as much as possible, Juicy Kitchen crafts meals from scratch in healthy, sustainable ways. While this Ann Arbor spot is an excellent option for anyone searching for healthy food, they also cater to specific allergies, gluten-free diets, and vegans and vegetarians during both breakfast and lunch. Peruse the clearly marked menus to see just how many plant-based meals they can create!
1516 N Maple Rd | Facebook | Options
The name El Harissa comes from Harissa, a spicy and flavorful chili pepper paste that has injected its explosive flavor into dishes from throughout the Mediterranean region. Using this inspiration, the team at this Ann Arbor café produces unique North African and Mediterranean cuisine that includes plenty of gluten-free, dairy-free, nut-free, vegetarian and vegan options.
693 S Maple Rd | Facebook | Options
Chela's already offers some of the region's best Mexican food, but they also offer some of the best vegetarian and vegan-friendly options in town. Clearly marked vegan, vegetarian and gluten-free, anyone can enjoy vegetarian tortas, vegan tacos, burritos and a huge lineup of all vegan side dishes. Their black beans are even Michigan-grown!
1140 S University Ave | Facebook | Options
From their casual space perched above South University, Cantina serves bold tacos made from quality ingredients alongside tequilas, whiskeys and craft margaritas. Because meat lovers and plant eaters can all agree tacos make for an incredible meal, it's the perfect location for everyone to come together and enjoy carnitas tacos, potato tacos, black bean tacos and more! Additionally, all their sides—including rice and beans—are vegan.
529 E Liberty St + 3365 Washtenaw Ave | Facebook | Options
This chain restaurant has two Ann Arbor locations and is dedicated to the fine art of the burger. Their meat options feature 100% organic, grass-fed and free-range beef, and you can choose from five delicious signature burgers, vegetarian and vegan options, or build your own. The Veggie Burger is a savory blend of veggies and cheese while the vegan option is packed with whole grains and veggies. Feel free to order a side of fries, too — they're cooked in heart-healthy Bertolli olive oil!
Share your favorites
If you have a favorite spot for plant-based eats in the Ann Arbor area, give them a shout-out in the comments below!
---
---
---
You may also like...
---
Leave a Comment
comments powered by

Disqus