The Reinhart Blog
Your Ultimate Guide to Saline, Michigan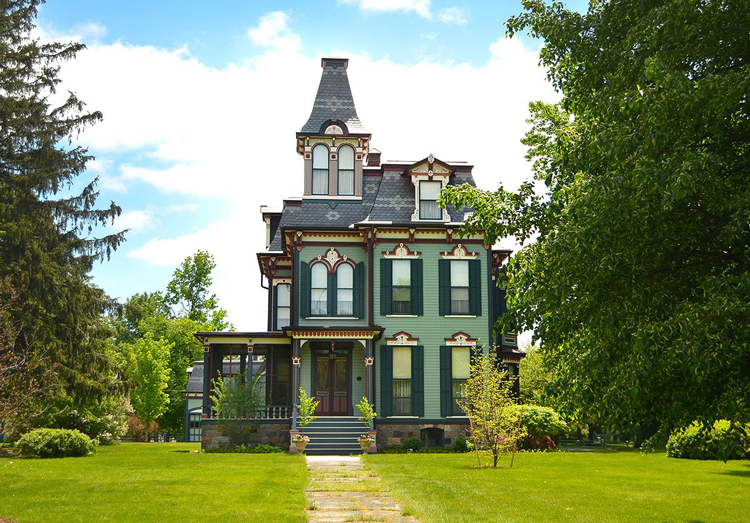 Saline, Michigan is tucked just 10 minutes southwest of Ann Arbor. Originally founded in 1832, the city was built on agriculture — like many Southeast Michigan communities — and still offers a small town atmosphere with agriculture history.
Today, the city also boasts one of the best public school systems in the state, which includes students participating in the Saline Fiddlers Philharmonic. Keep reading to learn more about this impressive extracurricular band!
With these nationally recognized schools, 12 beautiful community parks, countless local businesses and educational museums, this is an ideal community for people of all ages. Below, we dive into a handful of those local restaurants, businesses, attractions and events to share our love for Saline, Michigan. Enjoy!
The Essential Eateries
Photo courtesy of Matty J's Bakery and Cafe
MJ Malone and her sidekick Matty J are the powerhouses behind Matty J's Bakery and Cafe. Driven by a passion for real food, the cafe menu balances healthy options with tasty flavors using locally produced ingredients to offer seasonal treats you'll love. Check out the menu to find out what breads, sandwiches and cookies you can get today.
101 S Ann Arbor St #107 | Facebook
At Saline's Carrigan Cafe, it's all about local. The beans are sourced from Coffee Express in Plymouth and the treats are sourced from places like Ed's Bread, Guernsey Dairy and Rumi's Passion Bakery. Stop by to say hello to Tobin the teddy bear, warm up with a mug of coffee, and you'll soon learn why this is a neighborhood favorite!
Offering a laid back, neighborhood bar setting, Dan's Downtown Tavern has been a Saline favorite for years. Their menu features comfort foods and one of the largest craft beer selections in town.
Oscar's is a place for locals and for sports fanatics to come together in one of the area's friendliest and coziest bars. The food is prepared fresh, the hi-def TVs are always on, and the staff is ready to welcome you as a regular!
Photo courtesy of Sweet Leilani's
Sweet Leilani's Petite Sweets and Desserts strives to prove that tasty treats don't have to be filled with sugar and guilt-inducing ingredients. While supporting local farmers and producers, they craft seasonal desserts and mouth-watering foods served inside their charming bakery and cafe.
Tucked in Bridgewater Township between Saline and Manchester, Bridgewater Bank Tavern boasts a lively atmosphere and delicious, homemade food. Owned by two sisters, you'll find Sauerkraut dinners on Mondays, a regular Friday Fish Fry, bar food classics and Michigan microbrews on tap!
Named for Saline's sister city, Brecon, Wales, this English-style pub is the local go-to spot for traditional pub fare, upscale entrees, impressive wines, and Michigan lagers and ales. So next time you're craving a bit of Welsh food — think Bangers and Mash or Fish and Chips — make a stop here.
Mark's Midtown Coney Island is a well-known local chain around Ann Arbor. Though they have three locations around Washtenaw County, their story started right here in Saline on Michigan Ave. These doors opened in 1985 and the rest is history.
Things to Do
Photo courtesy of David Morin via Saline Fiddlers Philharmonic
This nationally recognized band is made up of Saline High School students who present music ranging from American folk to Celtic traditions and everything in between. The band began in 1994 and has since grown into one of the country's most impressive extracurricular programs. Check out the schedule to find out when you can catch a show!
Operated by Saline Area Historical Society, this farm museum consists of four acres, a frame house and 11 outbuildings, all of which have been on the National Register of Historic Places since 2013. Originally a homestead of the Rentschler family, you can now learn about the history of our agricultural community.
This year-round farmers market is a growers-only market, meaning you'll find local vendors who have grown everything they're selling. During the summer months, you'll find the outdoor market in downtown Saline and during the winter, it moves inside Liberty School. Follow the market on Facebook for regular updates on special events, produce and more.
Another museum maintained by Saline Area Historical Society, the Depot Museum represents Saline's growth and integration into the larger economy of the region. Stop by to see the historic freight house, telegraph and passenger facilities in person.
Husband and wife team Jerry and Heidi founded Stony Lake Brewing Company in 2014. Named after their favorite place on earth and inspired by their favorite microbreweries, they offer big beers with an emphasis on American Ales and fresh clean flavors, as well as hard ciders, wines and select sodas.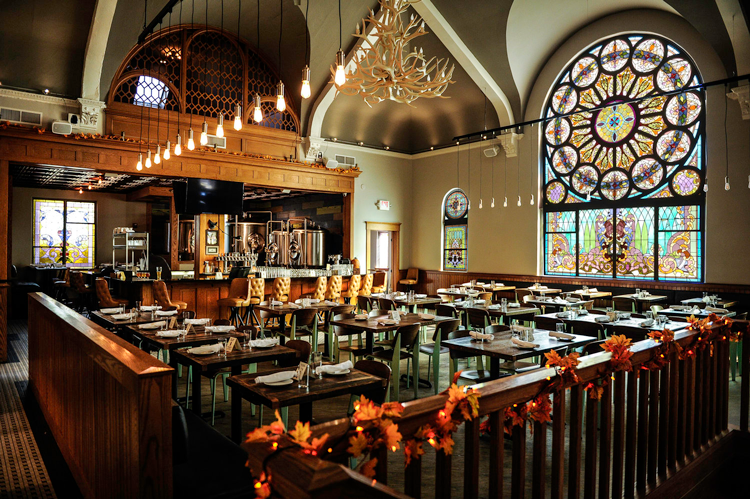 Photo courtesy of Salt Springs Brewery
Named for Saline's ancient, historic salt springs, this hometown brewery is housed in a beautiful, 116-year-old former church. Undoubtedly one of the most impressive settings in Southeast Michigan, you can enjoy true-to-style ales, wine and cider alongside locally-sourced food with stunning stained glass as the backdrop.
Saline is an art-filled community and one of the best ways to experience that is the self-guided Saline Sculpture Walk. Made up of 11 works created by four artists, the route covers about one mile in and around the city. Because a majority of the works are located downtown, you can pick up your Sculpture Walk brochure at City Hall or other local, downtown businesses.
In the fall, Saline is a festive haven for lovers of apple orchards, donuts, cider and corn mazes. One of the area's beloved destinations is Coleman's Farm and Corn Maze, a family-owned and operated farm offering a pumpkin patch, farm animals, fresh donuts and cider, and hayrides.
Other stops on the festive tour include Lutz Orchard and Windy Ridge Orchard and Cider Mill in Saline, Alber Orchard & Cider Mill in Manchester, Wiards Orchards and Country Fair in Ypsilanti, and Wasem Fruit Farm and Talladay Farms in Milan.
City Parks
There are 12 parks and open spaces maintained by the city which provide our families and residents with more than 190 acres of outdoor area for play and picnics. Below, we've highlighted a handful of the largest parks inside the city limits.
Covering 50 acres of outdoor space, Curtiss Park is the second largest park in Saline. Described as four parks in one, the park features two tennis courts, a baseball field, playground equipment, picnic areas, a rentable pavilion, wooded trails and walking paths, access to the Saline River, nature areas, an observation deck over the river, restrooms, and access to the Max Adler Interpretive Trail.
The largest of Saline's parks, Mill Pond is the home of the community's dog park. This off-leash, fenced area covers one acre and provides access to the pond for pups who love the water. In addition to this attraction, the park offers an enormous play structure, a boat launch on the 20.5-acre pond, a rentable pavilion, access to fishing on the Saline River, nature trails and so much more.
As the home of Saline Recreation Center, Tefft Park is a unique gem in the parks system. The outdoor area offers 40 acres which house four softball fields, Miller Field, four tennis courts, two sand volleyball courts, a five-hole Disc Golf course and the Rotary Pavilion. During the winter months, you can even ice skate on the skating pond!
One of our favorite places to walk amongst nature, Wilderness Park boasts an impressive trail system covering 22 acres. Whether you're looking for a hike, a place to bird watch, the perfect picnic setting, or a charming trail to walk your dog, try out Wilderness Park!
Annual Events
Saline Memorial Day Parade | May
Each year, the Saline community comes together to honor our nation's fallen heroes. This patriotic, family-friendly event is a must for all residents and visitors.
The Summer Music Series is a free, outdoor concert that transforms Downtown Saline each and every Thursday into a lively gathering spot all summer long.
Presented by Saline Parks and Recreation, Summer Movies in the Park provides an opportunity for families and residents to come together and enjoy free, family-friendly movies by starlight. In addition to the movie, you can enjoy music, concessions, games and even an overnight campout!
Photo courtesy of Saline Celtic Festival
The Saline Celtic Festival originally began as a one-day festival but has grown in popularity to include a full weekend of entertainment. Today, the event includes highland dance competitions, ancient Celtic athletic competitions, kids activities at Wee Folks Island, living history, jousting, sheep herding dog demonstrations, and so much more!
Taking over the streets of downtown Saline, Saline Summerfest is a hometown celebration like none other. Each year, the event promises even more food, fun, music and memories with all the local flare we've come to love.
During the second week in August, US-12 Heritage Route becomes home to Michigan's longest garage sale. The Saline stretch will feature sales of antiques, collectibles, furniture, dishware, fresh garden produce, homemade jams and jellies, live entertainment, and so much more!
Scott Feldkamp on Trophy Buck | Photo courtesy of Saline Community Fair
Rounding out the summer, Saline Community Fair provides days of fun for local families. Events include tractor pulls, a car and tractor show, the USA Auto Cross Enduro Derby, carnival rides, fair foods, and more!
This fall celebration brings the spirit of Germany to downtown Saline. In celebration of the community's sister city relationship with Lindenberg, Germany, you can enjoy traditional and modern music, a festive bier garten, a corn hole tournament, weiner dog races and so much more.
The community of Saline welcomes the winter holidays with a huge, festive parade and celebration. Beginning with the lighting of the Christmas tree, you can enjoy festive music, cookies from Benny's Bakery and hot cocoa and coffee from Carrigan Cafe.
Did you fall in love with Saline?
If you want to find your permanent home in Saline, click here to see homes for sale in the area.
---
---
---
You may also like...
---
Leave a Comment
comments powered by

Disqus