The Reinhart Blog
21 Summer Fairs and Festivals in the Ann Arbor Area You Don't Want to Miss
Festival season is no joke in Southeast Michigan. Ann Arbor and its surrounding communities have been celebrating the summer with live music, fine art, cinema, community celebrations and food for decades. And 2018 will be no different!
To ensure you don't miss a thing, we rounded up more than 20 of the region's can't-miss festivals and fairs. So whether you prefer a live show or a livestock show, you'll find something on our guide to enjoy.
Jump ahead:
May
May 10 – 16, 2018
Now in its 17th year, the Ann Arbor Jewish Film Festival explores the global Jewish experience through the art of filmmaking. This independent festival is run by a committee of volunteers to present discussions, film screenings and other fascinating programs.
May 31 – June 10, 2018
Specially curated for the community of Southeast Michigan, Cinetopia features the best feature-length dramas, comedies and documentaries shown at the world's best film festivals, including SXSW, Sundance and more. Follow the team on Facebook for event updates.
May 31 – June 2, 2018
Image courtesy of Milan Fair
The annual Milan Fair is a favorite regional event for good reason! In 2018, highlights include a carnival, a parade, an artisan market, fireworks, kids' activities, and an entertainment tent that will feature karaoke and live music.

June
June 2, 2018
Entertainment at this annual festival is suitable for all ages. Whether you're perusing local food vendors, playing carnival games or dancing to live tunes on the main stage, you'll want to come back year after year!
June 3, 2018
Photo courtesy of Ryan Halsey Photography via Main Street Ann Arbor
This beloved annual event brings together local restaurants in booths throughout downtown Ann Arbor. Each one offers bite-sized foods to showcase what they do best and ensure you can taste more than one! Tickets for food can be purchased at the event for $1 each. Follow the team on Facebook for event updates.
June 8 – 10, 2018
Hosted by St. Nicholas Greek Orthodox Church, this annual event has become a local favorite thanks to the authentic Greek foods, live entertainment, Greek dance performances and more. Admission ranges from free during the day up to $3 for evening admission, but children 12 years and younger are always admitted for free!
June 8 – July 1, 2018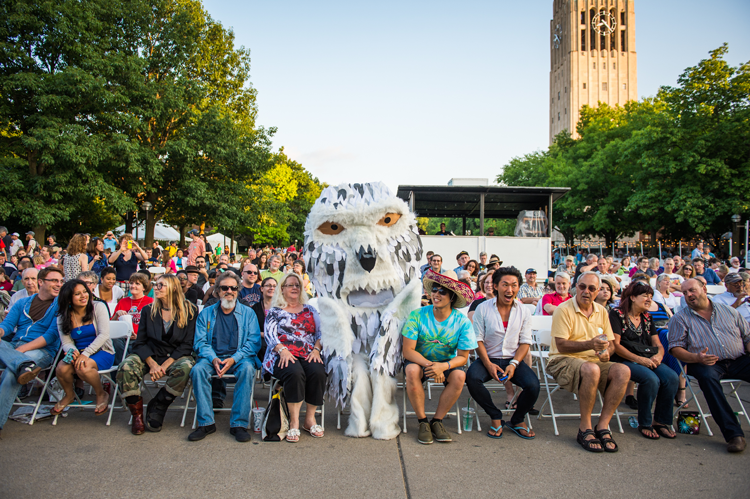 Ann Arbor Summer Festival © Myra Klarman Photography.com
As the can't-miss, arts-centered event of the summer, the 2018 Ann Arbor Summer Festival will include world-class entertainment in comedy, cinema, food, jazz, pop and rock, acoustic, spoken word, public radio, and so much more.
June 9 – 10, 2018
For a full weekend, the Chelsea Community Fairgrounds will be taken over by jaw-dropping fine arts. Now in its 45th year, the Chelsea Painters Art Fair draws collectors and art connoisseurs from all over Michigan and even from neighboring states!

July
July 6 – 7, 2018
Showcasing some of the best professional Elvis tribute artists in North America, Elvisfest offers fun for fans and music lovers of all ages. With the purchase of your ticket (ranging in price from $20 to $60) you can enjoy kids activities, a classic car show, local food vendors, an adult beer tent, raffles and more.
July 13 – 14, 2018
Photo courtesy of Saline Celtic Festival
The Saline Celtic Festival originally began as a one-day festival but has grown in popularity and fun to include a full weekend of entertainment. Today, the event includes highland dance competitions, ancient Celtic athletic competitions, kids activities at Wee Folks Island, living history, jousting, sheep herding dog demonstrations, and so much more!
July 19, 2018
Each year on the third Thursday of July in Manchester, the largest chicken broil of its kind comes to town! Benefiting local public schools, community parks, libraries and civic causes, your $9 – 10 ticket includes a dinner of chicken, locally famous coleslaw, a roll with butter, potato chips, radishes and a beverage, as well as live music entertainment and a classic car show.
July 19 – 22, 2018
Photo courtesy of Ann Arbor Street Art Fair
Kicked off by Townie Street Party and hosted in conjunction with the State Street Art Fair, Ann Arbor Summer Art Fair and Ann Arbor's South University Art Fair, the Ann Arbor Street Art Fair has grown into quite the event. All about town, you'll find stage performances, street performers and street painting, an art activity zone, a youth art fair, and more.
July 26 – 28, 2018
Presented by our very own Rick Taylor, this weekend festival began over three decades ago and has grown to be one of the best summer events in the region. Over two days and three nights, you can experience live music, an indie art market, kids' entertainment, a classic car show and more in historic Downtown Chelsea.
July 27 – 28, 2018
The oldest of the Michigan Brewers Guild's four annual festivals, the 21st Annual Summer Beer Festival will host more than 100 local breweries sampling more than 1,000 different craft beers. Guests can also enjoy live music from Michigan bands and food available for purchase!

August
August 1 – 4, 2018
Featuring both well-known bluegrass bands and up-and-coming acts, Milan Bluegrass is a can't-miss music festival in Southeast Michigan. For the full concert experience, we recommend camping on-site with KC Campground!
August 3 – 5, 2018
Originally called OUTFest, Ann Arbor Pride has been showcasing equality and LGBTQ support for decades. Throughout the Kerrytown District, you can enjoy face painting, family-friendly activities, presentations, a silent auction and more. Proceeds from the event benefit the Jim Toy Community Center.
August 10 – 11, 2018
For nearly 50 years, Dexter Daze has been providing an occasion for our communities' families to come together and celebrate with artisans and crafters, local businesses, and free entertainment.
August 10 – 11, 2018
Returning to the streets of downtown Saline, Saline Summerfest is a hometown celebration like none other. In 2018, the event promises even more food, fun, music and memories with all the local flare we've come to love.
August 13 – 18, 2018  
En plein air is the act of painting outdoors, and the Paint Dexter Plein Air Festival invites artists and community members to do just that! Over the course of four days, local and visiting artists will paint in and around Dexter. Then, non-painters can view and purchase artwork at the three-day exhibit in Monument Park!
August 21 – 25, 2018
One of our favorite community events in the region, the Chelsea Community Fair includes a rodeo, multiple tractor pulls, livestock competitions and auctions, demolition derbies, a local merchant tent, and more.
August 24 – 26, 2018
Photo courtesy of YpsiFest
In 2018, the Ypsilanti Heritage, Arts, and Entertainment Festival will be bigger and better than ever before. There will be two stages in the music, entertainment and beer tent, more arts and crafts vendors as well as a juried competition, an expanded Magical History Tour, a larger children's entertainment area, and so much more! To stay up-to-date on everything coming this year, follow the team on Facebook.
Where will you be?
In the comments below, let us know which festivals and fairs you'll be attending this summer — even if it's not on our list!
---
---
---
You may also like...
---
Leave a Comment
comments powered by

Disqus