The Reinhart Blog
The 13 Best Sports Bars in the Ann Arbor Area
The Super Bowl is right around the corner, but here in Ann Arbor, we're always looking for an opportunity to cheer on our favorite team — whether it's our favorite NFL team or the Wolverines in our own backyard. To make sure you're prepared for both (and for every other sporting event under the sun), we rounded up the area's best sports bars.
But it's not all about who has the biggest TV (although that is an important factor!). These local spots offer the region's best bar food, the best game day atmospheres as well as the brews and the cocktails that stand out from the crowd. And, of course, each one has a few flat screens, TVs and projectors thrown in for good measure. Go Blue!
203 E Washington St | Facebook
Photo courtesy of Haymaker Public House
Located in Downtown Ann Arbor, Haymaker is a favorite sports bar amongst locals, students, visitors and people around the whole state of Michigan. Offering board games, trivia, handcrafted beverages, 24 different draft beers and classic comfort food (including Brisket & Waffle Poutine!), there's something for everyone whether you're watching the game or playing Scrabble.
Photo courtesy of Fraser's Pub
Jimmy and Red Fraser first opened this neighborhood bar in 1962 and it's been the A2 go-to ever since. The taps feature multiple Michigan beers, the menu includes all the bar favorites cooked up with style, and the TVs fill the whole place so you'll never miss the action. Be sure to wear your blue and maize or you may feel left out. Go Blue!
1204 S University Ave | Facebook
The Brown Jug has been a University of Michigan tradition since it opened its doors in 1936. Named after the Michigan vs. Minnesota football trophy, the oldest in college football, you'll never find a place more passionate for the Wolverines or more ready to watch the game.
1140 S University Ave | Facebook
Photo courtesy of Good Time Charley's and Bruno Postigo
Good Time Charley's opened its doors in 1979, the first U of M student walked in, and the rest was history. It's located right across the street from the university and offers a parking structure, making it one of the easiest places to get to before the game starts. We recommend ordering a plate of Pepperoni Styx, hand-twisted breadsticks stuffed with mozzarella and pepperoni and topped with garlic and parmesan. Then get ready to cheer on your favorite team!
A beer garden, 70 taps and live music make this a favorite hang out any time of year. But during football season, you'll find the impressive lineup of TVs tuned to national teams and the Wolverines depending on which day you stop by. Next time you're in Ann Arbor's Westside, come for the game and stay for the craft burgers.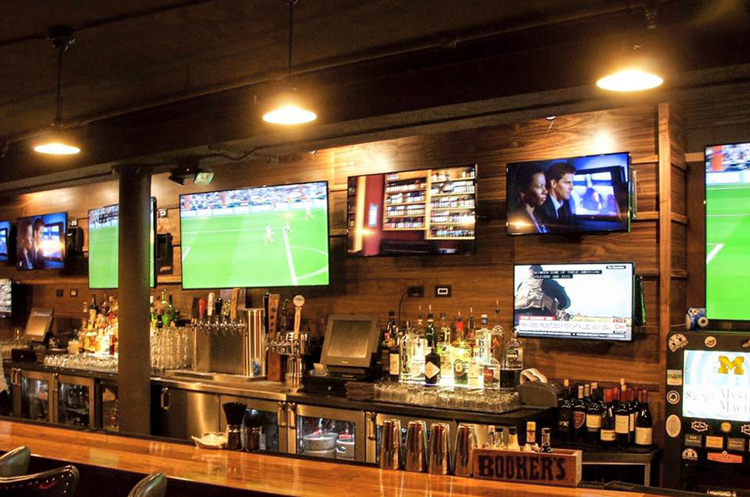 Photo courtesy of The Pretzel Bell
After The Pretzel Bell opened in 1934, it became the campus watering hole for more than 50 years, feeding and hydrating students, townies and visitors alike. After a brief closing, the doors reopened as one of A2's warmest and coziest spots — complete with gourmet pub food, craft beer and cocktails, and dozens of TVs tuned into your favorite team.
7. HopCat | Ann Arbor
HopCat began back in 2008 in Grand Rapids and later opened the Ann Arbor location which has now been serving beer, food and fun for three years. Through those years, they've been offering 100 craft beers on tap in a semi-psychedelic setting that perfectly fits the atmosphere of A2. In fact, the atmosphere, the beer and the food menu have landed them countless awards as the best beer bar in the country and in the world.
2019 W Stadium Blvd | Facebook
You might say Wolverine State Brewing Co. has a little Wolverine pride. They also make some of the best beer in town, offer a huge menu of comfort food and outstanding in-house smoked meats, and they have multiple flat screens around the taproom so you can catch every minute of the game.  
The Wurst Bar is one of the best bars in Ypsilanti. Their enormous lineup of local, national and imported beers is offered alongside artisan pub food selections like Pulled Pork Eggrolls, Bavarian Pretzels, Lobster Rolls and creative burgers — and they have whole menu sections dedicated to tots and to bratwursts! One of our favorites is the Wild Game Cudighi Wurst which is made with rotating game meat, pork, allspice, cinnamon, nutmeg and wine.
114 E Washington St + 720 Norris St | Facebook
Whether you're at the ABC Brewpub in Ann Arbor or the ABC Microbrewery in Ypsilanti, you'll find handcrafted beer, bar games, outstanding food and projector screens to watch the big game in style. The Ann Arbor Brewpub operates as a full restaurant and offers a few more televisions, while the Ypsilanti spot offers bar service and a cozy atmosphere.  
With more than 30 beers on tap, 17 flat screens, and a food lineup of bratwursts, nachos, sliders, burgers and waffle fries — say no more! Scorekeepers has been around for decades and has always been a go-to game day spot, for obvious reasons.
Oscar's is a place for locals and for sports fanatics to come together in one of the area's friendliest and coziest bars. The food is prepared fresh, the hi-def TVs are always on, and the staff is ready to welcome you as a regular!
840 W Ann Arbor Trail | Facebook
The game is always on at Ironwood Grill, whether you're cheering on the Wolverines, the Lions, the Pistons, your favorite Nascar racer — you name it! Inside a bright, welcoming setting you'll find an entire wall of TVs above the bar, with others scattered throughout the dining area, artisan pub food and smokehouse entrées that are slow smoked up to 14 hours with apple, cherry and hickory wood.
Where are you going on game day?
In the Facebook comments, let us know where you go on game day, even if it's not on our list!
---
---
---
You may also like...
---
Leave a Comment
comments powered by

Disqus