The Reinhart Blog
A community tradition, the Ann Arbor Summer Festival is returning for its 33rd season.  The Summer Festival includes two concurrent programs, one indoor and one outdoor, at various venues and spaces across the University of Michigan campus and in downtown Ann Arbor.
While 90% of the over 100 events are free to the public this post will highlight the Mainstage, ticketed performances of world-class music, dance, theater, and comedy.
Flip FabriQue's Catch Me! (Attrape-Moi)
Saturday, June 6, at 8 pm and Sunday June 12, at 3:00pm at the Power center
High flying, fearless, and fun, these young artist-athletes astound audiences with adrenaline pumping feats of cutting edge nouveau cirque, dazzling in a crowd-pleasing spectacle of extreme acrobatics, dramatic turns on trampoline wall, and inventive parkour. This is a virtuoso display of athleticism and showmanship for the whole family.
Gregory Alan Isakov and The Ghost Orchestra with poet Andrea Gibson

Wednesday, June 15, at 8:00PM at the Power Center
Gregory Alan Isakov crafts stunning compositions that tell a story of miles and landscapes, captivating and haunting his listeners. With nods to Leonard Cohen and Andrew Bird, his lush arrangements lend themselves to a fuller sound, and he will be accompanied by his band, as well as a mini-symphonic ensemble. This is a rare opportunity to see a unique performance with one of indie folk's most admired new singer/songwriters.
Bebel Gilberto

Saturday, June 18, at  8:00PM at the Power Center
Brazil's beloved Bebel Gilberto arrives at the traditions of bossa nova and samba and innovates on them, weaving sultry pop and soft electronica influences into her sophisticated sound. She has been at the forefront of Bossa 2.0, working with superstar producers like Mario Caldato, Jr. and Mark Ronson. Elegant and ethereal, her music will make you feel like you're sipping caipirinhas on a yacht overlooking the beaches of Ipanema at sunset.
Michael Franti & Spearhead SoulRocker Tour

Tuesday, June 21, at 8:00PM at the Hill Auditorium
Capturing an irresistibly bright and uplifting sound, musical pioneer and humanitarian Michael Franti's globally conscious reggae pop anthems are spreading some much appreciated positivity worldwide. He's known for his lyrical activism and powerful performances spanning hip hop, reggae, rock, and spoken word. Inspired by his calling to create positive change, he asks us to celebrate life, dance joyfully, and raise consciousness.
Gregory Porter
Wednesday, June 22, at 8:00PM at the Power Center
Warm, soulful baritone and Grammy-winning jazz vocalist Gregory Porter's beautifully spiritual voice thrills audiences as he explores the rhythmic phrasings of jazz, the passion of R&B, the soul of gospel, and the immediacy of the blues. Charismatic, uplifting, and assured, this is modern jazz's biggest star, and for good reason.
¡Cubanismo!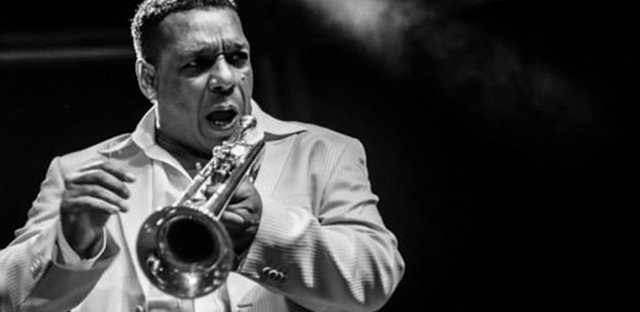 Sunday, June 26, at 7:30PM at Power Center
For twenty incredible years, world-famous Sierra Madre trumpeter and bandleader Jesús Alemañy and his orchestra have been Cuba's musical ambassadors, sharing their authentic yet innovative, danceable, and joyous sounds with the world. Fiery and passionate, they specialize in sizzling dance tunes full of swaggering horn charts and skillful polyrhythms that recall vintage big band son, traditional rumba, cha-cha, danzón, and pa'ca ritmo. These Grammy-nominated all-stars enjoy experimenting with world fusion, yet always embrace island authenticity—and will leave you smiling.
Jane Lynch: See Jane Sing!

Wednesday, June 29, at 8:00PM at the Power Center 
You've loved her as Sue Sylvester singing like Madonna on Glee. Now, Emmy and Golden Globe winner Jane Lynch combines her talents in an uproarious night of live musical comedy. Joining her onstage will be Glee musical arranger Tim Davis and the fiery redhead Kate Flannery of The Office. You'll be in stitches with her American Songbook, which includes selections from The Brady Bunch, Fiddler on the Roof, and Nicki Minaj. Recommended for mature audiences.
Bruce Hornsby & The Noisemakers

Thursday June 30, at 8:00PM at the Power Center
Bruce Hornsby's work displays a creative iconoclasm that's been a constant in the artist's two-and-a-half decade recording career. His commercial stock soared early on, when "The Way It Is" became one of the most popular songs on American radio. Despite his early mainstream successes, Hornsby has pursued a more idiosyncratic musical path, focusing on projects that sparked his creative interest, including collaborations with the Grateful Dead, Spike Lee, Ricky Skaggs, Bob Dylan, Bela Fleck, and Pat Metheny.
Mayer Hawthorne 

Friday, July 1, at 8:00PM at the Power Center
Singer Mayer Hawthorne has an incredible ear for what makes music soulful. "Flashy but classy" and always stylish in a fine suit, he's a sensation onstage. A hometown hero, he soaked up Curtis Mayfield, Barry White, Shuggie Otis, Hall and Oates, and hip hop producer J Dilla spinning DJ sets at The Firefly and The Blind Pig. Now this deeply talented, multi-instrumentalist, singer, and producer has moved to LA, sold millions of albums, helped Pharrell win a Grammy for best producer, and become neo-soul royalty.
The Capitol Steps

Monday, July 4, at 4pm at the Power Center
Monday, July 4, at 7pm at the Power Center
Perfectly timed for an election year, America's foremost political satirists make their annual Fourth of July appearance at the festival! Putting the mock in democracy, these former Congressional staffers poke fun at both sides of the aisle with up-to-the-minute song parodies like "Deleter of the Facts" and "If There Were No Rich Men." If you are sick of hearing about Ted Cruz, Bill Cosby, and Brian Williams, you've come to the wrong place.
One Man Circus (L'homme Cirque)


Wednesday, August 24, at 6:30pm at Burns Park
Thursday, August 25, at 6:30pm at Burns Park
Friday, August 26, at 6:30pm at Burns Park
Saturday, August 27, at 6:30pm at Burns Park
Sunday, August 28, at 6:30pm at Burns Park
Enter the magical world of David Dimitri. Lauded "Lord of the Wire" by New York Times, this world famous high wire dancer and veteran of Cirque du Soleil and Big Apple Circus epitomizes innovation as he alone performs an entire circus. Creating what he calls "a unique magic" in the intimate setting of a tent in Burns Park, his L'homme Cirque balances dramatic feats like high wire flips and a human cannon launch with humor, poetry, and serenades on the accordion.
Interested in the entire Mainstage experience? Try the Festival Sampler, which lets you create your own individualized series and take advantage of early buying discounts when you purchase three or more shows through May 28.
• BUY 3 SHOWS AND SAVE 10%
• BUY 4 SHOWS AND SAVE 15%
• BUY 5 OR MORE SHOWS AND SAVE 20%
For more information on purchasing tickets to any of these shows visit www.a2sf.org
Reinhart is proud to a be sponsor of the Ann Arbor Summer Festival.
Photo and Story Source: Ann Arbor Summer Festival
---
---
---
---
---
---
---
---
---
http://feeds.feedburner.com/reinhartrealtors/cGKc